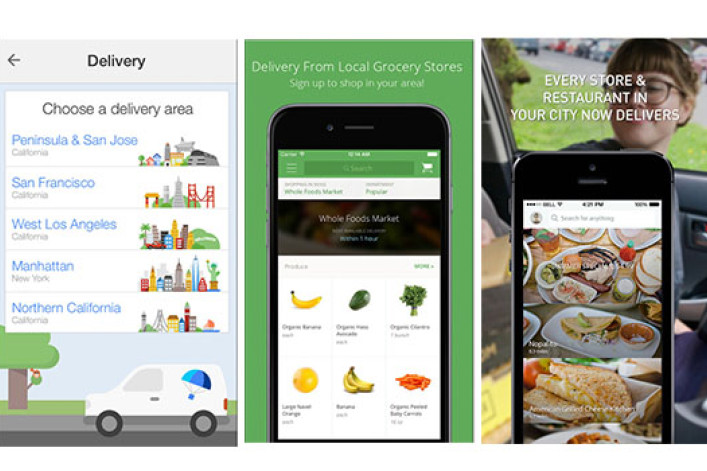 Let's face it: an empty fridge is inevitable. But trekking to the grocery store, braving the lines and hauling your bags up the stairs? Not so much. A new generation of mobile apps has debuted in the last year, all promising to save New Yorkers the hassle of buying their own groceries. (And unlike fan favorite Fresh Direct, these apps pick up from multiple stores, and some can get your food to you in about an hour.) But which ones are actually worth a download (and the delivery fee)? We tried out four of the most buzzed about options, and weighed the pros and cons of each:
Picks up from: Costco (with membership) (even without a membership), Whole Foods, Fairway, Food Emporium, Key Food
Delivers to: All of Manhattan and many parts of Brooklyn and Queens (see their locations map for exact perimeters)
Hours: 9 a.m. to midnight daily
Cost: $10 per store minimum​ delivery. Your first delivery is free. After that, $3.99 for two-hour delivery and $5.99 for one-hour if order is over $35; $7.99 for two-hour and $9.99 for one-hour if under $35. You can also subscribe to their Instacart Express service for $99/year for free two-hour deliveries over $35.
How it works: Once you place an order on the Instacart website or app, you're connected with a personal shopper who goes to the store, picks out your items, and delivers them to your door. During the ordering process, you can note if you want substitutions and select a specific item you'd substitute for, or just allow the shopper to call you if they run into any issues. You select a time for delivery—one hour, two hours, or a future one-hour window—and can either tip before delivery or after your food arrives.
Pros: Using the website couldn't be easier. There are photos of every item, and you can search within each available store easily. There are exclusive sales on the site, too, allowing me to get a discount on usually expensive Marcona almonds for $6.99 (usually $8.99) and Organic Valley milk for $2.49 (usually $5.49), two deals that I've never seen in-store at Whole Foods. When my shopper couldn't find the right size zucchini and my specific brand of pasta, she called me to confirm changes over the phone before checking out. I had two separate deliveries—one from Whole Foods and one from Fairway—and both shoppers came within the hour and were very friendly when dropping off my bags. It was easy to tip once they arrived, selecting 20 percent (you can also write in your own amount) on their app and signing on an iPhone screen to confirm charges.
Cons: Instacart's items aren't the same price as the store's, usually with a slight markup—like a $5 rotisserie chicken from Costco going for $6.09—but others will be cheaper. The $10 per store minimum was a bit frustrating since I wasn't doing a big grocery haul and wanted a few items from Food Emporium that neither Fairway nor Whole Foods had, but I ended up making some quick substitutions to stick to two stores.
Picks up from: Adorama, Barnes & Noble, Costco, Fairway, L'Occitane, Staples, Target, Toys"R"Us / Babies"R"Us, Walgreens.
Delivers to: Manhattan (with plans to expand).
Hours: Same-day deliveries within morning (9 a.m.-1 p.m.), afternoon (1 p.m.-5 p.m.), and evening (6 p.m.-10 p.m.) windows, seven days a week.
Cost: Free with $15 minimum order, or pay $3 fee if under $15. ​Free trial subscription for three months; after that, monthly subscription price TBD for unlimited free deliveries.
How it works: Google's new same-day delivery service, which launched in NYC and L.A. in May, is basically like Amazon for a handful of local big box stores. You can search and find anything that isn't perishable—no dairy, frozen items, meat, etc.—and have it delivered to your door later that day. You pay via Google Wallet—which links to your credit or debit card, checking account, or even store gift card—and you can have your stuff dropped off at your building's package room or with a doorman.
Pros: It was easy to browse and search for items on both the app and the website, whether I wanted to check prices at Costco and Target or order directly from one specific store. Though there is a $15 minimum, it includes everything in your order, not just from a single store. So, even though I only got a $7 item from Target, since my Costco order was $30, I didn't have to pay the $3 fee.​
Cons: Just like the cable guy, Google Shopping works in four-hour time windows, so you're stuck waiting around. (Thankfully I was able to have my package room hold the order.) Because of this, they don't deliver perishable items, so I was only able to order paper products and bulk pantry items. I also ordered too late in the day (at 4 p.m.), so I was stuck waiting until the next day to schedule my delivery. And, of course, if you live in the outer boroughs, you're out of luck, at least for the foreseeable future.
Picks up from: Anywhere in NYC that accepts American Express, the card their couriers use to pay for items.
Delivers to: Manhattan, Dumbo and Williamsburg
Hours: 10 a.m. to 11 p.m., 365 days a year
Cost: Free delivery with no subscription fee; items are priced at retail, according to the company.
How it works: WunWun launched in 2013 as an "on demand" service that would deliver anything. This month, they wiped out all delivery fees. When they say anything, they mean anything—a pair of headphones, one burger from Shake Shack, cat food from your local bodega—as long as it's under 30 lbs and/or can fit in two grocery bags. You can type in an entire grocery list on the app (currently available only on iOS) and any store. A customer service agent reviews your order, sends a courier, and then updates you via text message when your order is received, picked up, and out for delivery. Once your items arrive, you can add a tip when you sign for your delivery and check out on the courier's iPhone.
Pros: Unlike Instacart and Google Shopping, WunWun allows you to order from anywhere you want, as long as the store accepts AmEx. Rather than choosing from a pre-set list of stores, I typed in Trader Joe's and was able to get my cheese, bread, cashews, and a few other items in under an hour. (Notably, this was from Trader Joe's across town and 25 blocks south.) The courier (a "helper" in WunWun parlance) was friendly and texted me a picture to make sure he got the right kind of cheese, and customer service was prompt when I texted them a question.
Cons: The interface is clumsy, and it isn't intuitive. To search, you have to type the exact name of the product, and then enter the name of the store and its address, rather than searching from an existing list of items or stores on the main screen. It was confusing, and there are no detailed instructions on the app or site to tell you what to do. However, once you know how it works, it's not complicated. 
Picks up from: Anywhere in NYC
Delivers to: All of Manhattan and parts of Brooklyn and Queens (see their locations map on the app for exact perimeters)
Hours: Available 24/7/365
Cost:  $4.99 "and up" per delivery, depending on how far you are from the store, plus a 9 percent delivery fee on all orders.
How it works: Postmates claims they'll deliver anything from anywhere, round the clock. Using their searchable app, you can either choose from a list of featured stores and restaurants—from Trader Joe's to Dominique Ansel Bakery, home of the Cronut—and see pictures and prices for different items, including frozen items, meat, produce, and more. Then Postmates connects you with a bike courier, whom you can track on the app like you would an Uber car. Postmates says orders should be completed within an hour, but time varies. 
Pros: The app is easy to use, and it's a breeze to search for stores and products. I wanted to try out a store that wasn't listed, so I created a 15-item custom order for Aldi, the supermarket in East Harlem. My courier gave me a call when he was running late, so I'd be home when he arrived, which I appreciated. 
Cons: The fees are higher for Postmates than its competitors, and you could wind up paying more than you expect. For example, on my order, I paid an $8.25 delivery fee plus a $2.56 service fee, plus tip. For just a handful items, that's a lot extra. Though they said they'd be there in an hour or less, my order took two hours. Considering that the courier was on a bike and going about 25 blocks, I'm willing to cut him some slack. But I have a hard time picturing an Upper West Sider getting their Cronuts in under 60 minutes.
***
The four apps above join two comparative veterans in the world of NYC grocery delivery. If you're planning to stick with the stalwarts—FreshDirect, which has been kicking in New York since 2002, and PeaPod, which opened in Manhattan in 2011—here are the pertinent details: 
Picks up from: A company warehouse in Long Island City
Delivers to: Anywhere in NYC
Cost: $5.99 with a $30 minimum for delivery
​Hours: 6:30 a.m. to 11 p.m. in two-hour windows, seven days a week
How it works: Rather than delivering products from existing grocery chains, FreshDirect's innovation was to get rid of the bricks-and-mortar stores and let shoppers order online. To get your groceries, including a growing number of house-brand items, you select products from their website or app, and a driver will bring them to your door in climate-controlled packaging. You can also opt to have your delivery left with a doorman.
Picks up from: Stop & Shop stores in the Bronx, Brooklyn and Staten Island
Delivers to: Anywhere in NYC
Cost: Minimum $60 delivery. $9.95 for orders between $60 and $100; $6.95 for orders over $100.
​Hours: 6 a.m. to 10 p.m. in two-hour or 5.5-hour windows.
How it works: Founded by two Illinois brothers, Peapod delivers products from grocery stores affiliated with Royal Ahold, an international food provider that also owns the company. (In the New York City area, that means Stop & Shop.) You can schedule deliveries, which arrive in trucks, as little as one day and up to two weeks in advance. All payments, including tips, are done online. 
Related:
Skip the grocery schlep with these personal chef substitutes
No doorman? No problem, thanks to these 5 cool finds
Peapod: Shop for groceries in your skivvies
Laundry made easy: Washing pods, laundry iPhone apps and more
Brick Underground articles occasionally include the expertise of, or information about, advertising partners when relevant to the story. We will never promote an advertiser's product without making the relationship clear to our readers.