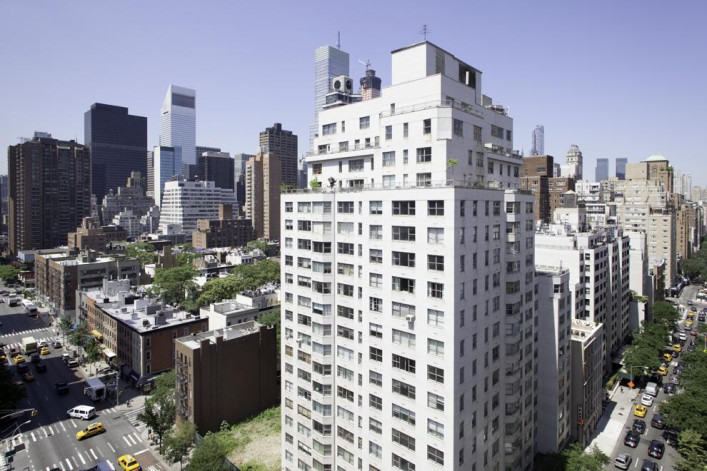 One of New York City's least expensive types of housing is a co-op in a landlease building, a property where the apartment dwellers don't own the land beneath the building and must pay "ground rent" to the landowner, often a real estate investor. (Owners hang onto land for a variety of reasons: in some cases they want to keep the property in the family, think it will go up in value, or may see tax perks to hanging onto it.) As a result, maintenance fees are usually higher (and the portion of monthlies that go toward ground rent isn't tax deductible), but purchase prices are often considerably lower. 
They're a good fit for someone with a high-paying job but little savings or for an investor who plans to rent out the place, since many landlease buildings have relaxed rules on subletting. "Recognizing that co-ops can be significantly cheaper than condos, a savvy investor could buy in a landlease co-op and rent it out, charging the same rent that he'd get in a comparable condo, but he would have paid a lot less for the co-op unit," says Brendan Fairbanks, a former investment banker and founder of Perchwell, an apartment search site that tracks asking prices and monthly fees. 
THE COMPARISON
So how much less are we talking? In the past, we've reported that the savings could be as high as 30 percent compared to similar, non-landlease co-ops. But let's dive a little deeper. We asked Fairbanks to help us compare two apartments on the market now to better understand the difference between a landlease and a regular co-op.
Both the one-bedroom, one-bathroom examples below are located in Beekman, a micro-neighborhood nestled along the waterfront east of Midtown. The non-landlease co-op is almost twice the price, and the monthlies are half as much. (For that reason, the apartments have a similar "PerchPrice," the metric that the real estate Web site Perchwell uses to calculate how much an apartment costs when you factor in monthly payments, tax implications and other factors.)
So which one makes the most sense for you?
Asking price: $349,000
Maintenance: $3,238/month
Mortgage payment: $1,448/month (assuming a 30-year loan at 4.70% with 20% down)
Down payment: $69,800 
Size: 1,000 square feet
This apartment is on the second floor of a 15-story, pet-friendly elevator building with laundry, a doorman, a roof deck, storage and 110 apartments. With a 400-square-foot private garden, this place has been on the market for nearly two years, and is priced well under similar one-bedrooms in the area. [Editor's note: the asking price on this apartment was $399,000 when this article was published, but later the same day, the price was reduced. The article has been updated to reflect that change.]
The landlease doesn't expire until 2070, so you'd have ample time to pay off a 30-year mortgage. But once you add mortgage payments to maintenance fees, you're potentially looking at $4,686 a month coming out of your bank account for a one-bedroom apartment. Also, only 27 percent of the monthly maintenance fee is tax deductible. (That's "on the low end," says Fairbanks, who estimates that 50 percent is typical, though it varies on a case by case basis.)
Asking price: $725,000
Maintenance: $1,732/month
Mortgage payment: $3,008/month (assuming a 30-year loan at 4.70% with 20% down)
Down payment: $145,000 
Size: 900 square feet
This fourth-floor apartment has hardwood floors and beamed ceilings, and it's located in a 17-story, 152-unit building, which is also pet-friendly and comes with a doorman, laundry and bike storage.
Up to 39 percent of the monthly maintenance is tax deductible, and at less than $1,800 a month, it's significantly lower than in the landlease building. However, with a typical mortgage, your monthly bills would total $4,740, and that would be after a down payment of a whopping $145,000.
THE CAVEATS 
Not surprisingly, there's a reason apartments in landlease buildings are cheaper, namely because of the higher monthlies and the uncertainty that comes with not owning the land your building occupies.
When the lease expires, shareholders could face a steep ground-rent increase or effectively be forced to buy the land. Either scenario would translate to a sharp uptick in monthly payments, and could have financial implications for the building as a whole, if owners are unable to shoulder the sudden increase or sell their apartments quickly, Fairbanks notes. (In a nightmare scenario, the co-op shareholders could lose control of the building, along with the equity in their co-ops, and would become renters of their apartments.)
Banks are often wary of landlease buildings as well, making it harder for buyers to get mortgages. "This can impact your ability to get a mortgage today and the ability of the person you ultimately sell to," Fairbanks says, especially because the ground-lease may be that much closer to its expiration. It may also be harder for the building itself to borrow money to make repairs, which means it will be more likely to come out of the pockets of residents, he adds.
THE WORST CASE SCENARIO
What happens if the building can't renegotiate the lease and is forced to buy the land? That's exactly what took place at 301 East 63rd Street, a post-war building in Lenox Hill that took on a $45 million mortgage, at an average cost of $300,000 per apartment, Fairbanks says. Not surprisingly, monthly fees have skyrocketed and apartment values have plummeted. Let's break it down:
A co-op in a former landlease
Asking price: $329,000
Mortgage payment: $1,365/month (assuming a 30-year loan at 4.70% with 20% down)​
Down payment: $65,800 
Maintenance: $3,015/month
Size: 800 square feet
This one-bedroom, one-bathroom co-op in Lenox Hill is cheaper than similar apartments on the market, and it last sold for $528,000 in 2007, property records show. Considering that the building is no longer a landlease, you're getting a significant discount on what is now a regular co-op, and a buyer has already snapped it up (it's in contract). 
But let's not forget those monthly fees. Of the roughly $3,000 a month in maintenance fees, $1,587 is an assessment "in place indefinitely" that's going to pay off the mortgage on buying the land, the listing says. That's a lot to fork over each month—$4,380 including payments on a typical mortgage—but less than the examples above. Plus, the building seems to be more flexible than your average co-op, allowing unlimited subletting, co-purchasing, guarantors and pied-a-terres. (Many co-op buildings forbid buyers from using their apartments for anything but their primary residences.) Given the lax subletting policies, the best strategy might be to buy a place like this and rent it out.
The 18-story, 148-unit elevator building has a doorman, garage, bike storage, laundry and a roof deck.
Related:
Why I bought in a landlease building despite the horror stories
Inside story: Why I bought in a land-leased building
Ask an Expert: Is it ever safe to buy in a landlease building?
Ask an Expert: How much cheaper is an apartment in a land lease building?
Landleased! A real-life real estate thriller
New website Perchwell offers a different way of valuing apartments
Brick Underground articles occasionally include the expertise of, or information about, advertising partners when relevant to the story. We will never promote an advertiser's product without making the relationship clear to our readers.