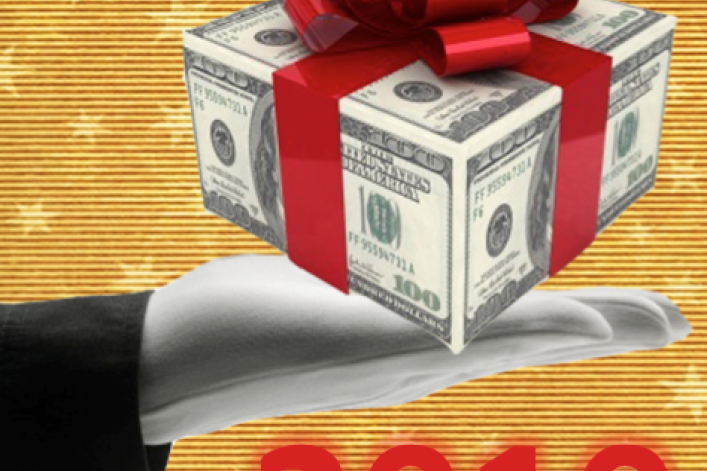 (Check out our 2011 Holiday Tipping Guide here! >>)
Though most New York City apartment dwellers don't start doling out tips for another week or two, the mental onset/anguish of holiday tipping season begins the day after Thanksgiving Weekend, when vertical dwellers begin trolling the web for advice on how much to tip, how to tip, and who to tip. 
BrickUnderground's 2010 Annual Tipping Guide tells you what you need to know, starting with the basics laid out right here.  Also up today:  10 Manhattan Doormen Talk Tips, the very inside-baseball 7 holiday tipping rules for doormen & residents by BrickUnderground's anonymous doorman columnist, and a reminder to take our one-click survey to find out how much your neighbors are giving. Later this week: What happens to bad tippers, and advice for cashing in on all that gratitude.

2010 Tipping Season Forecast

The good news: On the heels of a flattish few years, most of the doormen we spoke to expect tips to be flat or only slightly up this year. 

The bad news:  As your income is likely also flattish or only slightly up, it's still probably more than you want to give.

Generally acceptable principles for tipping building staff

Tipping is an ultimately subjective and highly personal science, relying as much on personal chemistry as on personal finance, quality of service, and how much you know (or care) about the consequences of under- or over-tipping.

That said, here are a few guidelines and nuances that seem to be accepted practice in New York's vertical villages:
The super or resident manager pockets the biggest tip, followed by the doorman and concierge, the garage attendant, and the porter/handyman.
More apartments per building usually means smaller tips per staff member, but the total amount you give in a 300-unit building shouldn't differ that much from a 50-unit building. As for that magic number, we have heard everything from $300 to $3,000.  
Residents who tip year round for extra services often go lighter side at year's end than those who hold back through the year.
It's acceptable for residents who move in partway through the year to pro-rata their gratuities, unless they didn't tip for services performed in connection with the move itself.  
Staff is accustomed to senior citizens on fixed incomes tipping extra-lightly, and they are usually "forgiven," though some workers say they won't perform extra services for these residents for free. 
Newer doormen in their first few years of service often receive smaller tips. For first-years, it could be half what a senior doorman would get.
The bottom line

Below are two anecdotally-derived ranges for tips to staff members: The first is the "average" range where tips seem to cluster, and the second is a broader range of high/low tipping that can reflect anything from the size of the building (the bigger the building, the smaller the individual tips), to length of service, favors performed, personal chemistry, personal financial circumstances, and whether you're a frugal or generous type or somewhere in between.

Super, resident manager:  $100 -$175 avg (broad range: $75 - $500)
Doorman, concierge:  $75-$150 avg (broad range: $10 - $1,000)
Porter, handyman:  $20 - $30 avg (broad range: $10 - $75)
Garage attendant:  $50 - $75 avg (broad range $25-$100)

How to give it
Cash vs check:  Cash is preferred, but as a precaution against sticky fingers, write a check if you're handing the tip to a super or another staff member to distribute. (Note: Most doormen we spoke to prefer to get their tips directly rather than via the super or another doorman.)
Personal notes, cards etc: A plain white envelope is fine; no expensive cards necessary. Most people keep notes it short and sweet ("Thank you for your help this year" or "We enjoyed seeing your smile") and that's perfectly acceptable, though some doormen tell us they do appreciate a personal note explaining what exactly is most valued about their service.  If you're tipping staff members you rarely or never see, include a family photo to help them connect name, face and tip amount.  
Tipping pools:  Some buildings have tipping pools and residents are asked to contribute to the general fund. In practice, many residents continue to tip individually too. 
Food and gifts:  Appreciated, but no substitute for money.
When to give it

Doormen collect year-end tips from December all the way into February, but the bulk of the bucks crosses palms in the couple of weeks leading up to Christmas.

That is not, however, what the staff necessarily prefers:  Many doormen, for instance, tell us the beginning of December is better, so they can do their own holiday shopping.  A few say they prefer the gratuities to be spread out, cutting down on the temptation to spend it all at once.

Who else to tip
Building staff aren't the only people in your universe expecting a tip this season. Here's the cheat sheet:
Cleaning lady/housekeeper:  One or two weeks pay.
Cleaning service: Tip 15-20% throughout the year, as a portion of their earnings goes to the cleaning service. If the same crew cleans your apartment each time, a holiday tip (1 week) is appreciated.
Full-time nanny: One week pay minimum or two if you can afford it.  Or, one week pay and one week vacation.
Regular babysitter: Consider tipping $25-50 in cash or gift card
Regular dog walker: One week's pay
UPS delivery:  $25-50 if you have a lot of packages delivered. More if you have a lot of business-related deliveries. 
Mail carrier: By law, mail carriers can't accept cash or anything worth over $20. In reality, some (but by no means most) residents do tip in the $25-$50 range, especially if they receive a lot of deliveries or a lot of mail that requires signatures.  For a fuller discussion of the postal carrier tipping question, click here. 
Who not to tip

It may seem obvious, but as we do see these questions crop up in discussion forums occasionally, here's a brief list of people you are not expected to tip:
property manager
contractor (plumber, electrician etc)
real estate broker
Related posts:
BrickUnderground's 2011 Holiday Tipping Guide
10 Manhattan doormen talk tips
A Doorman Speaks: 7 tipping rules for doormen & residents
Find out how much your neighbors are tipping this year
Payback time: Cashing in on holiday tipping
Top 12 excuses of bad holiday tippers
BrickUnderground 2010 Holiday Tipping Guide -- all posts
Brick Underground articles occasionally include the expertise of, or information about, advertising partners when relevant to the story. We will never promote an advertiser's product without making the relationship clear to our readers.