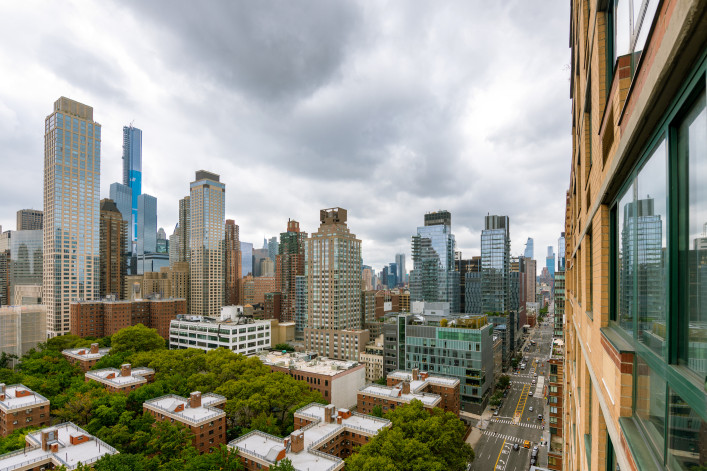 In recent years, the Manhattan vacancy rate—which measures empty rental apartments—has been very low, hovering around 1 percent of the total, but in the pandemic, as New Yorkers have left the city, it's been above 5 percent since August and ticked up to 6 percent in October. However the true share of vacant apartments is likely much higher—closer to 20 percent.
That's what Gary Malin, COO of Corcoran, said on a recent episode of Talking Manhattan, a real estate podcast hosted by Noah Rosenblatt and John Walkup, co-founders of UrbanDigs, a real estate data platform.
It's good news if you're looking for a rental right now because it means you have more options and potentially more negotiating power for better concessions than what landlords may be offering.
"Behind the scenes, there is a lot more availability," Malin says on the podcast. He explains that it doesn't make sense for landlords, even in the best of markets, to list multiple apartments if they're the same size or on the same building line. Because of this "shadow inventory," he tells Brick, there are far more apartments available in Brooklyn, Queens, and Manhattan, than what appears to be listed.
The "visible" vacancy rate, or what is reported as vacant, currently is double what it was during the Great Recession, when it didn't exceed 2.5 percent, Malin says in the podcast. Then, the true vacancy rate was still a bit higher, but nowhere near what it is today. 
And, just a year ago, right before Covid-19 upended the city's real estate market, the visible vacancy rate was barely over 1 percent, close to the true vacancy rate because there were fewer listings on the market and more demand.
So, how can you take advantage of this? First, you should know what you're looking for, Malin says. "Hone in on what's important to you, be straightforward, and convey that to the landlord," he says.
For example, if you view an apartment and you really want to live in that building, or neighborhood, but prefer a higher floor, or more natural light, you should ask if there are other units available. There may be unlisted apartments that are available.
Another tip: If you view an apartment, and you really want to move in, but there's something minor keeping you from signing the lease, like the rent is a bit more than you can afford or the landlord is offering one or two months of free rent and you're looking at other apartments offering three or four—try asking to see what sort of deal you can get. 
But not all landlords are in the same position and can offer the same deals, Malin says. Some might have a large mortgage, or are running a family business. And, some landlords can absorb vacancies better than others, so just because the building is bigger, doesn't mean that they can offer you the same lavish concessions—like up to four months of free rent, help with moving costs, or gym memberships—as the building down the street.
Malin also says that landlords have been hurt by last year's rent reforms, which capped application fees at $20. Now, lots of renters apply to multiple apartments at a time, so a landlord has to put in more work to get you to sign a lease for their apartment. But, conversely, landlords might not take you as seriously if they know you have applications everywhere and are willing to move in wherever you can get the best deal.
It's not likely that the market will become competitive for renters anytime soon, especially because winter is a slow period and Covid-19 cases are ticking up. But don't expect the rental market to be stalled in the new year, when new vaccines are expected to go into distribution and the city can start to fully reopen.
Malin, for his part, expects the city to bounce back.
"New York City is and always will be resilient," he says.
Brick Underground articles occasionally include the expertise of, or information about, advertising partners when relevant to the story. We will never promote an advertiser's product without making the relationship clear to our readers.