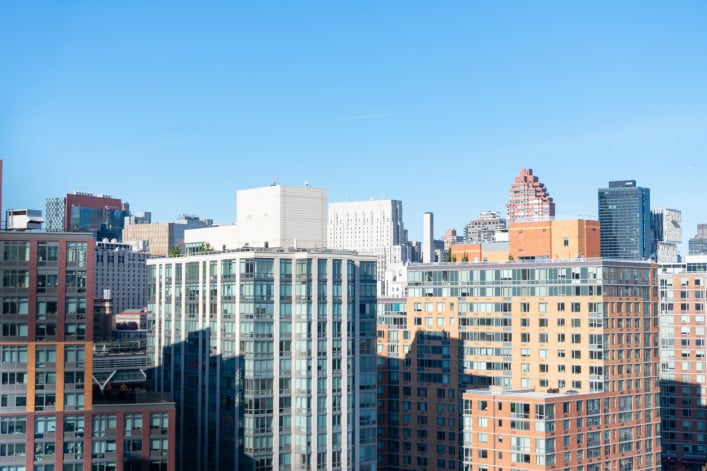 Manhattan's vacancy rate topped 5 percent in August—a theoretical benchmark for preserving rent-regulated apartments—and just one of several grim records that underscore how weak the New York City rental market has become.
The number of rental listings on the market hit the highest total in 14 years last month, jumping 166 percent. Leases with concessions, like a month or two of free rent, reached the largest market share in nearly a decade of tracking. New signed leases dropped 23.7 percent and rents across the board fell, with the most significant drops at the lower strata, all findings from The Elliman Report for Manhattan, Brooklyn, and Queens rental markets for August.
The bleak milestones underscore how landlords are struggling these days—which you could say translates into good news for anyone looking for a New York City rental. Landlords are having trouble because many renters are suffering and fleeing the city—as a result of layoffs and furloughs, and other pandemic aftershocks, and the impact is being felt in less expensive apartments—reversing a recent trend. Studios and one bedrooms, which have seen strong demand for months, in August saw the most substantial year-over-year declines in median rent in eight years of tracking that metric. 
New York City is seeing an "acceleration of existing weakness," says Jonathan Miller, president and CEO of appraisal firm Miller Samuel and author of the report. He says he was surprised to see Manhattan reach the 5.1 percent vacancy rate so quickly—the highest he's seen in 14 years of tracking. It hit 4.33 percent in July, and 3.67 in June. In August 2019, it was 1.95 percent.
"We're two full months past lockdown," Miller says. "You can't argue that's fully attributable to the lockdown."
He points out that it's partly explained by the exodus of NYC buyers to the suburbs. Yes—buyers are a big factor in the NYC rental market.
In the second half of 2019 and continuing into the early part of 2020, NYC buyers, feeling uncertain about the new federal tax law, put off buying and, instead, scooped up rentals, increasing competition—and pushing up rents. It stands to reason then that the pandemic is pushing these would-be buyers off the fence, out of the rental market (and out of the city), contributing to the vacancy rate leap.
The vacancy rate is the percentage of all the available rental apartments in an area. If 5 percent of NYC apartments are vacant, rent regulation is theoretically supposed to end—the theory being with so many apartments available, NYC is no longer in a housing emergency (many struggling New Yorkers would likely beg to differ). But it won't happen without the city's Housing & Vacancy Survey, which it does every three years and was supposed to do this year. But the survey was pushed off.
In addition, State Senator Brad Hoylman introduced a bill that would extend the housing emergency two years after the Covid-19 pandemic has subsided and would keep rent stabilization in place despite the vacancy rate.
"The historic poverty, instability, and safety concerns caused by Covid-19 won't be gone in 2021, when the next vacancy survey is set to be conducted," Hoylman tells Brick. "The last thing tenants need when facing a once-in-a-lifetime economic and public health crisis is to worry about losing their homes just because the survey happened to fall in a year when many have temporarily relocated to protect their health. I'll continue to advocate that the legislature pass my bill with Assembly member Harvey Epstein to give New Yorkers who rely on affordable housing peace of mind that the rug won't be pulled out from under them."
Miller points out that the 5 percent vacancy rate is an arbitrary number. His opinion is that ending rent stabilization "is never going to happen."
That may be some comfort, but it's clear that the market is changing rapidly, which is unsettling. Metrics that usually only shift by 1 to 2 percent, like rent per square foot, dropped nearly 10 percent in August.
"We're seeing declines of 8 to 10 percent now and when we annualize them it will be a lot more," Miller says. These weak conditions are not likely to change until we get a vaccine, he says.
Market conditions were not as dramatic across all metrics in the other boroughs. Jumps in inventory were the most notable.
In Brooklyn, Miller found that listings doubled from their year-ago level, reaching an 11.5-year high. And in Queens, listings rose to near record levels while new leases fell for the 13th straight month.
Brick Underground articles occasionally include the expertise of, or information about, advertising partners when relevant to the story. We will never promote an advertiser's product without making the relationship clear to our readers.