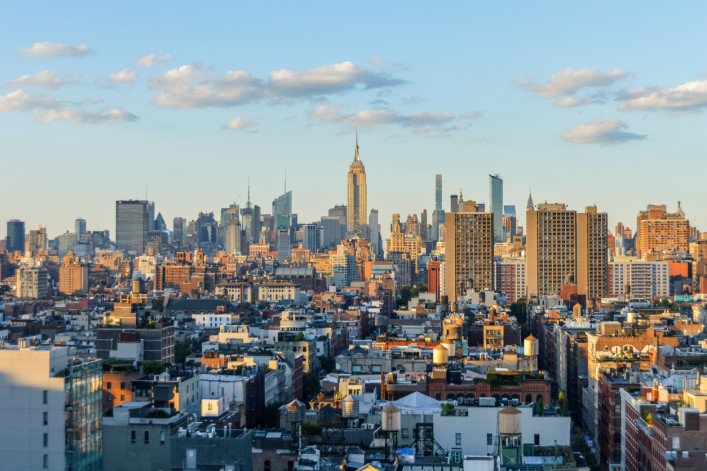 Buyers who are sitting out the sales market and renting until they feel more comfortable about shelling out for a New York City apartment are continuing to screw things up for renters.
Sound harsh? Consider this: NYC rents are continuing to tick up, freebies and inventory are down, and available apartments are spending fewer days on the market compared to last year, according to Douglas Elliman's May 2019 rental market report for Manhattan, Brooklyn and Queens. 
Why? What's changed since last year? It's this: Buyers, still feeling uncertainty and coming to terms with the new federal tax law, are choosing to rent, for now.
"Rents keep rising and the concessions keep falling," says Jonathan Miller, president of appraisal firm Miller Samuel. "I believe the key driver of the uptick in trends over the last six months is a result of the softness in the sales market."
(Sales of Manhattan apartments in the first quarter of 2019 hit the lowest level in a decade.)
It's not clear how long this trend will continue, Miller says, but "if the sales market begins to show noticeable improvement, some of the excess demand will dry up."
In the beginning of the year, the shift toward buyers "camping out" in the rental market accelerated. The impact is not being felt across the board, as Miller points out: Rents are tightest for entry-level and softer at the higher end—because there are more luxury rental apartments available.

More inventory would provide relief but there's little incentive for developers to build anything but luxury apartments these days.
"All the new product has been skewed toward luxury for several years," Miller says. But even that will eventually end. "The pattern of overbuilding at the high end is not going to continue indefinitely. Lenders expect a return on their investment, and it's not happening."
In Manhattan, the share of new leases that came with some kind of concession (a free month or two, or no broker fee) has been falling since the beginning of the year. But one-third of new rentals still come with some kind of concession. The net effective median rent (meaning rent with concessions factored in) rose year-over-year for the fifth consecutive month as landlords make the most of a tight market and increasing demand for apartments.
Another sign of how tight a market is the length of time an apartment is on the market. These days, that indicator is falling across the city. Manhattan rental apartments are spending 26 days on the market, down from 29.
While the median rent increased by a negligible amount (0.1 percent)—you can see a different pattern if you break apartments out by size: Median rents for studio and one-bedroom apartments increased 1.9 percent and 2.6 percent, respectively, while rents for larger apartments, like two bedrooms, fell 2 percent. The vacancy rate has declined year over year for the 11th time in 12 months
Concessions are falling in Brooklyn as well, declining for the fifth consecutive month. Net effective median rent rose for the sixth straight month, and the median rent rose for all apartment sizes.
The number of new leases slipped a little as tenants choose to renew rather than deal with the hassle of finding a new apartment. Inventory declined by three percent. Brooklyn apartments are now spending 25 days on the market, down from 28.
In Queens, the median rent surged over 15 percent to $3,000, and the number of new leases rose year-over-year for the 10 time in 11 months. 
The market share of landlord concessions fell the most sharply in this borough and has now decreased significantly for three consecutive months. Apartments are now spending 25 days on the market, down from 28.
Other market reports
Citi Habitats says the vacancy rate hit a four-year low in May.
"Landlords have been quick to capitalize on the favorable shift in conditions. Rents have been inching upward, while concessions continue to fall away. If current trends continue, tenants will face a more challenging market this summer than they have seen in years," says Gary Malin, president of Citi Habitats.
MNS added the Bronx to its May rental market reports. Rents for two-bedroom apartments in Morris Heights/University Heights were up 6.2 percent, to $1,974 from $1,859 in May, the report says.
Brick Underground articles occasionally include the expertise of, or information about, advertising partners when relevant to the story. We will never promote an advertiser's product without making the relationship clear to our readers.