Renovation
Need a short-term rental in NYC? Read these temporary housing FAQs first
It's illegal to rent an apartment in NYC for less than 30 days unless the owner is present
Short-term furnished rentals in prime NYC neighborhoods can range from $5,000 to $10,000 a month
Sublets are usually cheaper but harder to navigate than extended stay companies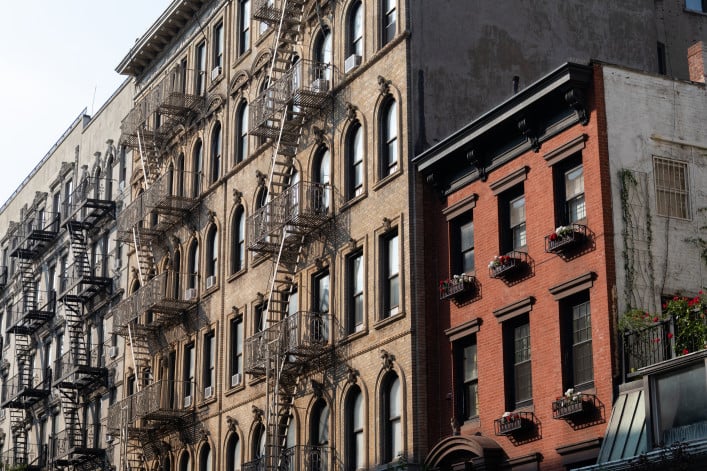 Need a short-term rental apartment in New York City? It's traditionally been one of the more challenging types of housing to track down because you don't have much flexibility—for example if you need to be in the city for a temporary job, medical care, or need a place to stay during a renovation.
Most landlords prefer to rent apartments for standard lease terms, typically a year to 18 months, so if you want to rent a furnished place for several days, a few weeks, or a few months—you'll likely need to turn to short-term rental platforms or companies that specialize in short-term rentals. Fortunately for you, the market for short-term housing options in NYC has expanded in recent years.
Read on for advice on landing a short-term rental apartment.
Pro Tip:
With Blueground, you'll shave weeks off finding and furnishing your new home. From studios to two-bedroom spaces, each of our turnkey apartments is thoughtfully designed and fully equipped from top to bottom. We provide a hassle-free experience and the flexibility to stay as long as you want — 30 days, a year, or longer. During your stay? You'll enjoy reliable support through our app, where you can request everything from a home cleaning to extra towels. Check out over 500 unique apartments in Williamsburg, Midtown, and other top NYC areas and compare prices here.
What is considered a short-term rental in NYC?
The definition of a short-term rental varies from a few days to several months. For example, the city of New York officially defines a short-term rental as any period fewer than 30 days and the city has rules that make it difficult to legally rent an apartment for less than a month. (This is because the city is facing a housing crisis and short-term rental apartments catering to visitors take badly needed units off the market.) 
Airbnb, probably the most well-known short-term rental company, defines short-term stays as rentals of 28 days or fewer. 
What if you want to rent a place for three or six months? Rentals for less than a standard lease term of 12 to 18 months can also arguably be considered short-term. Case in point: Lots of companies offer short-term rentals by the month and provide apartments for as long or as short as you need. 
Generally with these companies you can expect to get an apartment that's furnished and stocked with the basics. The place will have a bed and seating. The kitchen will have what you need to prepare and serve a simple meal. There will be linens for the beds, although maybe not towels. (Check this ahead of time.) 
Is Airbnb illegal in NYC?
Visitors to NYC should be aware that NYC does not permit rentals for fewer than 30 days unless the owner is present during the stay. If you're familiar with the platform, you'll know Airbnb offers private rooms or entire apartments, however, in NYC if you rent an entire apartment for fewer than four weeks and the owner isn't living there at the same time, that's illegal—nevertheless, it is widely done in NYC. If enough neighbors complain about your presence, you run the risk of having your stay terminated by city inspectors. 
Are short-term rentals allowed in NYC? 
The answer to this question depends on how you define short-term rental. Renting an apartment for fewer than 30 days isn't allowed in NYC, unless the owner is also in the apartment. (Being in the building does not count, even if it is a townhouse or private house.) Renting an apartment for more than 30 days is allowed and the owner does not have to be there.
How can I find a short-term rental in NYC?
There are several short-term rental companies specializing in furnished short-term stays in NYC. Most options are based on the hospitality business model—and you're treated as a guest rather than a tenant. 
Airbnb, of course, offers short-term rental options although if you're renting for more than a month, the platform defines this as a long-term rental. VRBO also has a presence in NYC. For more options, read: "An insider's guide to finding a short-term furnished rental in NYC."
Another option is to consider a house-swap where you trade your place for someone else's without any money changing hands. This is one way to get around the city's short-term rental rules—if there's no payment you can stay in the apartment and the owner does not need to be present. For more, check out this episode of the Brick Underground podcast: "Trading your NYC apartment for a cheap(er) vacation."
How much does a short-term rental cost in NYC?
Short-term rentals generally cost more per month than a traditional, unfurnished rental. You pay a premium for the flexibility and furnishings of a short-term rental. In addition, short-term rentals offered via companies are often in the most accessible and popular (therefore expensive) areas and provide additional services like cleaning, coffee, and 24/7 support. 
Rates in prime Manhattan areas and popular Brooklyn destinations can run from $5,000 to $10,000 a month for a one bedroom or studio. For cheaper stays head to Queens neighborhoods like Long Island City or Gowanus, where you can find rates in the $2,000 to $3,500 per month range. 
Do six-month leases exist in NYC? 
The standard lease in NYC is 12 to 18 months. Few landlords want the hassle of turning over an apartment to a new tenant within six months. However, if you're looking for a six-month lease, one option is to take over someone else's rental half way through their lease term. 
You can also use your own networks, social media, listservs and contacts to see if anyone is offering a sublet opportunity. A sublet would mean the original tenant plans to return to the apartment and you'd just rent it from them while they were gone. 
What's the difference between a sublet and a short-term rental?
Sublets and short-term rentals differ in price and amenities. A sublet typically takes place when the original tenant intends to return to the apartment and you are temporarily renting from them—so you will pay your rent to the tenant. In a sublet, the quality of the furnishings will be unique to the person you are renting from, as will the troubleshooting when the Wifi fails. In this respect, it's similar to renting an Airbnb for a month or more in New York. 
It's possible you may find a sublet where the tenant wants to move out of the apartment permanently—and remove their belongings (or sell them to you). This is technically a lease assignment rather than a sublet and you would pay the landlord the rent, and deal directly with the landlord if there were repairs needed in the apartment.
A short-term rental via company will typically have good quality furnishings and a system in place if something goes wrong—you are not renting from an individual as you are with Airbnb or a sublet, but an organization where you are the customer. As a result, a short-term rental via a company is likely to be more expensive than a sublet. 
What's cheaper, a sublet or a short-term rental?
There is, of course, a wide variety in the types of apartments available as temporary housing. Generally a sublet is more hassle—it's more difficult to find and you might need to be more flexible with the time frame of the rental. This means a sublet is often more affordable than a short-term rental via a company. Short-term rentals offer flexibility, convenience, and in some cases add-ons like cleaning, cooking, and pet services. All this comes at a premium. 
With a sublet, you may find the original lease states that the tenant pays electricity or gas, which then becomes your responsibility unless you make a separate arrangement with the tenant you are renting from. 
Some of the high-end short-term rentals are well above $10,000 a month for a studio. There are one bedrooms in Soho at around $6,000 to $7,000 per month. By comparison, currently a one-bedroom sublet with a three-month minimum in Midtown is listed with a monthly rent of $4,600. 
Where can I find a summer sublet?
As with any rental, you will find more apartments available in NYC  from June through September. Summer sublets can be found by word of mouth, social media, through listservs and Google groups.
There are also several roommate matching sites where you can find a sublet in a shared apartment. Check out: "The 12 best sites for finding a roommate in NYC."
What's the difference between co-living and a short-term rental?
Co-living is considered a short-term rental option in NYC. Generally co-living companies appeal to individual renters (rather than families) who are looking for flexibility, convenience, and a built-in social life. Co-living companies typically handle the entire rental process, including matching you with roommates, and you can also opt to rent an entire apartment to yourself with leases available for one to 12 months. 
It's actually illegal to rent out an individual room in NYC unless the building is a designated single room occupancy building or SRO. Be aware that an apartment with locks on the bedroom doors is illegal. Interior locked doors are considered a fire hazard and if the city finds this kind of situation in an apartment, they'll issue a vacate order and the landlord will face huge fines. 
For more on this read, "What are the pitfalls of co-living in NYC? 3 ways to protect yourself." Also check out "Brick Underground's guide to co-living" for a breakdown of what types of buildings and apartments are offered through the co-living model.
What alternatives are there to Airbnb in NYC?
The alternatives to Airbnb depend on the length of time you want to be in the city. If you're looking for a private apartment, rather than a room, to rent for a week, consider a hotel suite. There are more than 200 hotels offering suites in Manhattan.
If you're staying for a month or more, choose from one of several agencies specializing in furnished short-term stays, consider a co-living building, or use your networks or Leasebreak.com to find a sublet.
How can I tell if a short-term rental is a scam?
Rental scams generally take advantage of your urgent need to find a place, making you hand over money quickly— before you can figure out something's wrong. If possible, see the place in person. If you can't get to the apartment, at the very least make sure the listing has a real address by researching it online.
If you're using an online platform like Airbnb or another service and your contact wants to take communication off the platform, that's an indication they want to skirt the normal protocols and it could be a red flag. Is the rent too good to be true? It's probably a scam. 
Renters in NYC have certain rights. For example, a landlord isn't allowed to charge more than $20 for an application/credit check or take more than the equivalent of one month's rent as a security deposit. If you're told otherwise, you're probably dealing with a scammer. Another tip: Always ask to review the lease. If there's any reluctance on the part of the apartment owner or tenant, it could mean the rental is not allowed (if it's a sublet) or even worse, the place doesn't exist. For more, read: "8 signs that a short-term rental is a scam."
Brick Underground articles occasionally include the expertise of, or information about, advertising partners when relevant to the story. We will never promote an advertiser's product without making the relationship clear to our readers.