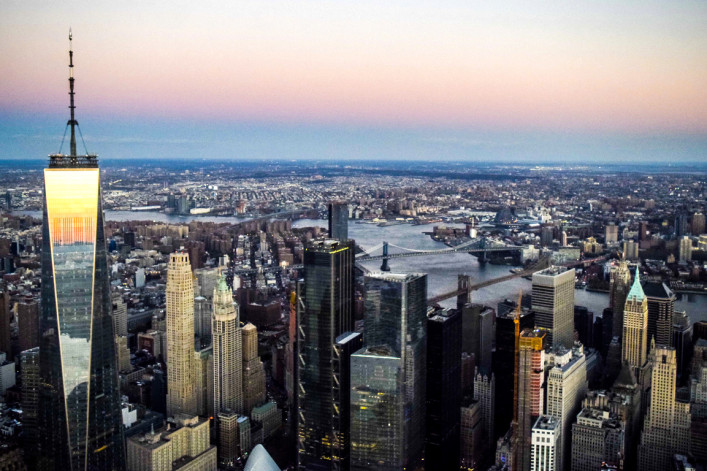 One of the real estate silver linings of the pandemic is the ability to upgrade to a new New York City rental apartment and get the neighborhood, space, or amenities you want—or all three, like this couple that traded up to a full-service building in Tribeca or this duo who found a condo for rent overlooking Central Park.
And not only that, with rents dropping and lots of listings on the market, luxury rental buildings are offering increasingly generous concessions like free months (two or three free months is the most common, but some buildings are offering even more) and owner-paid broker fees—all in an effort to get you to sign a lease.
It's a good time to be a luxury renter in NYC—and prospective buyers who want to hold off on splashing out the cash will also find their choice of high-end properties, so they can test out a building or a neighborhood while they wait (and see how the election results will impact the NYC real estate market).
Brick Underground looked at the most expensive neighborhoods to rent in Manhattan, Brooklyn, Queens, and the Bronx (with apologies to Staten Island, where inventory is comparatively low) to find the areas to hunt for an upgrade. To help with your search, Brick Underground enlisted the data experts at listings site RentHop who pulled 2019 median rent for one-bedroom apartments in the neighborhoods at the top of the rental market in each borough. (Keep in mind that these are the neighborhoods with the highest median rents in each of the boroughs—other well-known pricey neighborhoods were omitted because they lack rental inventory.)
Even in these tony enclaves, the impact of the pandemic means that you are likely to score concessions, and possibly lower rent than the medians listed here. We also talked to a few local brokers about what New Yorkers are looking for and why these neighborhoods are a good fit for the luxury renter. Here's what we learned.
Where to upgrade in Manhattan
The three most expensive neighborhoods in Manhattan to rent are Union Square (with a median rent of $4,637), Flatiron ($4,500), and NoMad ($4,495)—all dense neighborhoods with lots of dining and nightlife options, well-served by transportation, and in close proximity to office space—should you be heading back to the office soon. In other words, not exactly things at the top of renters' wishlists in 2020.
So what's the draw here now? 
In a nutshell, it's an opportunity to be strategic, says Andrew Sacks, an agent at Corcoran who specializes in these neighborhoods. "The gym, the lounge, all these communal areas lose a lot of their appeal when they're closed or people are not comfortable utilizing them."
Sacks points out that smaller boutique buildings have become more desirable during the pandemic. But therein lies the opportunity for the proactive renter looking to upgrade into one of these neighborhoods. Union Square, Flatiron, and NoMad are dominated by large buildings with tons of amenities and common spaces. Those properties are the ones that have been most affected by the Covid downturn.
As such, "they're being quite proactive about staying competitive, trying to compensate for that by offering more value in the form of concessions," Sacks says, noting that he's seen buildings offering two to three months free for units that are on the market now.
These neighborhoods are good places to ride out the pandemic. If you want to cook at home and want groceries delivered, Union Square gives you Whole Foods and Trader Joe's, NoMad has Kalustyan's and Trader Joe's, and Flatiron has Eataly and access to Fairway Market in Chelsea. 
Want green space for socially distanced activities? Union Square has, of course, Union Square, and Flatiron and NoMad share Madison Square Park.
All three neighborhoods are centrally located, making it easy to get wherever you want to go in Manhattan even if you elect not to use public transportation. And they're well served by the MTA: the 6, R, and W trains run through Flatiron and NoMad, while Union Square is one of the busiest transit hubs in the city, with the 4, 5, 6, N, Q, R, W, and L trains all stopping at the 14th Street-Union Square station. There are also many bus routes, and cabs and Ubers are easy to find.
Because these neighborhoods have large commercial and office bases, and because many people are still working from home these days, Sacks says that Union Square, Flatiron, and NoMad are all less crowded than usual.
But the time to move is now, he adds. "I wouldn't say the market is back to normal, but things are coming along a little bit, and people are adapting to the new normal," Sacks says. "A lot of renters are saying, 'Pre-Covid, I couldn't get that space in these neighborhoods.' Now, because of the concessions and where the market is, they can. It's never been a better time to be a renter in NYC, to find such great value. It's not going to last forever."
Where to upgrade in Brooklyn
Renters hunting in the three most expensive neighborhoods in Brooklyn—Dumbo ($4,120), Williamsburg ($3,500), and Cobble Hill ($3,495)—are looking to gain more room, even if that means leaving condos and other fully amenitized buildings.
Renters in Dumbo and Williamsburg are looking for work space and outdoor space, says Ali Sherbach, an agent at Corcoran. "Right now I have owners moving out of their condo and into a rental luxury building so that they can have work spaces to spread into," she reports.
Those sorts of moves are also happening in Williamsburg, where people are leaving the luxury high-rises that have sprouted along the waterfront for apartments or houses with more square footage and with outdoor space that is accessible directly from the apartment. 
"High-rise buildings tend to have smaller living spaces because the tradeoff was that you had all these amazing amenity spaces to enjoy," Sherbach says. "Now people want more room in their actual apartments. They may want room for a desk or two, and if there isn't some sort of small nook or a large-enough living or bedroom space to accommodate that, the apartment won't work for people working from home for the foreseeable future."
The same thing is happening in Cobble Hill, albeit on a smaller scale. Zoe Saaf, an agent at Corcoran, says renters there are pushing for outdoor space—apartments that don't have it are a "dealbreaker" for some. Other must-haves: A home office with a window and a rec room, especially for parents with young children learning at home.
Most of the rentals in Cobble Hill are townhouses, with two or three units upstairs accessible through the front entrance, and a garden apartment with its own entrance. That private entrance has become something renters really want, as well. 
"Sometimes you want to come home and not interact with someone, or be able to take the baby out of the stroller without running into someone in the hallway," Saaf says. That goes for doormen, as well. "People always thought having a virtual doorman was a grade down, but now people are really preferring it."
All three neighborhoods have a lot to offer the luxury renter. Williamsburg has a string of parks along the waterfront, including Marsha P. Johnson State Park, and McCarren Park in North Williamsburg, plus lots of restaurants, bars, cafes, and shopping options for you to take full advantage of after the pandemic—although Sherbach says many restaurants have set up outdoor dining tents where parking used to be. "It's like a bunch of tiny houses have popped up all over the streets of Williamsburg," she says.
The neighborhood is served by the L, G, J, M, and Z trains, plus the ferry into Manhattan, and several bus lines. There's also a stunning Whole Foods on Bedford Avenue.
Dumbo also has parks along the water, several great restaurants, and Foragers for groceries and takeout. The F, A, and C trains stop in the neighborhood, and the East River Ferry stops at Fulton Ferry Park. Plus, the bridges in both Dumbo and Williamsburg allow for an easy commute for drivers and bikers who want a quick ride into the city.
Cobble Hill has Cobble Hill Park and Van Voorhees Playground for green space, and isn't far from Brooklyn Bridge Park. The boutique stores on Court Street are still open for shopping, and there are a range of grocery options, from the upscale Union Market to staples like Trader Joe's and Key Food.
Best of all (in the era of Covid), Cobble Hill feels like a small jewel box of a neighborhood, as Saaf describes it. It's historically landmarked, which has prevented developers from building bigger buildings to bring more people into the neighborhood. "It feels like a little sanctuary away from the city, while still being in NYC," Saaf says. With all of the options on the market, she encourages people to stretch themselves. "'What do I need?' is the normal MO, but people should start looking for 'What do I want?'" she advises.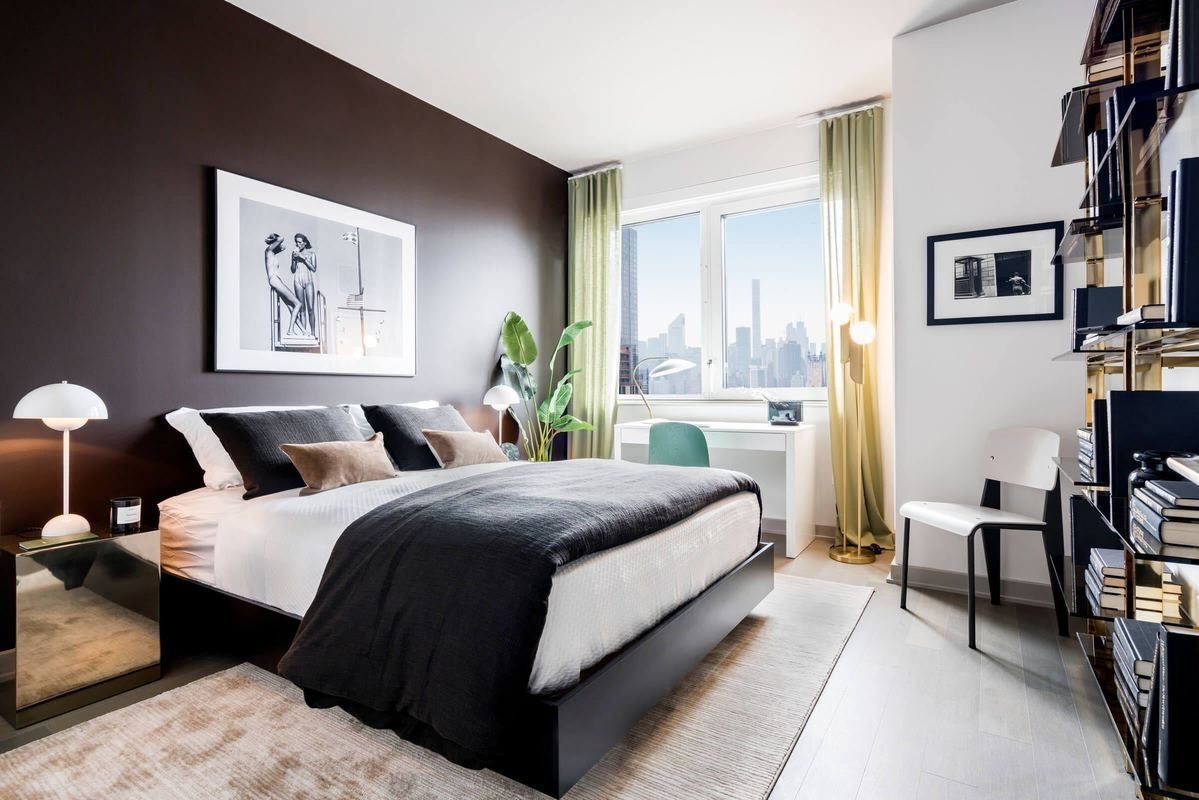 Where to upgrade in Queens
Long Island City ($3,270)—by far the priciest neighborhood in Queens—has long been a good fit for the luxury renter, says Patrick Smith, an agent at Corcoran. "And I would say that Covid accelerated the trend."
The main reason? Transportation options are plentiful, and include access to eight subway lines, five of which reach Manhattan in one stop. Plus there are many bus routes, two NYC Ferry stops, several Citi Bike stations, and pedestrian and bicycle access lanes across the Pulaski Bridge to north Brooklyn and across the 59th Street Bridge to Manhattan. Because you may not be going to the office now—but someday that could change. Why not position yourself for an easy commute?
Smith says that in Long Island City and Astoria, "Low-rise buildings that might have apartments with a rear yard and setback terraces above are in demand, and the option of the elevator or staircase to access the apartment is appealing."
On-site amenities like fitness centers and lounges were closed during the lockdown, but have begun to reopen with reduced capacity, Smith says. 
"Buildings have adapted simple but effective protocols like protective screens for staff, contactless rent payment, limiting the number of people in the elevators and cleaning common areas with greater frequency," he says.
Astoria ($2,300) has multi-family houses, many with backyards, and some larger apartment buildings, typically six to eight stories high. The neighborhood is served by the R and M subway lines along Broadway and the N and W lines along 31st Street (the N and W subway stations were recently renovated). The neighborhood is known for its diverse restaurant scene, Kaufman Astoria Studios ("Sesame Street" and "Orange is the New Black" were filmed there) and museums like Museum of the Moving Image and Noguchi Museum. 
Several of Long Island City's cultural institutions have reopened, including MoMA PS1 and SculptureCenter. The neighborhood is largely residential, but has Gantry Plaza State Park and Court Square Park for green space, while Astoria has Astoria Park and Socrates Sculpture Garden. Trader Joe's recently signed for a large space at 22-43 Jackson Avenue in Long Island City, and there are loads of great restaurants in both neighborhoods.
Rego Park ($2,250) is a bit quieter and more family-oriented than Long Island City and Astoria. There's a mix of large rental buildings and smaller single- and multi-family houses. The area is served by the R and M subway lines along Queens Boulevard and you can transfer to an express train in Jackson Heights or Forest Hills. There aren't as many bars and restaurants here, but there is Rego Center, where you'll find Costco, Aldi, Marshall's, Bed, Bath, & Beyond, Petco, and other chain stores and restaurants. IKEA is opening their first Queens store there later this year. Trader Joe's is on Metropolitan Avenue and there are several other grocery stores around the neighborhood.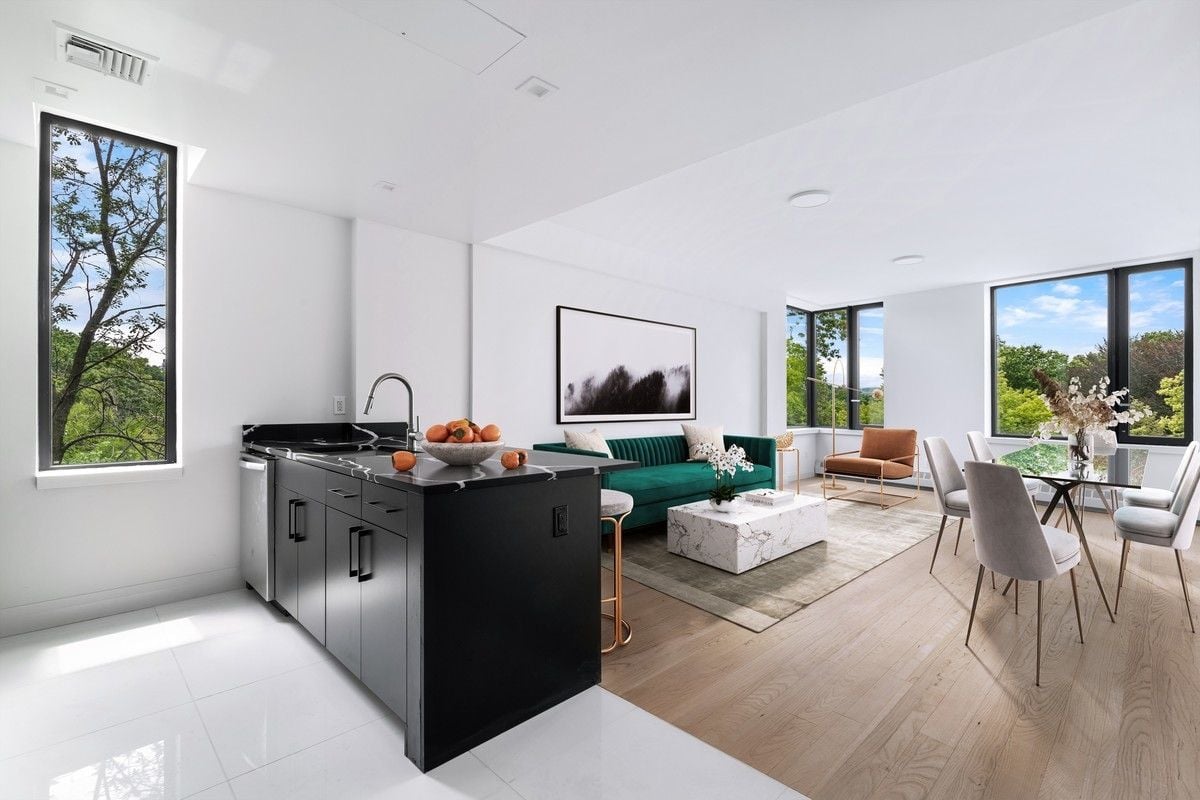 Where to upgrade in the Bronx
Picture a neighborhood you would want to escape to this year. It might look something like Riverdale ($2,295), a verdant, quasi-suburban enclave along the Hudson River, just south of Westchester County.
Riverdale has ample green space, including Van Cortlandt Park (the third-largest city park) and Wave Hill, plus plenty of trees sprouting from the acreage of the sprawling estates along its winding roads and a picturesque jogging trail on Palisade Avenue, which runs along the riverfront. It's fairly isolated from the subway (just three stops on the 1 train), but commuters still have the Metro-North, which gets to Midtown in 25 minutes, plus express busses to Midtown, Penn Station, and lower Manhattan. You can also walk into Manhattan along the Henry Hudson Bridge walkway, which leads into Inwood Hill Park.
Greg Kochanov, owner of Moda Realty, has seen a lot of renters looking in Riverdale, where they can afford a lot more space than they can get in the city. That's led to a crunch in the rental market, in part because there's not a lot of different types of housing—and about 80 percent of it is co-ops.
Still, Kochanov says big buildings are renting fine. "I don't see people skipping the big buildings, they just really want space and outdoor access," he notes.
Riverdale has three distinct sections, all with slightly different housing stock and vibes. Spuyten Duyvil, the southernmost part, is favored by young professionals because of the easier commute into the city. Central Riverdale is a mix of co-ops, single-family homes, and some very expensive estates, whereas you'll find more single-family homes with yards in North Riverdale.
That said, the lack of turnover is part of Riverdale's appeal, Kochanov says. "That's what makes it special. It's a very stable neighborhood: A lot of people that have been here 40 or 50 years, been in the same building, they like the neighborhood. I personally have lived here for 24 years."
If a single-family home is what you're after, you might have better luck in Van Nest ($2,344), an East Bronx enclave which was settled 1893. Architectural styles are diverse in Van Nest and include Italianate, Queen Anne, Art Deco, and contemporary brick and mortar. It's a compact neighborhood, but has a recently renovated community park, and good transportation options for the outer boroughs: the 2 and 5 trains, plus several buses, including an express to Midtown.
Down in the South Bronx, Mott Haven ($2,200) has several new developments that might be in your price range now. The neighborhood has been touted as "up and coming" for a few years now, but it's always been residential, and while it's largely dominated by tenement-style apartment buildings, it does have other options, such as the classic red brick facades and Dutch- and Flemish-style pediments in the Mott Haven East Historic District.
Mott Haven is dense, but it doesn't lack green space, either: There's the large St. Mary's Park, and many pocket parks scattered throughout the neighborhood.
The 2, 4, 5, and 6 trains serve the neighborhood. But as Brick wrote in a recent feature on Bronx neighborhoods, with five bridges connecting it with Manhattan and Queens, it's really convenient if you have a car here.
Brick Underground articles occasionally include the expertise of, or information about, advertising partners when relevant to the story. We will never promote an advertiser's product without making the relationship clear to our readers.