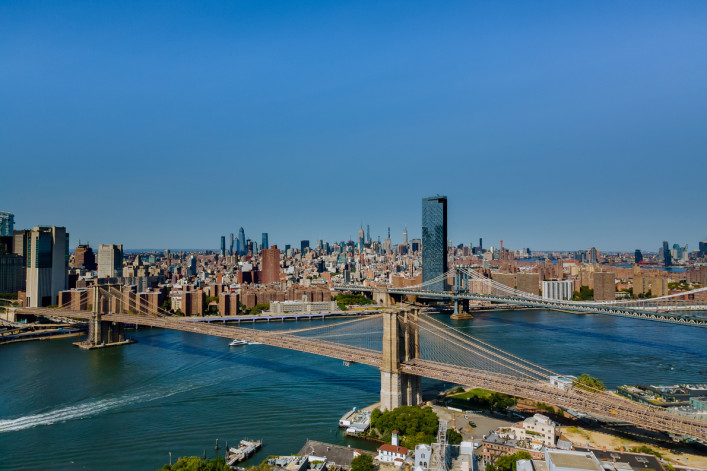 Apartment sales in New York City typically slow down during a presidential election year, especially in Manhattan, as buyers wait to see who will take office—and what their economic approach will be. But this year has been anything but typical—sales are plummeting for more urgent reasons caused by the pandemic. 
Still, if you're hoping to buy or sell in the city, you might be wondering how to time your deal and what the implications of a Trump second term or Biden win would be for NYC real estate.
Of course, the Trump administration previously made owners unhappy with the 2018 tax overhaul, which hurt New York homeowners by capping state and local deductions (SALT) to $10,000. In expensive areas like New York, the state and city income taxes are high, so fewer people are able to take itemized deductions.
More recently, there's the thorny issue of the Department of Justice labeling the city as an "anarchist jurisdiction" and threatening to withhold federal funding—which could deliver a major blow to NYC's already strapped budget, impacting quality of life here.
On the other hand Biden will be asking wealthy Americans and big corporations to pay their fair share when it comes to taxes, raising the corporate tax rate to 28 percent. He's also promising to go after companies who pay no tax at all. For middle income earners, he says he won't raise taxes on anyone who makes less than $400,000 and plans to offer tax credits of up to $15,000 to first-time buyers.
Brokers in NYC say when it comes to the city's real estate market, policy is often less important than perception. This year there are other factors—including how close we are to a safe and effective coronavirus vaccine that's available to all. We asked how the different election outcomes might impact the city's housing market and what you should be considering if you plan to buy or sell.
Understanding uncertainty in the market
If you're trying to time buying or selling, Kobi Lahav, director of sales at Living New York, says it has less to do with economics or policy and more to do with how you feel.
"Uncertainly is what matters. We don't know where we are going with Covid-19, or if there is going to be a contested election—that might mean more instability. People are uncertain what the future holds and in that kind of environment it is always better to be a buyer than a seller," he says. In the months ahead, "we may be smarter about Covid-19 because some of the vaccine trials are coming to an end in October, so we'll know what the timeline is for a vaccine, if there is one. In short, it's better to be a buyer before the election, and better to be a seller after the election." 
A return to normalcy will be welcome in NYC
Seth Levin, a broker with Keller Williams NYC, says regardless of the outcome, people will be happy to have the election behind us.
"In Manhattan it's an incredible time for buyers to take advantage of uncertainty—just before pricing really gets cemented," he says. "This is their opportunity. However, New York has not been a beneficiary of the recent uncertainty. The real estate market is ablaze in some parts of the country but in New York City that has not been the case. We've been dealing with high levels of inventory and low demand. People will still be able to take advantage of high inventory compared to demand after the election but it just might not be as profound as it is currently. If the election brings a return to normalcy—in people's perception of where we are as a country—that only bodes well for our market in particular."
Much comes down to how NYC is treated post-election 
New York is a liberal city so there will be plenty of disappointment with a Trump win, says Frederick Warburg Peters, CEO of Warburg Realty, but Biden poses different threats and opportunities. 
"What's important is whether a re-empowered Trump administration will continue to treat NYC as an 'anarchist jurisdiction' and withhold federal dollars. That could have a major negative effect on livability in the city, especially as it impacts mass transportation. Biden and a Democratic Senate would almost certainly extend federal funding to keep NYC operational. He might also look at re-instating the deductibility of the SALT taxes, which a Trump administration almost certainly would not do. On the other hand, you might see disenchantment from the financial sector if Biden goes after 1031 exchanges or seeks to raise taxes," Warburg Peters says.
The importance of federal support and local politics
Federal funding is going to be a lifeline for NYC, says Daniel Blatman, an agent with Triplemint, but there will be other factors that affect the city's housing market. 
"There is a lot of discussion about Trump punishing cities that are led by Democrats. If he goes into a second term, he may no longer feel the need to punish those that once went against him and some believe he will start to be the president that everyone wishes he would be. If he were to lose, Biden would have his own plan. The way I'm advising my clients is that it's a fantastic market if you are looking to buy. Regardless of the presidential election, we have other things in this climate that might greatly affect us, like the pied-à-terre tax," Blatman says. [Editor's note: The introduction of a pied-à-terre tax has been floated in the past few years and would target non-primary residences with a market value of $5 million or more.]
The bigger win will be a vaccine for coronavirus 
Having a working vaccine will be the inflection point to the housing market, says Scott Harris, a broker with Brown Harris Stevens. 
"Psychologically, New Yorkers need a win, the vaccine being higher billing than the election. A Biden win would be a relief, more than anything else. I don't see it as having a massive impact on the housing market. The bigger moves would be if discussions about reinstating SALT deductions get underway. The best move is to buy now, before the election and vaccine, and sell after. The vaccine will likely do more to set a floor to the market than anything else. A Biden win will only add tailwinds. Selling after these inflection points will be selling into a more conducive environment with broader buyer confidence, activity, and deal making," Harris says.
Regardless of who wins, it's a long road ahead
Ellen Sykes, an agent with Warburg Realty, predicts a Biden win will provide some relief from the SALT deduction cap but it will be way down the road. 
"If Trump is re-elected, there should be no change in the SALT deductions. New York is going to continue to see some people changing their residencies if they can. That is not going to help the market. And even if Biden gets in and we get a Democratic congress, nothing will be done before January. March is when things are really going start getting ugly. There is serious unemployment, gaps in state and city budget, and the ongoing threat of Covid. This mess is not going to resolve itself for two years at least. If you are a buyer, you can afford to wait. You might even want to take advantage of the rental market while you make up your mind," Sykes says.
Brick Underground articles occasionally include the expertise of, or information about, advertising partners when relevant to the story. We will never promote an advertiser's product without making the relationship clear to our readers.