A huge spate of affordably priced apartments are going on the market in Greenpoint: Applications have opened up for 102 new apartments at 5 Blue Slip, one of three affordable housing complexes rising in the northern section of the neighborhood. 
Per the listing posted on NYC Housing Connect, the available apartments are a mix of studios, one-bedrooms, and two-bedrooms ranging from $368/month (for a studio) to $1,065/month (for a two-bedroom) for renters with annual household incomes between $13,955 (for a single person) and $54,360 (for a family of four); the rents depend on apartment and household size: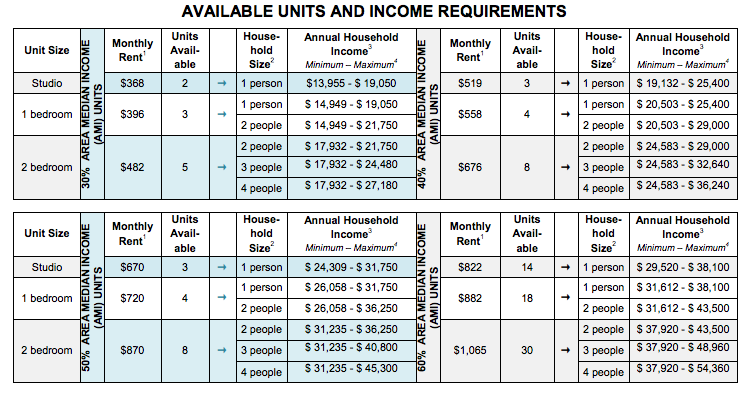 As usual, half of these apartments will be set aside for current neighborhood residents, which in this case means those who live in the Brooklyn's Community Board 1.
If you're interested and think you may qualify, you can create a profile and apply online via NYC Housing connect, or request a paper application by mailing a self-addressed envelope to: F2 OWNER LLC/ FIVE BLUE SLIP, TRIBOROUGH STATION, P.O. Box 2009, New York, NY 10035. (Don't do both, as submitting multiple applications can disqualify you.) Applications are due by December 29th—no exceptions.
Note: Brick Underground is in no way affiliated with New York City public housing. If you are interested in applying to this or other affordable housing developments, please go to the NYC Housing Connect website for information and instructions.