It's a cliché because it's true: throw any two New Yorkers in a room and it probably won't be long before the questions, "Where do you live?" and "What do you do?" come up. Not far behind (and actually, related): "What's your commute like?"
How one gets to work, how long it takes, and where you can work when you're not there (such as an official coworking space, a communal gathering and working space in your building, or a café with free WiFi and good coffee) are perhaps the most practical aspects to consider when evaluating a move. The Brooklyn Cultural District is that rare New York City neighborhood with a location that makes travel to Manhattan and other boroughs, as well as within Brooklyn itself easy and perhaps more importantly — quick.
(Above) BRIC Arts Media is one of the many thriving arts organizations doing business in the Brooklyn Cultural District.
Who's Doing Business in and around the Brooklyn Cultural District
Brooklyn is increasingly becoming a place not only where businesses are created and grown — but where they move. (And by "move" we mean, yes, from Manhattan.)
Deluxe, state-of-the-art office developments backed by real estate heavy-hitters are snapping up high profile tenants, prompting trade magazine headlines such as "Who's winning the Brooklyn office battle?" How big, in fact, is the market? A recent report by the largest commercial real estate investment manager CBRE ranks the stand-alone office market of the Brooklyn Waterfront district at the sixth-largest in the country.
In addition to the more than 60 arts organizations in the immediate vicinity, the Brooklyn Cultural District is also part of the Brooklyn Tech Triangle, the trio of Brooklyn neighborhoods (Downtown Brooklyn, DUMBO and the Brooklyn Navy Yard) where dozens of pioneering, creative entrepreneurs are doing business. (In fact, the Triangle is New York City's largest cluster of tech activity outside of Manhattan.)
Major corporations and civic agencies have headquarters and major satellite offices nearby as well, including National Grid and JP Morgan Chase, and  multiple educational institutions, both undergrad and graduate-level, can be found here.
"New and prospective residents to 
The Ashland 
have come from many different neighborhoods, including locally in Fort Greene and a myriad of Brooklyn neighborhoods such as Park Slope, Dumbo, Williamsburg and Bed Stuy. In equal numbers we have seen clients coming from lower Manhattan, the Lower East Side, the East Village as well as the Upper East Side along with relocation clients coming from California, London and Amsterdam," says Nancy Holland, Leasing Director at 
The Ashland
. "They are professionals in finance, IT, medical fields along with creative fields and the arts."
The Brooklyn Cultural District will have almost 250,000 additional rentable square feet this fall/winter with the addition of the Pioneer Building, located across the street from the Ashland. The project was developed by a partnership of Quinlan Development Group and Building and Land Technology to meet the growing demand for small and large businesses to be near the best transportation as well as the most vibrant neighborhood in Brooklyn "The Technology, Advertising, Media and Information (or TAMI) and creative tenants that we want for our building all share a personality that resonates strongly with the vibe and feel of the Brooklyn Cultural District," commented Tyler Wilkins, Partner at Quinlan.  " And the explosion of great new buildings in the area – like The Ashland, right across the street – means you can have a 1-minute commute to your future office, exciting local restaurants and many of the dynamic cultural offerings of Brooklyn."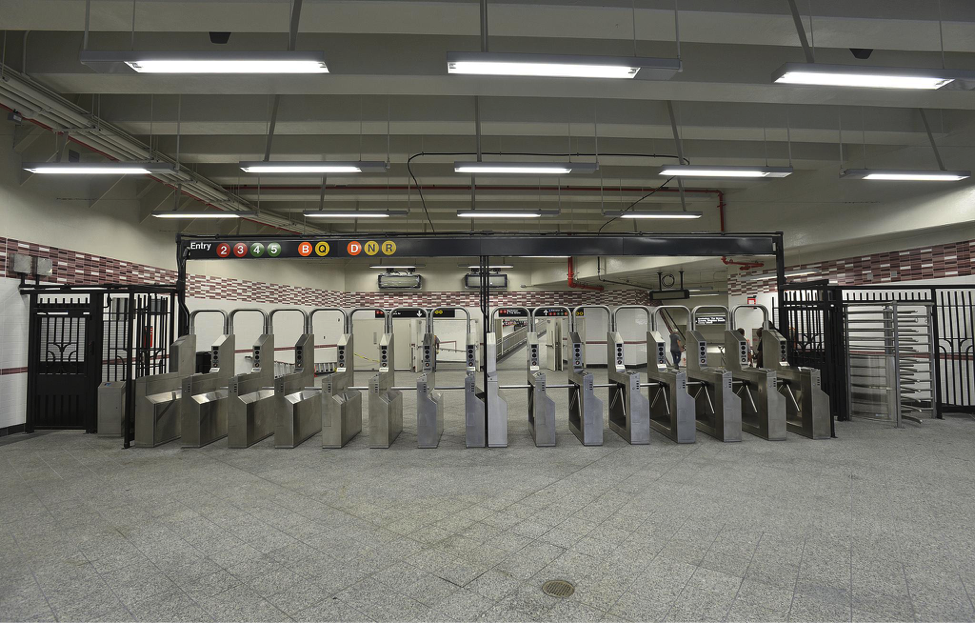 (Above) The Brooklyn Cultural district is near 11 subway lines, as well as the Long Island Railroad.
Public Transit
Eleven subway lines are accessible from the neighborhood, so you won't want for variety. The 2, 3, 4, 5, N, R, B, Q and D are all at Atlantic Terminal, which also operates as a Long Island Railroad hub; the A and C stop at nearby Lafayette; and the G, which runs through Brooklyn and Queens, is at Fulton Street.

Thanks to express trains that service the area, travel time to major business districts throughout New York, such as the area around Grand Central and Rockefeller Center, is typically 30 minutes. Trips to both Wall Street and DUMBO can be as fast as 20 minutes.
"We have seen clients run the gamut in terms of where they are currently living and what profession they are currently employed in.  With pretty much every subway line available in a few blocks radius, it is a breeze commuting anywhere," says Holland. "We are even seeing Long Island workers using Atlantic Terminal for the LIRR.  Having that proximity to so many transportation options has absolutely factored into our clients' interest in moving to The Ashland.  The commuting part is so simple that it takes that part of the equation right off the table."
"The transportation in the area is one of the things that makes the Brooklyn Cultural District so compelling. We moved from SoHo, and we looked at theaters around the city and chose this location because being accessible is really key," says Cybele Maylone, Executive Director of UrbanGlass. "We have artists coming here from around New York City, and around the world, and the transportation continues to be an incredible resource. I love telling people how easy it is to get here. It opens us up to almost endless possibilities in terms of visitors, and in our case, artists."
Multiple bus lines travel through the area, such as the B57, which services Boerum Hill and Cobble Hill, the B61, which heads to Red Hook and directly to the IKEA location there, as well as the south end of Prospect Park and the B63, which cuts down Fifth Avenue in Park Slope. (For those who prefer the self-powered commute, there are also several Citi Bike stations in the Brooklyn Cultural District.)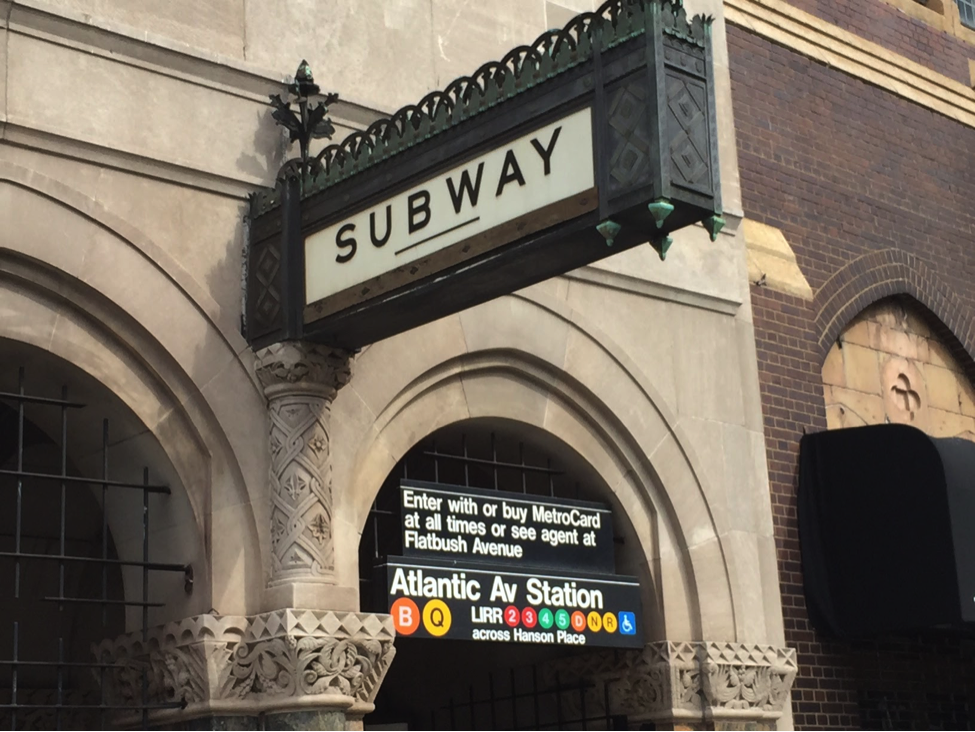 It's a quick commute to other major office hubs
The Brooklyn Cultural District is also a quick commute via mass transit to other burgeoning business spots in the borough, including DUMBO, which can be reached in 20 minutes, as can Gowanus; Williamsburg, which is 25 minutes away; and the Brooklyn Navy Yard, to which travel time is under 30 minutes via train or bus. (Many of these spots can be reached via bike in less than 15 minutes — some even less than 10.) 
The closest business center by far is Downtown Brooklyn, which is a five minute walk from the District. Municipal offices, large corporations, media companies and arts organizations are some of the businesses that fuel the downtown economy. Among them are the Kings County Supreme Court, National Grid, the Fire Department of New York, Empire Blue Cross Blue Shield, JP Morgan Chase, the Slate Media Group and Northside Media.
Educational institutions also maintain a strong presence in the area; NYU's Tandon School of Engineering, as well as its Center for Urban Science and Progress, LIU Brooklyn and Brooklyn Law School are just a few of the higher learning centers located here.
DUMBO serves as the unofficial Brooklyn outpost of the Manhattan "Silicon Alley" tech and digital creative scene, with established and upstart firms calling the neighborhood home. One of the biggest developments for the area is the creation of the five-building Dumbo Heights complex, to which longtime DUMBO resident Etsy is moving, occupying 184,000 square feet over nine floors.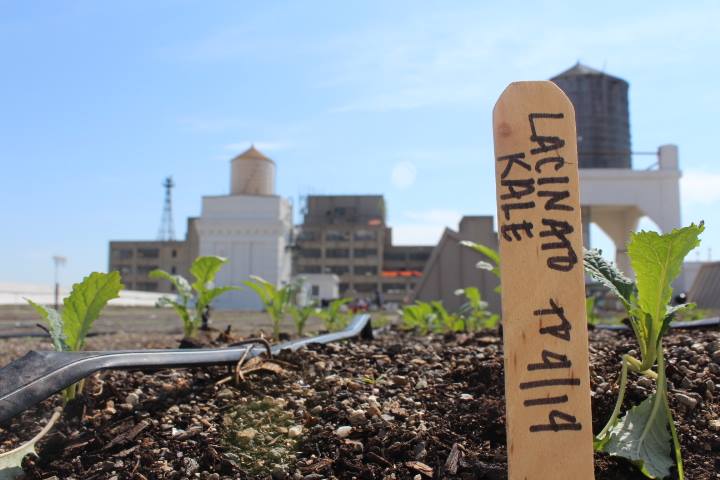 (Above) Leading rooftop farming business Brooklyn Grange is a tenant of the Brooklyn Navy Yard.
More industrial (or industrial-influenced) complexes such as the Brooklyn Navy Yard, just east of DUMBO, and Industry City, located further south in Sunset Park support many "maker" firms and companies, which take advantage of the oversized spaces there.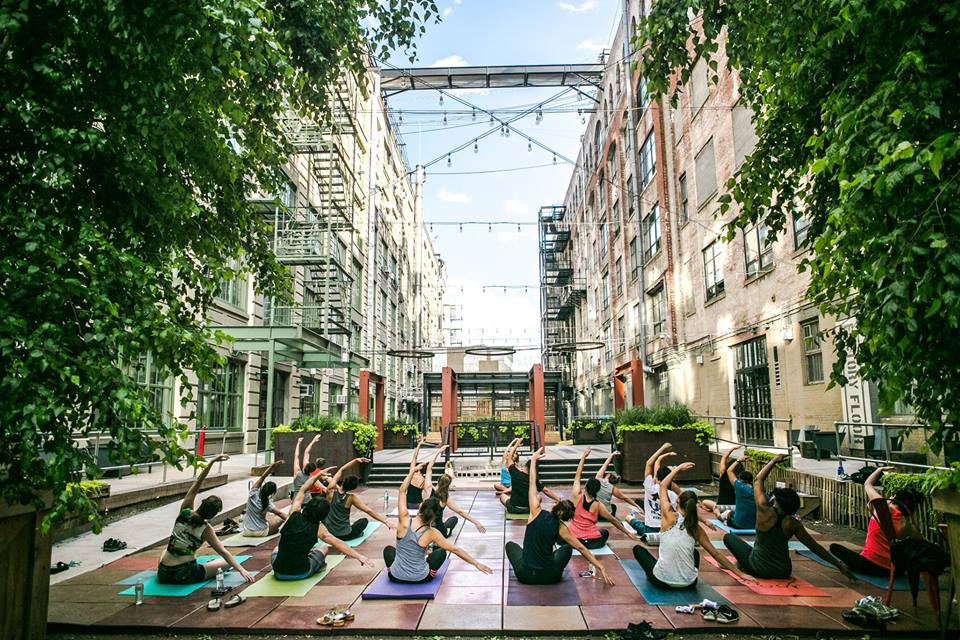 (Above) Like many new urban office complexes, Industry City of Sunset Park holds events for tenants such as afternoon yoga.
More than 300 businesses and 7,000 people get work done at The Brooklyn Navy Yard, which counts heavy-hitters like production company Steiner Studios, a new facility from cult gourmet chocolatiers Mast Brothers, the coffee purveyors of the Brooklyn Roasting Company, and a WeWork coworking facility as either current or future tenants. Pioneering urban farm company Brooklyn Grange, which grows produce on rooftops throughout Brooklyn and beyond (and supplies outlets such as trendy farm-to-table restaurants and Whole Foods) grows here as well.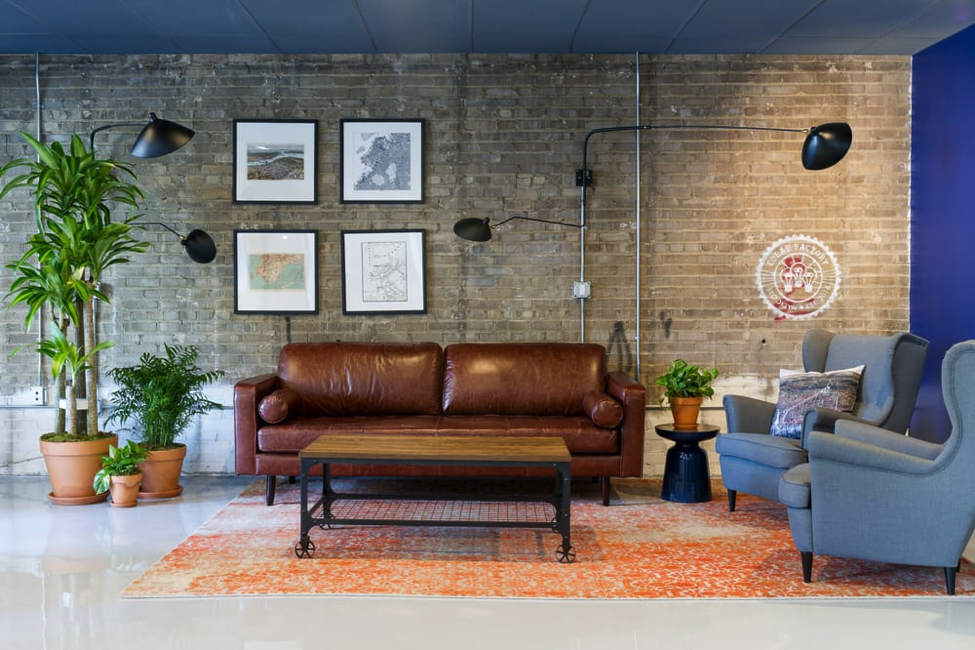 (Above) The Brooklyn Cultural District's CoLab factory is a coworking and event space with an entrepreneurial and innovation bent.
Coworking
For the burgeoning population of consultants, freelancers, and the creative class, Coworking facilities are becoming an increasingly popular option. Brooklyn is home to more than a dozen coworking facilities of varying size, formality and sensibility (some have a tech/startup bent, others skew towards creative professionals, many offer a diverse mix).
There are no less than seven popular and established coworking spots in or around the Brooklyn Cultural District. All provide the basics such as desks, printers, high speed internet, meeting spaces, etc., and many offer amenities and community-building features like cafes, special events, outdoor spaces, 24-hour access, pet-friendly policies, and more.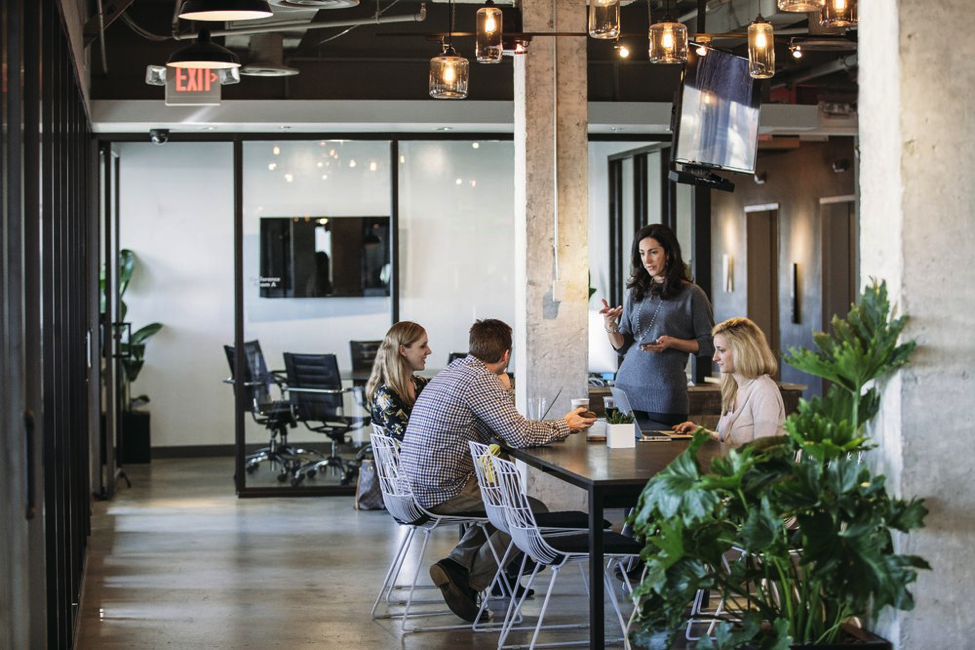 (Above) Coworking facility Industrious Brooklyn is located in Crown Heights.
The CoLab Factory on Dekalb Avenue is in the Brooklyn Cultural District itself, and Fort Greene's Green Desk on Prince Street is also nearby. The Brooklyn Creative League and Coworkers Gowanus can be found in the Gowanus area, and Prospect Heights is home to Industrious Brooklyn. As previously mentioned, WeWork has set up shop in the Dumbo Heights development, and there are also WeWork facilities at the Navy Yard, Williamsburg, and South Williamsburg. Yet another popular coworking space in Williamsburg is Rough Draft, and DUMBO, in line with its entrepreneurial tech scene, is home to the DUMBO Startup Lab.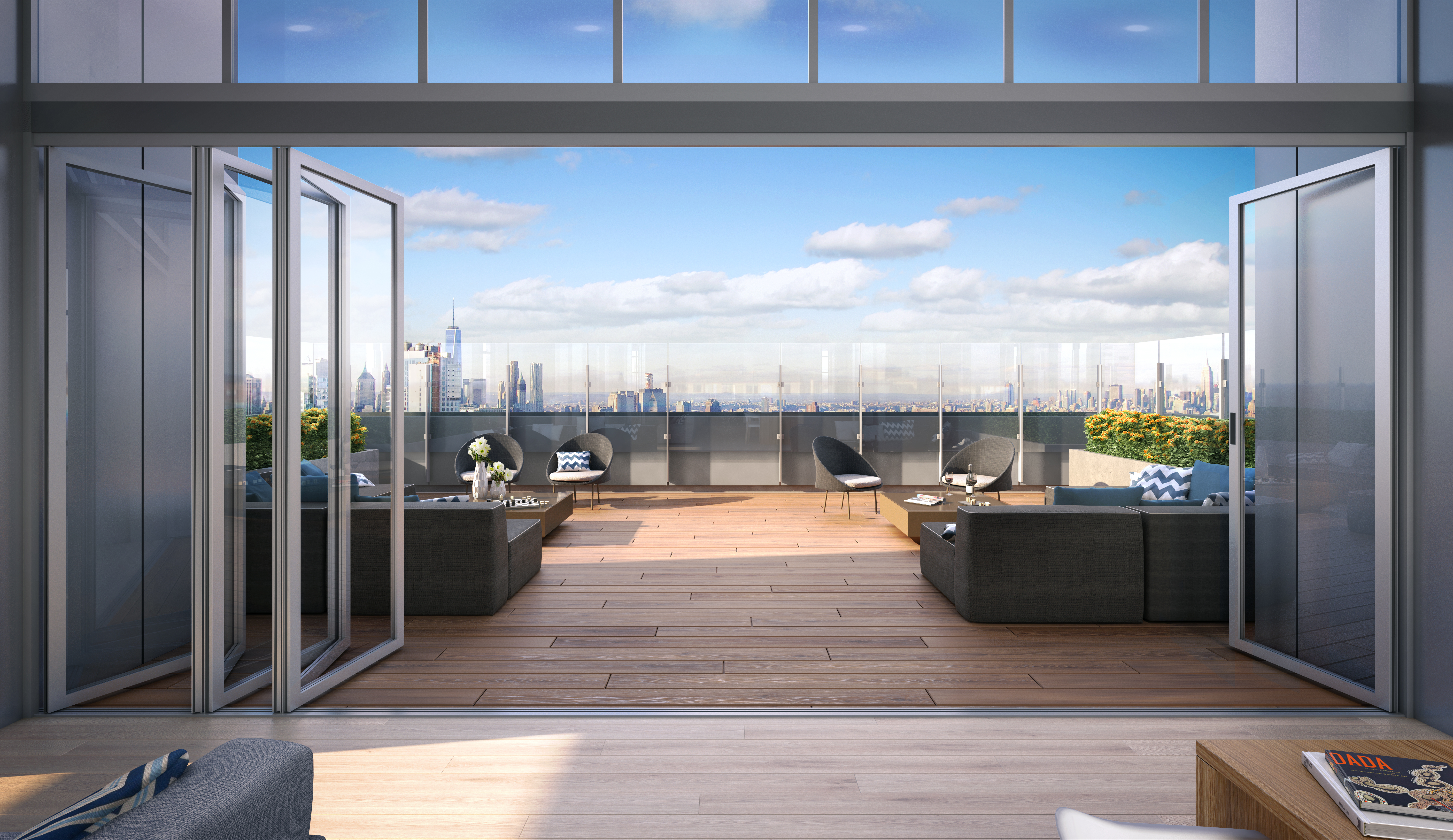 (Above) Residents of The Ashland who sign up for the building's amenities package can take advantage of the resident lounge (pictured here) as a work from home option. Located on the 52nd floor, it features indoor and outdoor spaces as well as public WiFi. 
Working from home
Luxury residential buildings such as The Ashland provide yet a third option for residents to get work done. For those who elect the full amenities package of the development, several spaces are available for working, meeting with friends or clients, and relaxing. Options include a business center, multiple library spaces on the third floor of the building, and a rooftop lounge featuring indoor and outdoor spaces equipped with public WiFi, TVs and sound systems.
As an additional perk, continental breakfast is provided during the work week; residents can also grab coffee and a quick bite downstairs at Gotham Market at The Ashland, opening Fall 2016.
Related: 
The Insider's Guide to the Brooklyn Cultural District (Part 1): Living There
The Insider's Guide to the Brooklyn Cultural District (Par 3): Playing There
---
The Insider's Guide to the Brooklyn Cultural District is brought to you by The Ashland.
The Ashland is a full service residential building offering an inspiring amenity package, exemplary service, and unrivaled access to Brooklyn's Cultural District and Fort Greene.  The Ashland is now leasing Studio to 3 Bedroom homes for immediate availability.