For many New Yorkers, living alone can seem like the ultimate luxury. But what if you get there and realize it's not quite for you? Whether you're a person who just prefers to have someone else around, or you're looking to live in a better neighborhood or apartment than you can afford alone, in New York, roommating can be a very adult prospect. The Girls do it. The Friends did it.  You can do it too.
That's why many New Yorkers extend their apartment-sharing lives well into adulthood – even when they can afford to rent solo. Whether its for social reasons or financial ones, in lots of apartments here in the city, renters share a two-bedroom with a friend, or look for a larger apartment with a dining alcove or oversized living room that can be partitioned off to create an extra bedroom, making space for a roommate ... or two.
"We see groups all the time who want to trade up to a luxury lifestyle like Gotham West but can't quite afford it on their own," says Liza Levine, leasing director at Gotham West.  "Sometimes it's two people, and splitting the two-bedroom rent works nicely. Sometimes there are two or three people with a friend who might not earn quite as much, and they are looking for a great flex layout, where they can use a bookcase or temporary wall to create privacy for an additional bedroom, and prorate the rent accordingly."
Either way, flex layouts can be a great way to get your foot in the door to an apartment — or building — you might not otherwise be able to afford.
"Clients are very smart and informed," says Levine. "Many realize that sharing an apartment — even if it means creating some additional private space for one more roommate — provides many benefits such as better living options, a built in social support system, access to amenities and neighborhoods they might not be able to afford on their own. "
Here's some more about those benefits — in case you need a bit more convincing:
1. You really will save money… for other, important things.
Even when your budget has moved beyond "as cheap as I can possibly find," sharing an apartment can make serious financial sense. You can save a significant amount on rent as well as on shared bills like cable and electricity. Take those savings and parlay them into a future down payment on your own place, treat yourself to vacations (especially now that you've got a built-in pet sitter!), or simply enjoy a night out at one of the cool new restaurants in your hip new neighborhood.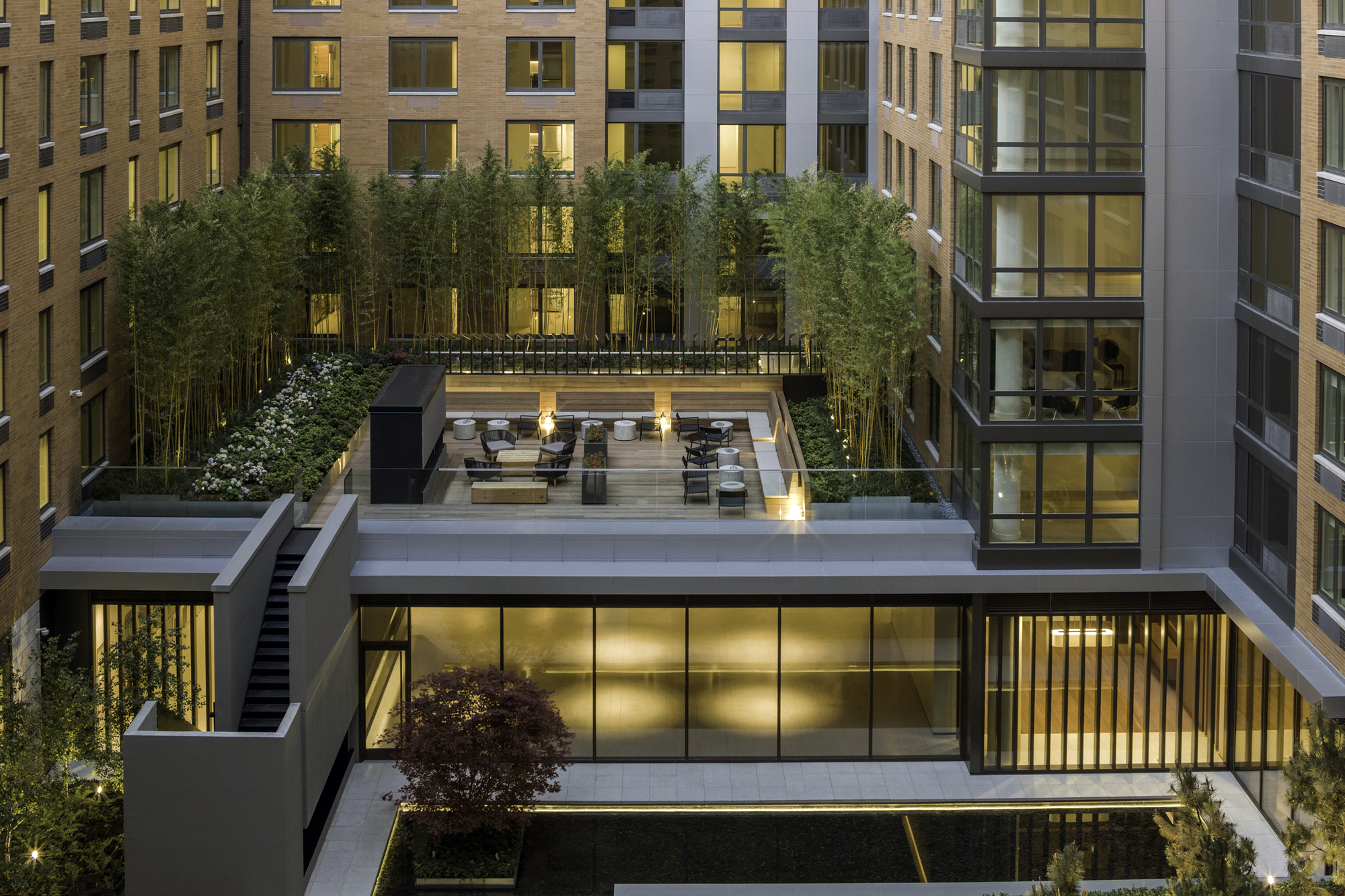 (Pictured above) The Perch, a second floor courtyard terrace at Gotham West, offers a great outdoor space to relax, and can act as an extension to your living space.
2. You can live in a nicer apartment and building.
With double the amount of monthly rent to work with, you're likely going to find yourself with much better options … both in terms of the apartment itself (think luxury finishes, dishwashers and washer/dryers) and the building and neighborhood, too.
Maybe you could only afford a walk-up tenement with your budget, but with one (or two or three) roommates, serious luxury may be within reach. As an example, a spacious two-bedroom, two-bath apartment at Gotham West goes for around $5,700 a month, and it's around $7,000-$8,000 for a three-bedroom. If you choose to live alone instead, for the same $2,600-$2,800 each month, you'll be limited to buildings much less luxe. Those in-unit features, such as dishwashers and large closets and pantry space are less likely, and outside-the-apartment perks like roof decks and decked-out gyms are nearly impossible to find at lower price points.
Beware: Once you get used to doorman living, hitting the gym just downstairs, enjoying the building social programming like movie screenings, concerts and wine tastings, or just grabbing sunset cocktails with friends on your roof deck, you may never go back.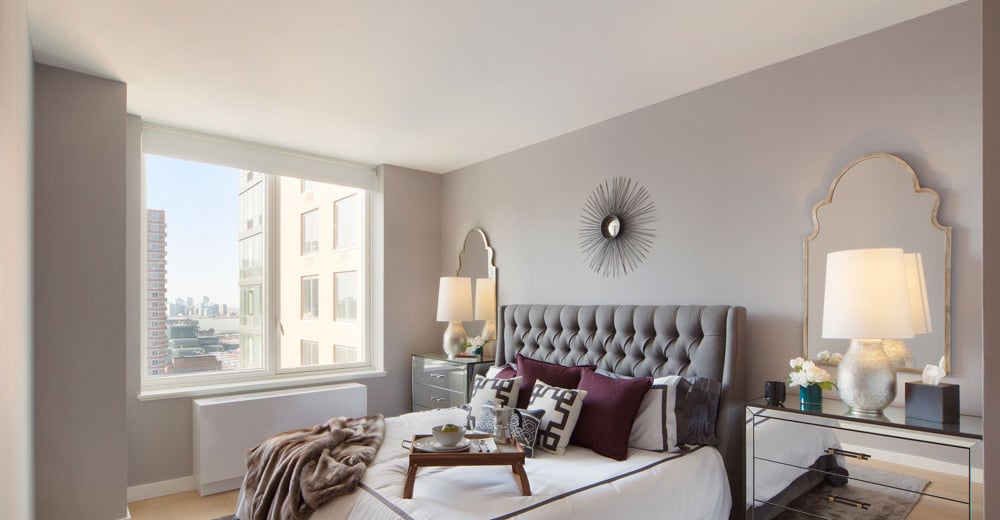 (Pictured above) See that? A spacious bedroom, like this one at Gotham West, has plenty of room to hang out when you need a break from roommates.
3. You'll have a built-in social life.
If you're just more comfortable knowing there's someone there when you get home, or you're the kind of person who tends to be less than proactive when it comes to socializing — either way, a roommate can be a very positive thing: Think instant company. It works whether you end up sharing dinner and a bottle of wine while binge watching  "Stranger Things," or you lead separate lives and just cross friendly paths at home.
In addition, for many newcomers to New York, living the dream definitely doesn't include living alone – at least not at first.
"New York can be an exciting city with so much going on, but we see a lot of newcomers who want to make sure they have a friendly home base, and aren't quite ready to go at it alone in the city," says Gotham West's Levine.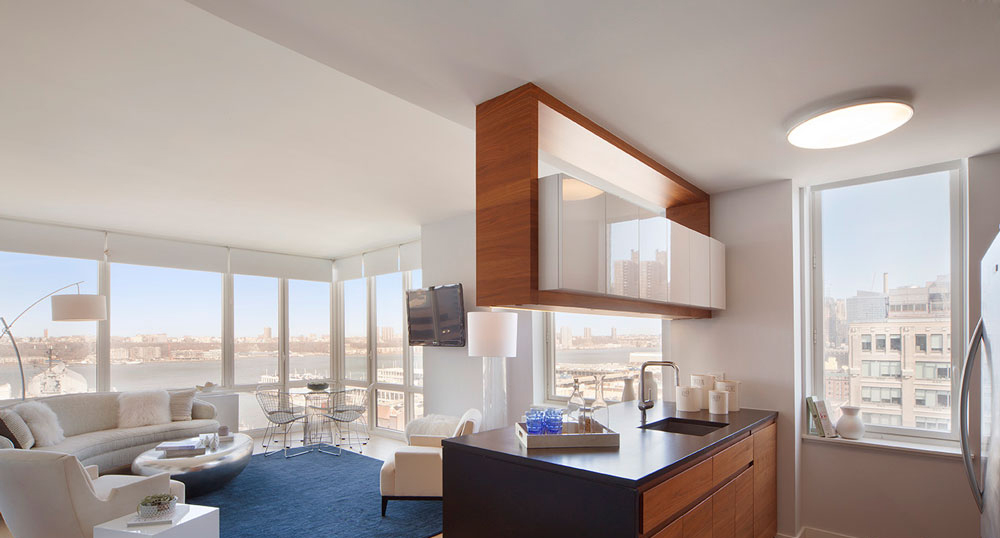 (Pictured above) Upsizing your budget with a roommate grants you access to apartments with luxury finishes and unbeatable views, like this one at Gotham West.
Living in harmony: 3 must-haves for keeping the peace in a flex apartment
An ideal layout: Though bigger is undoubtedly better, some layouts work better for grown-up roommating than others. Bedrooms on opposite sides of the apartment help create more privacy and personal space. Apartments with dining alcoves or L-shaped living rooms can creatively provide room for another person – turn that space into a junior bedroom, with either a bookcase or partial wall providing some privacy from the rest of the apartment. Just make sure any wall-building you do follows the building management's rules.  
"Roommates can work well here at Gotham West. We make it an easy and seamless process," explains Levine. "We direct residents to an approved third-party provider who knows exactly what we permit here and works directly with our residents so installation and removal are done around their schedules."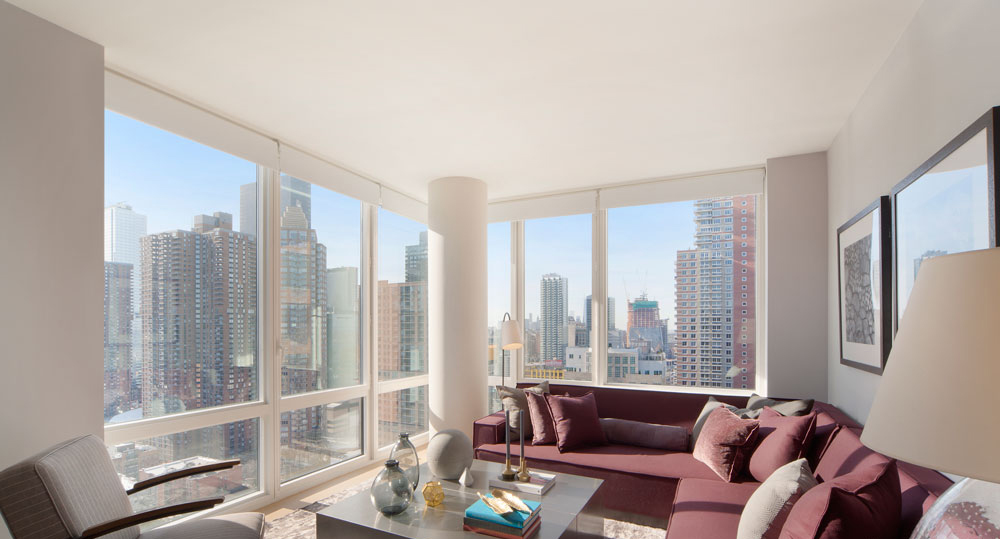 (Pictured above) Gotham West offers a variety of layouts and apartment sizes, many of which are perfect for creating a flex room.

Amenity spaces: Even if your apartment is on the larger side, a roommate who does an entire Pilates routine in the apartment every day while you're getting ready for work is likely to get in your way. If you opt for a luxury building offering public spaces and amenities, you and your roommate(s) will be spending less time in the apartment itself. Some slam-dunks: work-from-home office lounges, gyms, communal roof decks and lounges (where at Gotham West, for instance, events like professional chef demos, cocktail parties and movie screenings take place), so your roommate and his visiting friends can hang out there instead of just the apartment — or you can escape if need be.
In-unit extras: A dishwasher greatly reduces the likelihood that you and your roommates will argue about dishes.  And it goes without saying that larger closets make for happier roommates (extra points for closets that are already built out, lending themselves to greater degrees of organization).
---
Gotham West is a no-fee luxury rental building offering studio to three-bedroom homes in Midtown West.  At Gotham West, home extends beyond your four walls with a variety of exclusive indoor and outdoor spaces designed to match the dynamic New York lifestyle. Visit our leasing office today.