Whether you were born in New York, moved here decades ago, or just arrived, you might be curious to know something about what was here before you. Kenneth Jackson, editor of The Encyclopedia of New York City, says that over ten thousand books have been written about the city, including about a hundred a year from 1990 on, so sorting the wheat from the chaff is a daunting task indeed.
To get a sense of what's essential reading for the New York history neophyte, we asked 11 historians and authors to tell us their favorite books of New York history, along with an explanation of why each title made the cut. 
We expected that there would be lots of duplicates, but we were wrong. What emerged was a list of 25 distinctive books. Some are general reference sources, some architectural histories. Some were published recently, and others are decades old. Then there are some picks that are best described as "quirky." Most of the choices are nonfiction, but two novels showed up as well. 
Here's the list in full, in no particular order:     
The fifth and latest edition of the AIA Guide, first published in 1967 and most recently revised in 2010, showed up on three different experts' lists.
"It's organized by borough, then by neighborhoods within the boroughs, and in addition to giving the basic stats on a building—architect, style, year of construction and alteration—it puts buildings in an historical/cultural context."—Adrienne Onofri, author of Walking Brooklyn and Walking Queens 
"It's the bible for New York City architecture, and includes interesting aesthetic commentary."—Jim Mackin, historian and walking tour guide
"It's a good starting point for researching specific buildings (but I love the old WPA Guide to New York City, published in 1939) for its graceful style, concision, and period attitude."—Dan Wakin, author of The Man with the Sawed-Off Leg and Other Tales of a New York City Block
A massive tome that's good for "a quick understanding of any ancillary place or person or event that might arise in your research."—Dan Wakin

3. Gotham by Edwin G. Burrows and Mike Wallace
Gotham is the first of two volumes, each of which weighs in at well over 1,000 pages.
"It provides great depth of knowledge in just about any subject having to do with the city up to 1898."—Dan Wakin
"This monumental sequel to the monumental Gotham covers just 21 years, from the consolidation of New York and Brooklyn to 1919. But what years they were! You might think that doing justice to that period of gilt and misery in more than 1,000 pages might get tedious, but this is a made-for-Netflix epic."—Justin Davidson, author of Magnetic City
5. New York at its Core by the Museum of the City of New York
"I can't resist adding his newly published companion volume to our exhibition of the same name, the first ever to give New Yorkers an overview of four-plus centuries of the city's history. It is a great place to start or to deepen your investigation of the city's history."—Sarah Henry, deputy director and chief curator of the Museum of the City of New York
"A fascinating exploration of New York's history through primary source documents, which let the diverse witnesses to the past speak in their own words. The section introductions are extremely comprehensive and detailed if you need more directed guidance."—Valerie Paley, New-York Historical Society vice president and chief historian and director of the society's Center for Women's History
"A concise, layman-friendly, generously illustrated history of the city, from pre-colonization to the 21st century. If I were teaching a class to wannabe city history buffs, this would be the book I would assign."—Michael Miscione, Manhattan borough historian
"When writing or learning about row houses, this is one of the books I consult. It tells the story of the adaptive reuse of New York City row houses at the beginning of the 20th century, and how they were restyled and brought up to date."—Sarah Bean Apmann, director of research and preservation for the Greenwich Village Society for Preservation
"An encyclopedia of the when, who, where, and why of what shaped the city. Entries range from something as simple as the birth date of a New York City celebrity to a rundown of a major event. It's particularly good for its chronicle of incidents and milestones of colonial New York/New Amsterdam, as many history books don't go back that far and in such detail."—Adrienne Onofri
"Tager puts some quickly scannable historical context at your fingertips. The events [included] are a bit random but it's a bit like scanning a front page for the chosen year."—Dan Wakin

"Perceptive, funny, and nostalgic, E.B. White's peripatetic stroll around Manhattan remains the quintessential love letter to New York, written by one of America's most beloved literary figures. A treasure!"—Justin Ferate, historian
"This is a nearly comprehensive record that includes every religious house of worship, extant and extinct. The history and names of the people connected to that history is an added bonus."—Jim Mackin
"A memoir by a writer and editor captures the exhilarating and romantic mood of 1950s New York City. Cantwell recalls her post-college years—employment, romance, residences—with precision and perception."—Nancy Woloch, research scholar at Barnard College and author of A Class by Herself and Eleanor Roosevelt: In Her Words
"The wonder of this novel is that a reader and a lone walker can keep such intimate company without violating the solitude of either. Julius, the hyper-observant and yet spectacularly oblivious narrator covers miles of New York sidewalk, and though Cole published the book seven years ago, it already feels as though he were describing a city of the distant past."—Justin Davidson
"Written in 1975, this is New York City at breakneck speed. A delectable, almost gossipy melange of New York history, high society, neighborhood color, crooked politicos, show girls, and colorful New York personalities. Great fun!"—Justin Ferate
"Young working class women: their jobs, goals, clubs, hangouts, courtship customs, sense of style, and impact on culture. The focus is on the growth of commercialized leisure activities."—Nancy Woloch
"Not for the faint of heart! This book is a deep, deep dive into one of New York's most interesting and critical periods," the beginning of the 20th century. "In it you'll meet a cast of long-forgotten political, social, and financial movers and shakers as they influence the decisions that would shape the city for decades to come."—Michael Miscione
"Explores women's experience, cooperative and competitive, in early New York City's tenement dwellings and working-class neighborhoods. Draws contrast between middle-class and lower class women's cultures, and makes an original contribution to urban history."—Nancy Woloch
"Of all the books I've ever read about New York City, I always come back to this one as one of the most memorable. Although originally intended for a more scholarly audience, it engages the reader on so many levels: economics, gender, urbanization, politics, morality, sexuality, immigration—I'm probably leaving something out. Because of this book, I can't walk Soho's streets without thinking of it as the city's first sex district."—Valerie Paley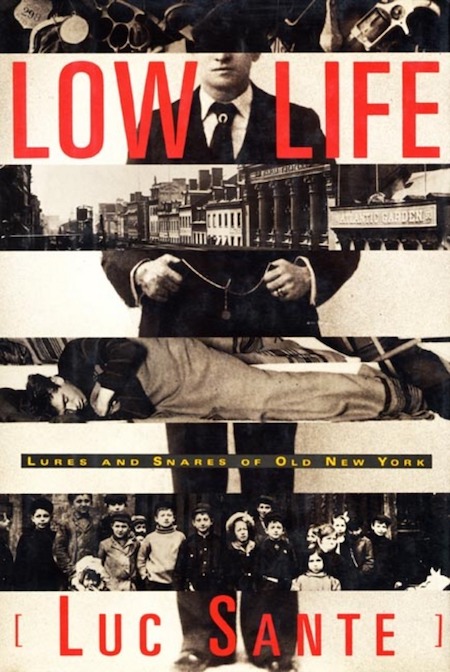 ""Had I been a 19th century New Yorker, I might not  have actually spent much time frequenting whorehouses, poison-dispensing taverns, murderous alleys, and stinking wharves that Sante eulogizes. But boy is it fun to visit them in this lucid, muck-loving prose."—Justin Davidson
"Author Joseph Mitchell, renowned for his precise and respectful observations, lovingly immortalizes distinctive but often overlooked New Yorkers, including saloon keepers, street preachers, skyscraper-building Mohawks, and the moving personal story of the griot (historian) of Staten Island's free black community. The consummate humanity of Mitchell's uplifting descriptions underscores the importance of individuals to the creation of this great city."—Justin Ferate
"Schecter puts New York City center stage during the American Revolution. A surprising amount of important revolutionary history happened throughout the present-day five borough city, and the author supplements his never-dull book with walking tours of the places he mentions."—Michael Miscione
"Destined to become a classic. Lively and informative, this remarkable guide entertainingly introduces readers to the Jazz era building that recast New York as the world's modern metropolis."—Justin Ferate
"Amazing. Unearths the DNA of the city we know and the enduring influence of the Commissioners Plan of 1811."—Sarah Henry
"Though it's far from Doctorow's greatest work—that would be Ragtime or Billy Bathgate—I have a soft spot for a murder mystery that features unsavory journalism, evil doctors, the Tweed Ring, and the aqueducts that turned New York from a smallish city into a world metropolis."—Justin Davidson
"First written in 1975, this is my classic favorite. It was the first book about New York that I read when I arrived in the city. I wrote a thank-you note to the author for being the one responsible for the beginning of my love affair with New York. To me it is the best people-friendly guide to the city."—Justin Ferate 
"An oldie but goodie. It has been on my bookshelf since I arrived in New York for graduate school. Every so often I pull it out and explore a new neighborhood. As an art historian at heart, I love the architectural details that Wolfe singles out for his readers."—Margaret Oppenheimer, author of The Remarkable Rise of Eliza Jumel 
Brick Underground articles occasionally include the expertise of, or information about, advertising partners when relevant to the story. We will never promote an advertiser's product without making the relationship clear to our readers.