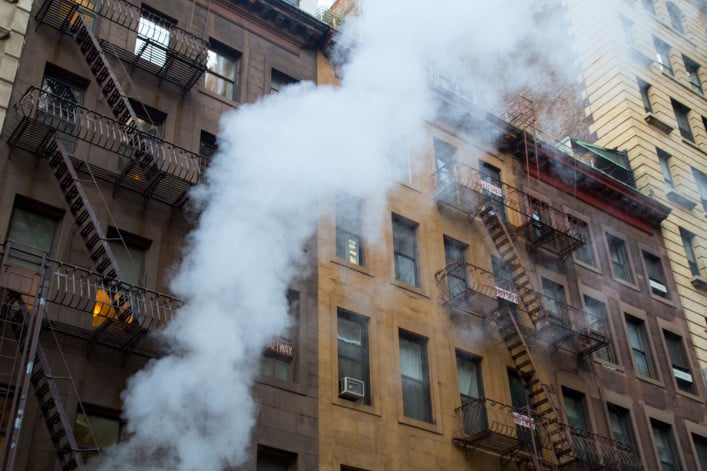 If you have ever experienced some kind of catastrophe that forces you out of your apartment, like a flood or a fire, you know that finding an apartment while you are in shock and dealing with loss is very difficult.
It's estimated that thousands of New Yorkers are displaced by fires each year. While that means it's not an everyday occurrence, most New Yorkers know someone who has been forced out by fire or flood, if they haven't experienced it themselves. And, anyone who has been through a fire will tell you it's not the fire that does the worst damage, it's the water needed to put out the fire that ruins your apartment.
Brick Underground has some tips to help you expedite your search if you need to find a new apartment, but keep in mind you can put yourself in a better position by taking a few precautions before disaster strikes: Namely, if you're a renter, get renters' insurance, which will help pay for a hotel stay or temporary housing if you're ever displaced. (Homeowners are of course required to have insurance.) 
Another crucial step to take beforehand is to back up important documents and photos of your valuables to the cloud so you can access them remotely—this is key to getting back your feet quickly. You will want documents like your apartment insurance policy, lease or offering plan, financial and credit card records, and photos of your important possessions at your fingertips "so you can call your insurance agent and get your claim going," says Jeff Schneider, president of Gotham Brokerage, an apartment insurance broker in NYC (and Brick Underground sponsor). You'll also want your income and employment records handy for the apartment hunt, too.
Most insurance companies have an app that lets you download your policy, but you should also keep documents and photos in a web-based email account or a file-hosting site like Dropbox to access them from anywhere. 
Insurance companies know you're not going to have receipts for absolutely everything, but they do want to know you own the type of items you're claiming. "So it's good if you can point to the photos or your year-end credit card statement since they show what you bought and the type of things you bought," Schneider says. 
Having easy access to such information is particularly important in the aftermath of a catastrophe, as you can be so shaken that it's hard to recreate an inventory by memory, especially after the fire department, cleaners, and contractors come in and move things around, he adds.  
Read on for tips on how to find a new place to live after your apartment becomes unlivable.
Family, friends, or hotel?
If you have friends or family living nearby, your may opt to go there, but staying in a hotel is also a short-term option. How much help you will get with that cost depends on your insurance.
"All insurance policies give you some kind of coverage with additional living expenses, even if you have a minimal policy," says Schneider. "It's one of the reasons why everyone should have some kind of insurance." 
You can be entitled to a dollar limit or a percentage of your policy, often 20 percent (which can be higher if you have a condo or co-op), "so if you have a $50,000 policy, you'll get $10,000 of coverage to stay in a hotel or rent a place temporarily," he adds.
He says that $10,000 should be enough if you're a renter who may have to be out for a month or two while repairs are made. If you live in or own a condo or co-op, "there's a chance you can be out of your apartment for six to 12 weeks, so check to see what you really have," Schneider says. 
You can search for a local hotel on your own, but your insurance company should be able to give you referrals for a place to stay, too. 
Take to social media 
For a longer-term option, you may want to put out feelers to your connections to see if they or any of their friends or family are leaving the city for a few weeks and looking to sublet their place. Just make sure the tenant is permitted to actually sublet their apartment—and confirm with their landlord before you sign anything. (You might also want to read Brick's best advice on subletting a New York City apartment.)
Ask for help 
When a disaster strikes your NYC apartment, "sometimes you have nothing but the clothes on your back, so lean on your community," says Brian Lewis, a broker at Compass. Reach out to local houses of worship and organizations like the Salvation Army, United Way, and local chapter of the American Red Cross for assistance if you need it. The city's One-Shot Deal short-term emergency assistance program, which helps New Yorkers who cannot meet an expense due to situations such as a fire disaster, could also be a resource. 
Work with a broker
The city has strict regulations on short-term rentals, so when time is of the essence, you may want to consider working with a real estate broker. Yes, you may have to pay a hefty fee, but they know what buildings and landlords allow short-term rentals—or even sellers who may consider renting their place short-term, a request that Lewis has received.
"Why start at first base when someone with experience can put you on third, especially if you need to be near work or your child's school?" he says. 
A broker can also help you secure a flexible lease because there's a very good chance renovations and repairs will take longer than promised. A good rule of thumb is to tack 10-50 percent longer onto your time estimate "since there will be unknowns that will be out of your control," says Shawn Wilson, an agent with the Martin Eiden Team at Compass
Consider co-living spaces 
Co-living is another option if you are a single person who needs an apartment in a hurry. They offer a turn-key approach to renting: Rooms are furnished and things like wifi, utilities, and staples are included in one fee. Some apartments can even be rented online and stays can be as short as a month or even less in some buildings. Check out Brick's guide to co-living spaces in NYC for more details.
Craigslist and Airbnb 
These sites usually don't have places that are available immediately, but if you can crash at a hotel or a friend's house for a few days, and then make your move to a vacation rental, they could be a good bet. Just make sure not to fall for any of these real estate scams—or break NYC's laws on Airbnb and other short-term rental sites.
Short-term or extended-stay residences
You can also consider an option like The Phillips Club in Lincoln Square, which has furnished short- and extended-stays in studios, and one and two bedrooms. It offers complimentary wifi and washers and dryers on each floor. AKA has studio, and one- and two-bedroom furnished apartments near Central Park, Times Square, Sutton Place, the United Nations, Wall Street, and Tribeca, and also provides free laundry, wifi, and high-speed internet. 
Other companies that offer short-term rentals are Furnished Quarters, One Fine Stay, and leasebreak.com. For even more info, check out Brick's article on the seven best ways to find a short-term rental in NYC. 
Brick Underground articles occasionally include the expertise of, or information about, advertising partners when relevant to the story. We will never promote an advertiser's product without making the relationship clear to our readers.