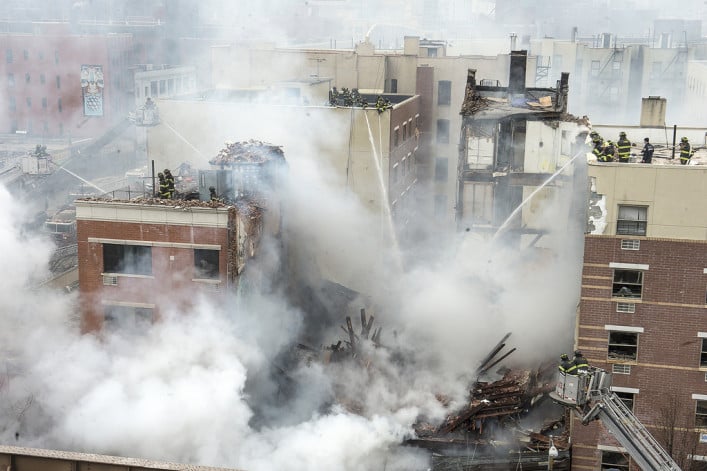 The gas explosion that tragically leveled two East Harlem apartment buildings last week underscored how far-reaching a disaster like this can be. Even if you live up the block from a building collapse or down the hall from a fire, you may well find yourself barred from your apartment by authorities until the problem is contained and your apartment is deemed safe. The same goes for a nearby gas leak, fire, water main break, facade crack or worse.
"In a situation like the Harlem building explosion, neighboring buildings are often opened back up by the city within a few days," says apartment insurance broker Jeff Schneider of Gotham Brokerage. "But when you suffer direct damage to your apartment by fire or water, you can be out of your apartment for weeks—if limited renovations or repairs are needed--or months, or longer, if there is structural damage."
Fortunately, whether your apartment is directly damaged or simply off-limits for a night or two, most renters, co-op and condo insurance policies will cover at least some of the high cost of temporary housing in situations like these, says Schneider.
Direct damage
"If you're forced out of your apartment by direct damage from a covered loss or peril like fire or extensive water damage or an explosion, you will have loss of use coverage up to a dollar or time limit," says Schneider. "It will pay for your stay at a hotel or comparable apartment and some of your additional living costs over and above the usual that you would spend anyway."
Loss-of-use coverage for most renters is usually limited to 20% of their insured contents amounts—that is, 20% of the amount of insurance you've taken out on your movable belongings.  On a basic renter's insurance policy, contents coverage is typically around $15,000, so loss-of-use coverage would be $3,000 per incident.
"For co-ops or condos, the coverage is higher—around 50% of the contents limits--although some insurance companies will use time limits instead and pay up to 12 months for loss of use, while others have no time or dollar limit," says Schneider.
If the city offers you free temporary housing, as it has to victims of the East Harlem blast, and you turn it down, this will not affect your coverage for temporary housing under your apartment insurance. 
Indirect damage
 "If you suffer indirect damage—for example, the city won't let you back into your apartment—then you have limited loss-of-use coverage," says Schneider. 
The limited loss-of-use coverage for most renters is usually limited to 20% of their insured contents amounts and up to two to four weeks of temporary housing.  
The limits are much higher for co-op and condo insurance policies—usually around 50% of contents coverage.  All policies have a reasonableness standard.
"Regardless of the coverage, your additional living expenses will only be paid until the point that a reasonable, prudent person would have the apartment repaired and habitable again," says Schneider.
Disasters that aren't covered 
Note that all misfortunes are considered "covered perils." You'll pay out of your own pocket if you're forced out by flood from rising waters (think Hurricane Sandy) or excessive rainfall, faulty construction or planning, acts of war, and radiation.
---
Gotham Brokerage Co., Inc., an insurance brokerage, has been serving NYC renters, co-op and condo owners for over 45 years. For a free quote, click on over to Gotham Brokerage or give them a call at 212-406-7300.
More from Gotham Brokerage:
8 questions you MUST ask before buying renters insurance
The top 5 myths about renters insurance in NYC 
4 insider tips for big savings on your apartment insurance
Apartment insurance coverage for mold? Here's what you need to know
It's hurricane season again. Here's what you need to know about apartment insurance.
The top 3 apartment insurance claims in NYC
How to file a claim on your apartment insurance--the right way
5 things all roommates need to know about renters insurance
There's an apartment INSURANCE blacklist too. Here's how to stay off of it.
The ultimate co-op and condo insurance checklist
Brick Underground articles occasionally include the expertise of, or information about, advertising partners when relevant to the story. We will never promote an advertiser's product without making the relationship clear to our readers.