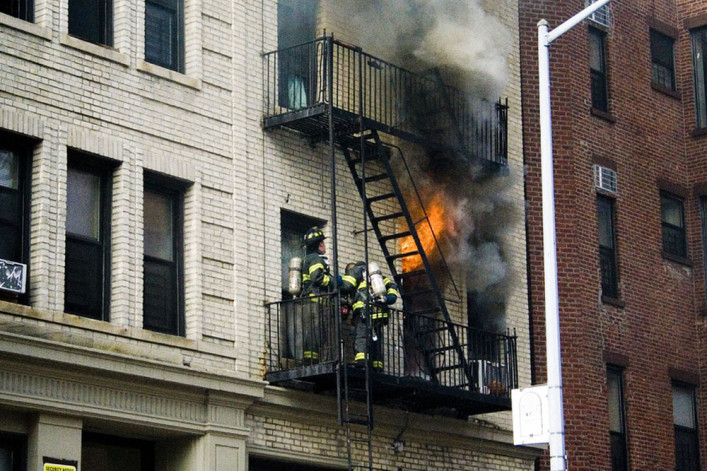 If you're like most people, you renew your passport more often than you file an insurance claim on your renter's, co-op or condo insurance.
"Many people go for years without filing a claim," says New York City apartment insurance broker Jeff Schneider of Gotham Brokerage. "Others may have an incident every 3 or 4 years.  Of course, submitting too many claims, especially small ones, can impact your coverage without offering much of a benefit."
To maximize your settlement amount and make the process as painless as possible, Schneider offers these eight tips.
1.     Decide whether to file a claim in the first place
Most insurance companies have a two-strike rule, so think hard about filing a claim, especially if the amount you're likely to recover is not much more than your deductible.
"If you file more than two claims in 3-year-period, you can expect your policy to be canceled at the first opportunity, and your future options significantly more limited—and expensive," says Schneider.
Claims involving water damage—or anything else that may spread to a neighboring apartment--should always be reported.
"You need to get advice from someone who is not directly responsible for claims, because your insurance company will always want you to file a claim if there is even a tiny possibility of a future problem," says Schneider.  Consult with your insurance agent or insurance broker. 
2.     Report it promptly
Most insurance contracts require that you notify your insurer of a possible claim as soon as possible.
"They want to see the damage before it's repaired," explains Schneider. 
Call the insurance broker or agent who sold you the insurance. If it's at night or it's an emergency, use the insurance company's 24-hour claim number. 
"Most insurance companies have a way to report it online as well," says Schneider.
3.  Wait until the claims adjuster gets there—if you can
Your insurance company will typically send a claims adjuster within two or three days—and much sooner for a big claim like a serious fire. 
"Before any work is done—whether replastering or repainting walls, or removing the floor—the insurance company should see it at least," says Schneider.  "They should also see any damaged property that needs to be thrown out."
If you can't wait to throw things out because of "safety hazards or because it's disgusting—such as moldy or sewage-covered—then check with your adjustor and take photos," he advises.
Water damage presents a special situation.  You'll need to be proactive as far as getting the water cleaned up and the area dried out (if you're not, you could get stuck for a huge mold clean-up bill if the problem crops up months down the road). But don't go ripping out floors right away, says Schneider, as it takes a few days for the wood to buckle and the amount of damage to be assessed. 
3.  Gather documents to back up your claim
The more prepared you are to establish the value of your damaged property when the claims adjuster arrives, the faster you'll receive a claims check and the greater the likelihood that you will be satisfied by the amount.
Documents can include cancelled checks, warranty cards, and digital images.
4.  Start lining up contractors if necessary
Oftentimes the insurance company will recommend a specific contractor to repair your damaged property (you should still check references however, and make sure they have the skills to match the quality of work you had done before). Insurers are usually willing to work with yours if they're reasonably priced.
5. Be nice to the claims inspector
"Claims adjusters are often abused because people get very emotional when there is property damage," says Schneider. "Treat the claims adjuster with respect, and make every effort to accommodate their schedule."
Why does it matter? For one thing, claims adjusters can make your life easy—or just the opposite.
"Most people don't have full documentation for work they have done and property they own," says Schneider. "Claims adjusters understand that, but if you're difficult, they can start asking for more documentation than is very convenient to come up with."
6.  Meet the claims adjuster yourself if possible
It's always best to personally introduce the claims inspector to your damaged property.
Besides making nice (see #5 above), "you can point out certain areas of damage they might have missed otherwise.  You can also educate them as to the replacement value of your $200,000 kitchen," says Schneider.
7.  Be honest
Claims adjusters are quite experienced at detecting fraud—or even a little white lie, like trying to lump a small water damaged area of the wall that was never fixed in with the bigger, more recent problem at hand.
"That can put them on the defensive and they can deny your claim completely for any element of fraud," says Schneider.
8. Ask for help if the numbers seem low
Though sometimes a claims adjuster will arrive at a settlement amount on the spot, it usually takes about a week to determine the settlement amount and another week or two before you receive a check.
(Note: In some severe situations, it's possible to receive a partial advance payment on the spot from the claims adjuster or within 2-3 days.)
"Three-quarters of the time, my clients are satisfied with the initial settlement amount," says Schneider. 
If you think the adjuster has missed the mark and you can't work it out with the adjuster, you can speak to their supervisor and even request that a new adjuster be assigned. You can also ask your insurance broker or insurance agent to intervene for you, says Schneider.
"We're helpful when you're not getting a response or the numbers don't add up," he says.
Continued disputes may go to arbitration proceedings. You can also appeal to the New York State Insurance Department and file a complaint.
---
Gotham Brokerage Co., Inc., an insurance brokerage, has been serving NYC renters, co-op and condo owners for over 45 years. For a free quote, click on over to Gotham Brokerage or give them a call at 212-406-7300.
More from Gotham:
4 insider tips for big savings on your apartment insurance
5 reasons to get apartment insurance if you have outdoor space
There's an apartment INSURANCE blacklist too. Here's how to stay off of it.
8 questions you MUST ask before buying renter's insurance
The ultimate co-op and condo insurance checklist
10 things you didn't know were covered by renter's insurance
Brick Underground articles occasionally include the expertise of, or information about, advertising partners when relevant to the story. We will never promote an advertiser's product without making the relationship clear to our readers.