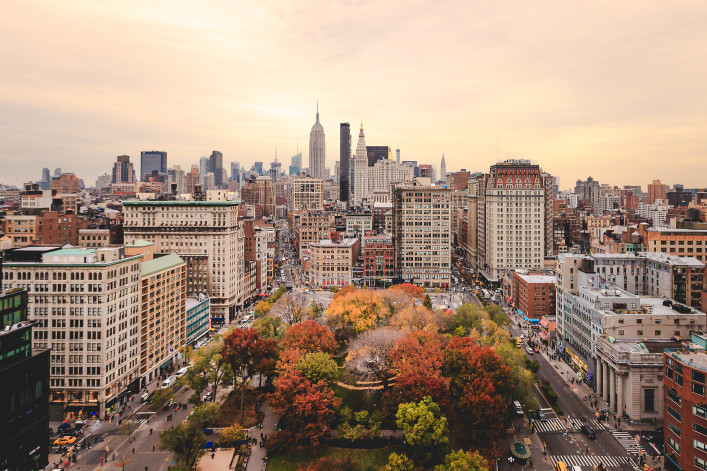 When you move in New York City, it's just as important to make sure the neighborhood is as good a fit as the apartment—especially if you spend a lot of time around where you live. 
It's a lesson I learned the hard way as a result of my last move. My boyfriend and I were pressed for time to find an affordable (and decent apartment). We ended up in Rego Park, Queens—an area I knew nothing about. We lived there for over four years, and while we found some perks, we never really enjoyed living there, especially because of the long commute to Manhattan, lackluster dining scene, and a community with which we never really connected.
That's why when we moved a few months ago, we focused on the neighborhood just as much as the apartment. And it worked out because we ended up in Astoria. There's a lot more happening here and it's definitely the right fit for us. For example, nearby Socrates Sculpture Park has art exhibitions, waterfront views, and events (like the pumpkin launch we went to in October). There's also a better nightlife and dining scene.
Six months later, we still appreciate how much livelier our new neighborhood is—and how much of a better fit it is compared to where we lived before. 
Full disclaimer: I lived in Astoria for several years before moving to Rego Park, so I was already familiar with the area. Every time I visited, I missed it. Our new apartment is on the other side of the neighborhood, so we're both discovering places we've never been. It just goes to show that even if you think you know a neighborhood, there's usually more to discover.
Here are five things I enjoy about my neighborhood—and what you should consider asking yourself before moving to a new area in NYC. 
1) Are there parks within walking distance? 
Having access to outdoor space is important, especially if you're still spending most of your time at home. If you aren't lucky enough to have private outdoor space (like me), then one of the city's 1,700 public parks is the next best option. Luckily there are three parks within walking distance of my apartment—one of which is at the end of my block. If you're priced out of having your own outdoor space, map out the closest parks before deciding on an apartment. 
2) Does the neighborhood have personality? 
My last neighborhood fell short on charm, especially Queens Boulevard and the outdated storefronts along it. Beyond that commercial strip,  it was mostly large apartment buildings, some row houses, and large shopping centers. I never enjoyed walking around the neighborhood or had any pride in living there. 
So if you're looking for a neighborhood with personality (Think: Interesting architecture, murals, local boutiques, events), explore the neighborhood around the prospective apartment first. Imagine yourself going out on a Saturday night or taking a walk on a Monday morning. Get to know the vibe. If this isn't a big deal to you, you might benefit from lower rents in less popular areas. The rent in our neighborhood was cheaper, and made the lack of charm worth it at first, but eventually it was time to move on. 
3) What's the dining scene like?
If you're a foodie like me, then you certainly want to dive into a neighborhood's dining scene before living there. My tip is to plug the address into Google Maps and Seamless (at different times of the day) to see what restaurants are nearby. Even if you think you're familiar with the neighborhood, you should check into the spots closest to the apartment —and make sure they deliver.
4) Is there a sense of community? 
Most neighborhoods have their own community, but you might have a hard time fitting in. For example, our last neighborhood had a very tight-knit community, but we certainly weren't a part of it. There were a few friendly faces, but for the most part, we felt out of place. 
If feeling welcome is important, hit the streets and see what's going and who lives nearby before you move. Ask your friends who live in the area if you haven't spent much time there yourself. Volunteering is another way to meet people and get involved in your community. You can also use NextDoor, Reddit, and hyperlocal blogs and social media accounts to see what's going on—and if you feel like you want to be a part of it. 
5) What are the commuting options? 
Having a decent commute is important. Even if you work from home, dealing with long treks to meet friends in another borough on the weekend can take half of your Saturday. My advice is to open your mind to other commuting options if the subway isn't close. It's good to have more than one transportation option, especially when it comes to peak hours and delays. I've discovered the ferry, which is much closer than the closest subway stop, and I use it to avoid the subway whenever possible. So pull out your favorite transit app, and see how many options you have. 
Brick Underground articles occasionally include the expertise of, or information about, advertising partners when relevant to the story. We will never promote an advertiser's product without making the relationship clear to our readers.