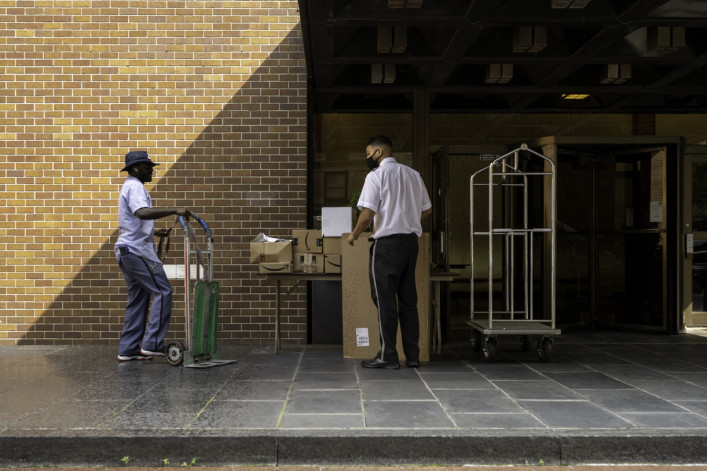 New York City doormen and workers at 3,000 luxury buildings could be on strike by mid-week if an agreement on their compensation isn't reached. A walk-out would impact 550,000 residents in buildings across the city. [Editor's note: Late Tuesday afternoon, the Realty Advisory Board says it reached a tentative deal with the workers union, averting a strike.]
Labor negotiations like this happen every four years and the current contract for doormen, concierges, porters, and handymen expires on April 20th. Last week, members of the buildings workers union unanimously authorized a strike if a new contract with the Realty Advisory Board is not reached. A strike would be the first in more than 30 years.
One of the sticking points for negotiations is that building staff are being asked to contribute to their healthcare costs. Up until now it has been paid for by building and apartment owners.
This shift comes after two years of a pandemic that building staff say changed the nature of their work and added more responsibilities. Many buildings dealt with increased cleaning protocols and an uptick in deliveries. Some staff checked in on vulnerable residents, enforced mask mandates, and kept an eye on apartments when residents spent extended time out of town. 
"We will not stand for anything that disrespects the time and work our members have given over the past two years," said Kyle Bragg, president of 32BJ SEIU, the union representing residential building service workers in Manhattan, Queens, Brooklyn, and Staten Island, at a rally on Park Avenue last week. 
Cuts to workers paid vacation and sick time are also under discussion. 
Peter von Simson, CEO of New Bedford Management, says that both building residents and staff are seeing cost of living increases. Michael Wolfe, president of Midboro Management, also cites inflation as a factor in negotiations this year.
Building expenses—including insurance, utilities, and costs related to capital projects—have all seen double digit increases, von Simson says, "making it harder for buildings to absorb additional increases in labor costs."  He says he recognizes the effort building staff made during the pandemic to make sure operations continued smoothly.
Wolfe says building service employees are adored by the residents in their building. "It's not about us versus them, it's about coming to a conclusion that benefits all. And if there is a strike we hope it is short-lived," he says. 
To that end, Howard Rothschild, president of the Realty Advisory Board, tells Brick, there's been progress over the past few weeks of negotiations, but "we still have a gap to bridge." Moving into the final few days of negotiations, he says, "We are committed to meeting with the union leadership every day to achieve a fair contract for both sides by April 20th."
How to prepare for a potential doorman strike
In the event of a strike, here's what New Yorkers who live in large, staffed buildings are being told to expect. (Contract negotiations don't affect supers or building management.)
Buildings managed by Gumley Haft will suspend move-ins and move outs, open houses and apartment showings can not take place, and large deliveries won't be accepted. In buildings with multiple entrances and exits, only the front door will be accessible, the others will be locked. These changes would be in place until the strike ends.
It's a similar situation for other New Yorkers, including those in buildings operated by New Bedford Management.
If the strike goes ahead, building residents will be asked to organize as volunteers to handle tasks like taking out the garbage as well as light cleaning duties. "Get your oil delivery and building supply delivery by Wednesday," von Simson says.
He also suggests residents delay ordering small packages unless they plan to be home to receive them.
"Apartment renovations may need to be put on hold, building amenities may need to be closed, without door staff security may need to be tightened so have your keys with you and make sure you have made a plan with child care providers, house keepers, and dog walkers so they can access the building and continue to do their important work," he says. 
Some buildings are providing specific QR codes to residents so if the doorman isn't there to recognize you, you can show your code, thereby eliminating unauthorized access by strangers. In most buildings managed by Gumley Haft, a security guard will attend the lobby but won't be able to do the work of the doorman. If you get food deliveries or guests, you'd need to meet them in the lobby. Recycling operations will also be affected. 
This disruption isn't dissimilar to what New Yorkers experienced during the worst of the pandemic, when move ins, renovations, and open houses were on hold or banned; buildings were short-staffed due to illness; and amenities were closed.
"We hope there isn't a strike at all. We're New Yorkers, we're resilient. We think people will rise to the occasion," Wolfe says. 
Brick Underground articles occasionally include the expertise of, or information about, advertising partners when relevant to the story. We will never promote an advertiser's product without making the relationship clear to our readers.