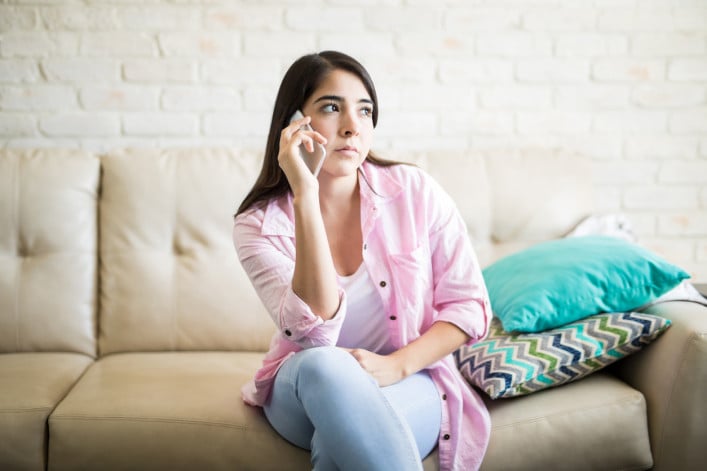 If you're a recent college grad who is getting ready to move into NYC, you might be feeling a bit anxious. Maybe you snagged a coveted job that will have you working long hours with little time to get yourself acclimated, or maybe you have only visited a handful of times. 
You don't know what it's like to really live here, and what you do know about your apartment, or your building, seems strange and unnerving. Your tiny, new pad lacks the basic amenities that even your dorm had, or your building is so far away from your job it feels like it will undermine your whole NYC existence.
In the hopes of assuaging these fears, I can share some of the more typical housing worries that can befall soon-to-be transplants and based on lots of personal experience, offer you a silver-lining perspective, or at least a New Yorker's way of viewing these things.
Because soon enough, you'll be one of us. So here's how to look on the bright side if you're freaking out because...
...my apartment is too small
For many people outside NYC, an apartment that can't fit both a bed and a full-size sofa seems outlandish, but here in Gotham that is the norm for studio apartments—especially for those interested in living in the most popular parts of Manhattan and Brooklyn. The hotter the neighborhood, chances are, the smaller the unit. 
The bright side to a small apartment: There's less to clean and organize—who wants to watch Marie Kondo videos on your days off anyway? And when you are hungover you may actually be able to reach into your mini-fridge for a beverage without ever leaving your bed. Bliss! 
...my building doesn't have a washing machine
For those who are used to having access to a washer/dryer in their building (or bringing laundry home to their parents), this may come as quite the shock. But as a colleague puts it, going to the neighborhood laundromat does have some perks—especially for singles who are new in town. 
"I've been doing the wash at the laundromat and I'm surprised by how social it can be," she says. "I hit my head on an open dryer door and was instantly surrounded by a couple of bearded guys washing their socks who checked to see if I was ok. Sigh. If only I was single." 
Warning: Do not try to sneak a washer into your apartment. No good will ever come from it. Learn from my mistake. You can also drop off your laundry, or even have someone pick it up and return it, with everything folded. Which is heaven.
...I don't have an elevator
My first NYC apartment was a sixth-floor walkup. It was the type of place that if I forgot my umbrella I'd just end up heading to work without it and deal with getting wet. I once even tried to bribe a cabdriver to haul my heavy suitcase upstairs by waving $20 under his nose. It was a no-go. My only option was to open it, put half of my stuff into a duffel bag, race upstairs with that load before any of my wily tenants stole my stuff, and then race back down to pull up the still cumbersome, but lighter, luggage. Not much fun, especially after a 10-hour flight. 
However, I always felt safe up there on the sixth floor because I figured no one would try to break in to steal my possessions because they'd be so winded by the time they reached the second floor that the cops would nab them.
Another plus: When you're working your first job you tend to work lots of hours and are low on cash. Running up and down flights of stairs can not only keep you looking fit and deter you from buying lots of stuff you don't need, but also allows you to save on costly gym fees. Win-win. 
...my furniture won't fit through the door
That first NYC apartment was in an old tenement and couches couldn't fit through the apartment doors. Sadly, no one told me this—newbies are always entertainment for rental veterans—and I was stuck with a couch blocking my stairway with the neighbors laughing—until I made the upsetting decision to pay the movers to bring it back down and leave it curbside. 
This isn't so unusual for those moving into their first NYC apartment. A friend, Holly, experienced the same thing—it's how she met her neighbors: She had to introduce herself in order to borrow a saw. While the couch didn't make it, it was the start of a new friendship. 
...I have vermin—or just plain creepy neighbors
Moving to NYC can be lonely. Cats not only keep away vermin (think: bodega cats), but also provide low-cost company and don't need a lot of space. Adopt, don't shop, and meet other cat lovers at the ASPCA or Humane Society. Pro tip: Out-creep the creeps. Adopt enough cats and hopefully any annoying neighbors will think you are a kooky cat person and steer clear. 
...I have a long commute to work
One of the best things about NYC is the people watching. Think of a long subway or bus ride as being a trip to the zoo of humanity. There's a world in every subway car and even though the stops are always the same, the happenings are always different. Sure, you will see a lot of gross stuff (like personal grooming that should only be done in the bathroom), but it will toughen you up, help you spot the latest fashion trends, scope out cute singles, and give you notes for your own version of Tales of the City. It's also a great time to read and listen to podcasts. 
...I live by a noisy police/fire station
Sirens at all hours of the night can be a real bummer, a bigger bummer is needing NYPD or NYFD in an emergency and having to wait. In fact, some people even get discounts on insurance by living so close to a fire department. Also single, burly firemen (and possibly cute Dalmatians) are nothing to roll one's eyes at. Thankfully, every Duane Reade sells earplugs. 
...I live in an unfamiliar neighborhood
What better excuse to get lost by exploring your own neighborhood. Make a point of running errands and shopping, dining, and drinking locally to find new places and meet new people who live near you. Chat up the people who serve you your favorite morning beverage or evening brew and you'll start to feel like a local, or at least a regular. Look for free events like concerts and readings to open up the world right outside your door. There are also tons of meet-up groups for newcomers, and apps to download so you never get really lost. 
And my personal favorite: Arm yourself with a flask, pull up a chair to the window, and create your own drinking game by taking a swig for every NYC archetype who passes by. 
They'll soon seem very familiar!
Brick Underground articles occasionally include the expertise of, or information about, advertising partners when relevant to the story. We will never promote an advertiser's product without making the relationship clear to our readers.