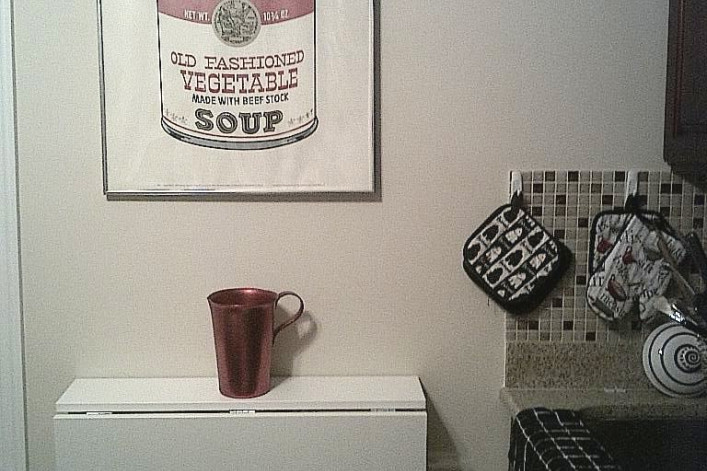 Now that the micro-apartments are nearly here, I thought I'd try my hand at giving some service-y advice on making life work in a small space.
As a long-time renter of relatively small walk-up apartments, and someone who has a lot of belongings, there are a few guiding principles that have helped me stay organized and uncluttered. 
Full disclosure: At roughly 650-700 square feet, my one-bedroom-plus-room-converted-to-walk-in-closet apartment is not considered small by NYC standards, but I have more stuff--four armoires, seven dressers of varying sizes, an office desk, multiple TVs and a china cabinet, to name a few--than most single people I know. 
To provide an even smaller perspective for this week's column, I also consulted my friend, Morgan, who lives in a 225-square-foot one-bedroom apartment.
1. Cull your possessions--constantly: My friend Morgan's number one rule is to routinely go through her closets and cabinets to cull her belongings.
"Learning how to pinpoint a 'need' and a 'want' sounds simple, and can be a challenge, but once you donate or purge all the unnecesaries in your life, what you have will become even more valuable and cherished," she explains. 
Personally I have found that moving every few years really helps.
I typically move every three years and purge tons of stuff each time. Prior to moving into my current apartment last year, I rid myself of 10 boxes of books and 11 bags of clothes. I also participate in quarterly clothing swaps where I bring anything I haven't worn in the last year that not only help me downsize but are also a fun social activity.  I immediately pass on books I've enjoyed to friends. 
2. Fit to scale: I am extremely careful to make sure my furniture fits my actual rooms in scale. For example, I searched long and hard for a couch that was 78 inches or less, knowing anything larger would dwarf my small media room, and I use a small chest of drawers as a TV stand. The drawers offer added storage for DVDs, remotes, extra couch throws etc. while keeping them out of sight.
"My sofa is actually an oversized chair and a half and has storage within it under the cushions and books," says Morgan whose living room is a scant 60 square feet. 
3. Buy mini appliances: While my apartment came with a built-in microwave, Morgan's didn't and couldn't fit one…until she came across this tiny cube.
"Being single I am certainly not cooking elaborate meals every night but this fits a frozen dinner or small plate of leftovers easily without taking up any unnecessary room in my kitchen," she says.
Similarly I have a small 5-inch portable TV I use in my kitchen while I'm cooking.
4. Retractable everything: In my own kitchen the huge challenge was counter space. After putting down a dish rack (I hate drying dishes more than I hate having no space to prep food) I had no counter space at all. I originally thought I'd try to get a small rolling cart to chop on, but most were too wide to fit in the space I had and prevented me from pulling out the chair to my dinette table. Then I came across this affordable wall-mounted drop-leaf table (pictured, in my kitchen).
When not extended it is fairly flush with the wall allowing me to do dishes easily. When raised, it gives me a large, sturdy counter space to prepare food.
One recent night when I had guests over I extended it to make a bar, putting an ice bucket, glasses, mixer and booze on it for a self-serve station.  Likewise, one could also use one of these in a hallway to create a makeshift work station.
I also keep several folding chairs hidden under my couch for extra guests that I quickly dress in color-coordinated chair covers--who wants to sit on a folding chair?--in order to have design continuity and make guests feel comfortable. 
5. Make it moveable: When you have limited space areas often have to have more than one function and you must be able to move things easily and quickly.
It is a great idea to put wheels on your coffee table, TV stand, chairs, or even dressers. It also makes moving things out and through hallways come moving time much easier if there are wheels to prevent back strain and floor scratches.
I only wish I had thought to do this to my billion-pound armoire prior to this move. The moving men, although warned repeatedly, couldn't lift it properly and scraped it across my brand new wood floors causing scratches that I'm sure will end up coming out of my security deposit upon my departure.
6. Raise the height of your bed frame: I always keep my bed frame set on the highest rung possible. I got an extra long bed skirt so I can use the whole area underneath it for storage while hiding the clutter beneath the bed. A big plus (for me, not my dog) is that my dachshund cannot get on the bed! 
7. Make art out of it: When I buy things in bulk I end of displaying them atop my kitchen or bathroom cabinets as if artwork ala Warhol. I currently have a display of discontinued Flex Conditioner in my bathroom. It is the same color scheme as the room. If I order gallons of water in bulk, I display them uniformly.
I also have vintage baskets I store stock of bathroom tissue, paper towels and dog food in.
Likewise I house my books on wall-hung shelves next to my bed in color and shape patterns.
8. Swap traditional doors for pocket or folding doors: When I first moved here I realized that neither of the two small rooms in the middle of my apartment had enough space to house what I needed them to. I asked my landlord if he would change the door style from a standard one that swung open into the room to a pocket door or folding door.
He agreed and it worked wonders. I now have so much more useable space in each. He only charged me $20 each for the new folding doors. The space saved is priceless!
9. Look upward: Many NYC apartments have high ceilings and low square footage. It is a shame that sometimes rooms are higher than they are wide and long. I am sure not to waste that valuable wall space. I put up shelves everywhere—particularly in my narrow hallway where the high shelving doesn't impede walking or make the hallway feel too crowded. I also use space on top of cabinets and hang things from the ceiling.
Again my friend Morgan concurs: "I have no space wasted from floor to ceiling. I built shelves up to the ceiling of each of my closet and also utilize canvas hanging shelves because I can keep switching them when I want to change things up."
10. Stick to a simple color scheme: Keeping my whole apartment only three colors--black, white and red--not only keeps my OCD at bay but also makes it easier for me to switch things around in different rooms.
And when an extra chair is needed in my bedroom for a visitor, I know that taking one from the kitchen or living room will not make it look out of place. Everything is interchangeable!
11. Delineate different areas: While my other rooms tend to be small, I have a rather large eat-in kitchen as many old tenement railroad apartments do. I have mapped out a distinct eating area by using a rug to rest my dinette table on. Likewise I have created separate office and sleeping areas in my bedroom the same way.
I find keeping areas distinct helps give a sense of organization--a place for everything and everything in its place--and makes it easier for me to keep things uncluttered. Items from each distinct area get housed in that area, instead of getting tossed on random table tops or chairs. 
12. Get an iPad and use it: While I tend to be slow to embrace new technology products and gizmos (I'm an old) like iPads and Kindles, they are a necessary evil when living in a small walkup. Who wants to lug books, movies and music upstairs and then find a place to store an ever-increasing library?
Related:
10 tips from a renter who's lived in one 338-square-foot room for almost a decade
More posts by Kelly Kreth:
15 things I've learned from 'Million Dollar Listing NY' so far
The 20 deadly sins NYC rental agents should never commit (but do)
Escape from the UES: Goodbye douchebaggery, hello Hell's Kitchen
Dear Neighbor: I am your worst nightmare
Living next to a bridge & tunnel club: KY Jelly wrestling, all-night noise, no regrets
Brick Underground articles occasionally include the expertise of, or information about, advertising partners when relevant to the story. We will never promote an advertiser's product without making the relationship clear to our readers.