You've likely seen the photos circulating: the enchanted Cape Cod meets Nantucket-style wooden shingle cottage sitting unsuspectingly on top of an East Village apartment building, surrounded by planters filled with lush greenery. In the height of summer, the dream of a beach house in the middle of New York City was too much for many a cynical New York journalist to take.
"Utterly charming" (Curbed)... "Bucolic beach cottage" (Gothamist)... "Fairy-tale architectural gem" (NYPost)
(If you haven't seen the pictures, check them out on the Compass listing (and below). And if you have $3.5M, maybe you can buy that cottage and the rest of the apartment that comes with it!)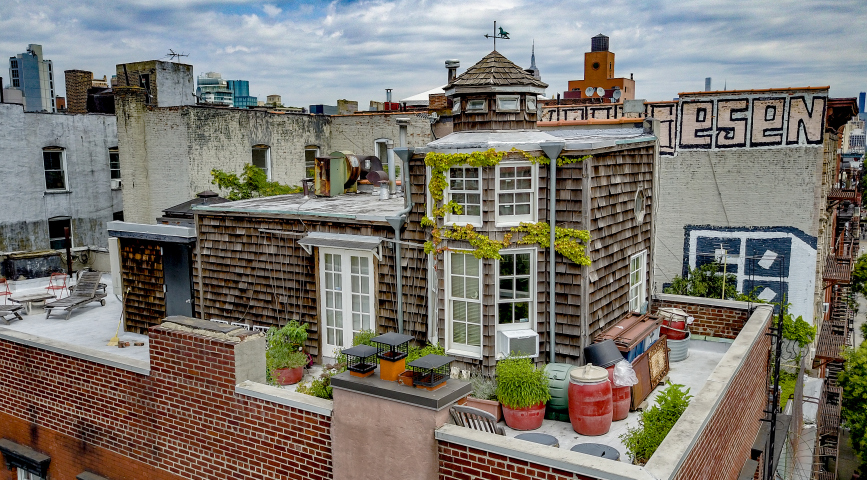 The utter uniqueness of the property got us thinking about wooden homes in NYC, and it turns out there are lots, from townhouses in Brooklyn Heights and Clinton Hill to quaint single-family houses in South Brooklyn. 
While the cottage on East 1st Street is not historic, many of the clapboard and wood-frame homes still found in the city today are. According to a 2009 article in The New York Times, they were built mostly in the outer boroughs "to create suburbs." The fact that some survived that "semirural" period is luck, the article states. 
Not surprisingly, there are currently just four listings on StreetEasy with the word "clapboard" as a descriptor. Three are for sale and one is for rent. Take a look: 
62-46 61st Street, Ridgewood, Queens

This 118-year-old Victorian is on a pretty corner lot. (Top picture is of the same property.) Asking price: $850,000 (Citi Habitats)
9 Columbia Place, Apt. 2, Brooklyn Heights

From the outside this one-bedroom rental is a historic dream. The inside? Not so much. Asking price: $2,500/ month (Corcoran)
257 13th Street, Park Slope

This adorable, standalone two-family house is near the border of Park Slope and Gowanus. Asking price: $1,995,000 (Corcoran)
101 Abbey Court, Gerritsen Beach, Brooklyn

Beachy vibes can be found at this property located near Marine Park and en route to the Rockaways. Asking price: $425,000 (Dwell Residential)