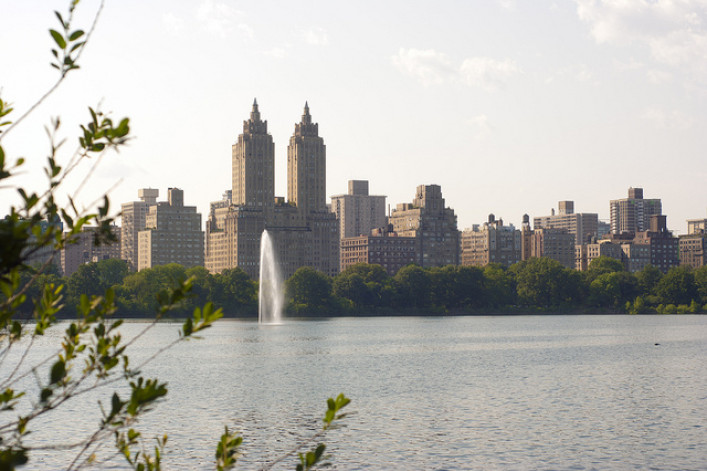 Granted, every street in New York is something of a landmark in its own right, even if only as the place where something particularly incredible (or insane) once happened to you. But we've got no problems playing favorites. With the help of some of the city's foremost real estate and architecture buffs, we've rounded up 9 historic byways that still beckon for a detour, and have fascinating back stories to back up their good looks:
COLUMBIA HEIGHTS
Brooklyn Heights does not want for historic and charming thoroughfares but a stroll along Columbia Heights—the street that runs right along the promenade—reveals why it's a standout. "There's probably no more architecturally significant street in all of New York City," says Douglas Bowen, a Douglas Elliman broker who's also active in issues of landmarking and Historic Districts. When ferry service brought residential development to the area, says Bowen, Columbia Heights was the first area to see action. The oldest section (the so-called "fruit" streets Orange, Pineapple, and Cranberry) is still ripe with Greek Revival Federal-style homes, and down near Pierrepont street, "there are some of the nicest Victorian brownstones in all of the city," Bowen adds. If architecture isn't so much your thing, you can always turn around to face the water and take in that view.
WASHINGTON MEWS
Of all the quaint, tiny side streets in Greenwich Village, it doesn't get much more quaint and tiny than Washington Mews, a block-long stretch between University and Fifth, just north of Washington Square Park. The secret's long been out on this row of former stables that have since been converted into twee, two-story residences and offices for NYU—you're likely to see tourists and/or self-serious art students staging photo shoots here pretty much any hour of the day. Still, a walk-down this car-free street has a way of transporting even the most cynical New Yorker to a gaslit, bygone era, selfie sticks be damned. (And as such, it's a great place to take a first date.)
57TH STREET
And now, for something completely different. Thanks to infamous mega-development One57, 57th Street has become synonymous with the city's trend towards ultra-high-end developments with absentee foreign buyers. (It's been dubbed Billionaires' Row after all.) Like it or not, that's historically significant in its own right. But the midtown street also has plenty to offer for the old school history buffs out there (Carnegie Hall, anyone?). Our personal favorite is the Hearst Tower at 57th and 8th. With its glassy, mid-2000s tower sitting right on top of the original 1920s-era first building, it may be the best encapsulation of old and new in the entire city. "We now have this giant skyscraper on the corner, and it makes everything else look more interesting," says Janice Silver, a Bellmarc broker who lives on East 57th. "It used to be this quiet little street that people didn't really think of." No longer.
CHURCH STREET
This Financial District hub is another street where history converges with ongoing development boom. "New York is always evolving and changing, but this isn't always all that visible or obvious at a local level," says Nikolai Fedak, founder and editor-in-chief of New York YIMBY. "The biggest exception to this is Church Street in Lower Manhattan, which, at the moment, has more construction activity than just about any artery in New York City (or perhaps even the United States)." As Fedak points out, the new WTC towers have major fronts on Church Street, which will exist alongside new developments at 99 Church and 56 Leonard, as well as historic architectural gems like the Cary Building and St. Paul's Chapel. "[Church Street] symbolizes Manhattan's resiliency better than any other," says Fedak, "even though it may take another few years for its rebirth to fully translate into the skyline."
(Photo: Flickr/PilotGirl)
POMANDER WALK
Similar to Washington Mews, Upper West Side enclave Pomander Walk feels closer to Dickensian London than it does to 2015 Manhattan. The street—located between 94th and 95th, between Broadway and West End—consists of 27 two-story buildings that face a gated, interior courtyard. According to Scouting NY (which also has a great photo series of the street), the complex was built by nightclub impresario Thomas Healy in 1922, and named after a 1910 play of the same name. It was originally intended to become a high-end hotel (with the residences serving as income property in the interim), but after Healy's death, Pomander Walk stayed as-is, becoming the Upper West Side's most surprising street. The apartments themselves are tiny (check out the interiors of one here), but pretty reasonably priced for Manhattan; according to StreetEasy, a studio in the complex sold this summer for $375,000, and a two-bedroom for $800,000.
CENTRAL PARK WEST
Consider this one the opposite of a blink-and-you'll-miss-it old-timey side street. But even though it covers an enormous swath of territory (Eighth Avenue between Columbus Circle and 110th Street), when you stroll along Central Park West with an eye to the architecture, the hits just keep on coming. "The skyline is so iconic with that series of twin towered buildings, like the San Remo and the Eldorado," says Warburg Realty president Fred Peters, who also cites the Dakota, the Century, the Majestic, and of course, the Natural History Museum, as landmarks to look out for. "It's just amazing from an architectural perspective," he adds. "And it's perhaps the most beautiful street to look at from elsewhere." And to most New Yorkers, we're willing to bet the towers of the San Remo are a much more  welcome sight from Central Park, than, say, the shadow cast by 432 Park.
DOYERS STREET
Less majestic but no less historic, Chinatown's most famous side street is often still referred to as "the bloody angle," a nickname earned in part due to its curved layout, and in part due to its history as a major hub of turn-of-the-century gang violence. These days, it's better known as the home of some of the city's best dim sum at Nom Wah Tea Parlor, and upscale cocktails at faux-speakeasy Apotheke. However, you can still visit a holdover from Doyers' seedy past in the form of its underground tunnel. Once used to help gang members (or targets of gang members)  evade attacks, the tunnel is now a more mundane hub of small, Chinese shops, but those of us with overactive imaginations can still visit and picture ourselves making a stealthy getaway—provided we're not too weighted down with dumplings.
SYLVAN TERRACE
While much of Upper Manhattan is already known for its preponderance of historic brownstones, head down Sylvan Terrace in Washington Heights, and you'll be transported back in time even further. Located right across from the Morris-Jumel Mansion Museum in Washington Heights (between 160th and 161st on the west side), the street is comprised of carefully restored 1880s wooden rowhouses. "[When you visit the museum], you go into this wonderful revolutionary-era building, and then you leave, and there are all these little wooden houses from the late 18th and early 19th century," says Peters. "It's so unlikely and they're completely charming." The street was also almost completely destroyed after being left to deteriorate in the first half of the 20th century, but per Scouting New York, the area was saved by its 1970 designation as a historic district (and an influx of funds to help fix up the faded facades). NB: Sylvan Terrace is not to be confused with Sylvan Place, a different historic street on East 120th that connects to the Sylvan Court Mews, another small, historic row of old houses. 
(Photo: Jim Henderson/WikiCommons)
BEEKMAN PLACE
Last but not least: Beekman Place, a micro-neighborhood within Turtle Bay, located between 49th and 51st, east of First Ave. "It is a tree-lined, cul-de-sac oasis of gracious pre-war apartment buildings and elegant, 19th century townhouses overlooking the East River and Peter Detmold Park," New York Historical Society President and CEO Dr. Louise Mirrer tells us. The area is long on history, as part of a large parcel of land owned by the Beekmans, one of the city's most prominent families. (So prominent, in fact, that they earned a recent parody on The Unbreakable Kimmy Schmidt in the form of Kimmy's ultra-rich love interest, Logan Beekman. Also, Barbra Streisand fans should know what Beekman Place represents when her character Katie plaintively asks her beloved-but-stuffy Hubble in The Way We Were, "Why did you have to go back to Beekman Place?") "Much of Beekman place remains unchanged over nearly an entire century, including the Beekman Tower  (an art deco masterpiece and former residential hotel for sorority women)," says Mirrer. Housing in the neighborhood isn't likely to come cheap—consider this $50 million mansion that hit the market last year—but even if you're not looking to put in any offers, the area's well worth a leisurely stroll.
Did we leave any of your personal favorites out of the mix? Let us know in the comments...
Related: 
Manhattan Valley: What you might not not about the Upper West Side's neighbor to the north
The 24 best NYC neighborhood blogs: 2015 edition
5 Bronx neighborhoods to explore right now
Sorry, Taylor Swift: these 8 songs really capture the magic and mayhem of living in NYC
Greenwich Village preservationist Andrew Berman understands the appeal of a penthouse (and can't live without his bodega)
Brick Underground articles occasionally include the expertise of, or information about, advertising partners when relevant to the story. We will never promote an advertiser's product without making the relationship clear to our readers.