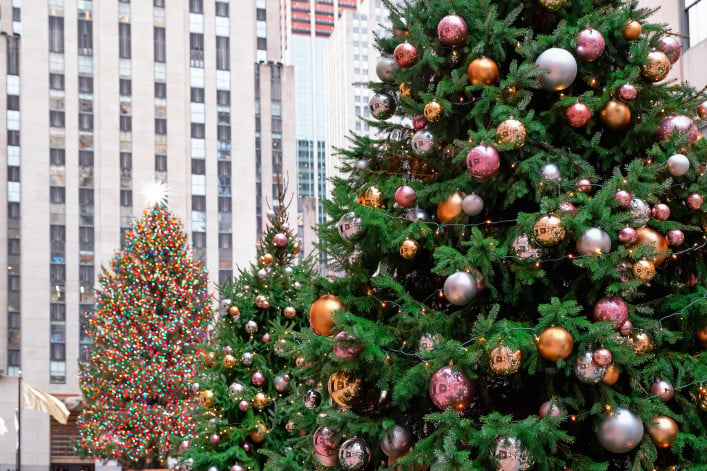 Just like the rest of 2020, this holiday season looks much different, but one thing that should remain the same is gift giving—we all certainly deserve it. But who needs a fresh pair of kicks or a luxe perfume when you barely leave your NYC apartment? Most of us are spending a lot more time at home these days, so giving (or asking for) gifts that make your NYC apartment a little nicer are what this holiday season calls for.
Think fast: There's just over a week until Christmas and you can expect delivery delays because of high demand and a snow storm hitting the northeast this week. You can always splurge on express shipping, or do what my mom always did when I was growing up and my gifts didn't arrive in time: Wrap a photo of the gift and let them know it's coming. 
Small businesses really need our support during the pandemic, so order from local stores when possible. (Here's a tip: Search "appliance store near me" or "kitchenware store near me" etc. to source these items—if they're not in stock, independent stores can often place the order for you.)
The Brick Underground staff has rounded up some of the home items that we have depended on during the pandemic and think will make great gifts, along will some of this holiday's most popular items to brighten the holidays of your favorite NYC apartment dwellers.
For the clean freak
The i7 is much, much quieter than two earlier-model, cheaper Roombas I've owned in the past five years. You probably still won't want to work in the same room with it (unless you have noise-canceling headphones), but it won't wake you up if you run it in the middle of the night. Yes, you can buy the i7 without the automatic self-emptying base and save money. But after you get over the newbie fascination of seeing how much dust and debris your Roomba collects each run, you will start to appreciate the convenience of not having to empty it several times a week.  (Note: The i7 does run louder for about 15 seconds when it empties at the end of each run.) The app also works seamlessly with the Braava Jet m6; each night after dinner I check off the rooms I want vacuumed, and then click the Braava tab in the same app and select the rooms I want mopped immediately afterward. —Teri Rogers 
Next to my Ember mug, this is hands down my favorite home purchase of the Covid era. Number one, I hate mopping more than almost any household task, including cleaning the bathtub. Number two, the deceptively mighty Braava is adorable, a cross between R2D2 and a very self-directed puppy. Watching it squirt and scoot its compact self across my floors is weirdly calming and satisfying. Number three, the Braava works surprisingly well for everyday upkeep like muddy footprints, dried pasta water, etc. (For big messes, you will probably need to apply some elbow grease first.) I use it nightly, programming it on the iRobot app to run immediately after my i7 Roomba finishes vacuuming, and I get to wake up every morning to wood floors that are housekeeper-clean. Bonus: It's so quiet you could use it during the day to mop around you while you work. —Teri
There's nothing like lighting a scented candle after cleaning your apartment. Whether you're a transplant who can't make it back home this year for the holidays (they have scents for every state) or you're a New Yorker who is riding out the pandemic elsewhere, these are a thoughtful and affordable gift for any clean freak.—Austin Havens-Bowen
For the work-from-homer
Working from home is tough if you don't have a good desk chair (the couch and dining table only works for so long) and an ergonomic chair certainly isn't cheap. This IKEA chair is customizable and is an affordable option for your family and friends who need help improving their work-from-home setup. 
How can you improve on a simple hot drink? Put it in a smart mug and synchronize with an app so it stays at exactly the right temperature. There are a lot more distractions when you're working from home but going to the microwave to heat your coffee up doesn't have to be one of them. My day starts with at least two cups of tea, followed by coffee and then tea again (hello teatime!) so even if I have to leave my desk to troubleshoot remote school, locate my (stolen) charger, or remove the cat from my keyboard, my chosen caffeine fix is right there at the perfect temperature waiting for me. —Emily Myers
If you're working from home on a laptop and don't have a good desk setup, this stand works on any surface and will prevent you from having to bend your neck to look down at the screen. It has 4.8 stars on Amazon, but we recommend supporting NYC local businesses and ordering it from B&H. 
For the foodie 
I received this last Christmas and it has certainly been appreciated during the pandemic. Cast iron is great for any foodie because it's nonstick, heats evenly, and you can start cooking on the stove and put it in the oven. I use it for roasted chicken, stews, and you can even use it to fry. Just make sure you don't let dish soap get near it. Warm water will do because you don't wash away your seasoning. —Austin 
In my opinion, this is a must-have for anyone who likes to cook. I've used it for simple cookie recipes during the pandemic and for more complex dishes for my quarantine Thanksgiving dinner. You can even buy various extensions, like the pasta-making add-ons that I have, which I plan to use to make fresh pasta for an Italian dinner party once hosting dinner parties is acceptable again. —Austin 
This is the cookbook of all cookbooks and is the best-selling one in the country. It's been in print since 1936 and there are nine versions, the most recent was published in 2019. Even if you prefer not to stick to recipes, or make up your own, like I do, you should still have a copy. It has been my saviour when it comes to using proper measurements for my pandemic baking and when I want to know how to properly prepare certain meats. Consider supporting The Strand bookstore with your order.  —Austin
For the techie 
We're now living with multiple floors, as opposed to an apartment on one level, and my husband bought these for every room for a family Hanukkah present. Now we can "call" each other to find out, for example, what's for dinner (or lunch) since everyone is here 24/7. With this version of Alexa, you can also "drop in'' on a room and speak without placing a call—which can be a little startling. The sound is great for streaming music, the color choices are a nice upgrade from matte black, and the clock has nice glow at night —Jennifer White Karp
These smart light bulbs have been a game changer during the pandemic because I live in such a small apartment. When you wake up, work, live, and sleep all in the same space, changing the brightness and color of your lights really helps. During the workday, I recommend the "concentrate" setting and go with a light pink during the evenings. The starter kit comes with the hub to connect to your wifi modem and three bulbs. You can buy extra bulbs separately, which are always on my Christmas list. —Austin 
We can't be with extended family members now, so this frame is a really nice way to keep the grandparents up to date and enable them to easily display the latest photos of the grandchildren. Instead of one static image like a picture frame, it displays a rolling montage. Photos can be uploaded or emailed to the device for a nice surprise. —Jennifer
For the host
One of our favorite experiences is making s'mores around a campfire, but it's not safe to gather with friends and it's getting too cold to be outside. (And fire pits are illegal in NYC, ahem.) I bought this for my daughters to recreate the experience at home and it was a hit—just remember to buy some cans of Sterno in advance, they do not come included. —Jennifer
This Bluetooth speaker is easily one of the best on the market. It's small, portable, and has a 13-hour battery life. It's also great for outdoorsy types because it's waterproof, dustproof, and floats! It has 360-degree sound so it works great in a small NYC apartment or a larger space. It'll definitely bring the music to your (small) holiday gatherings. It has five stars based on 3,508 reviews on Amazon and is recommended by Wirecutter.
If you're looking to splurge on a gift for your entertaining friend to make up for the lack of entertaining they've been able to do this year, check out this bar cabinet and mixologist kit. It comes with everything one needs to make a great cocktail at home, including tongs, a bar spoon, corkscrew, and shaker. It'll take their next socially-distanced (and small) get together up a notch.
Brick Underground articles occasionally include the expertise of, or information about, advertising partners when relevant to the story. We will never promote an advertiser's product without making the relationship clear to our readers.