Transitions
From Greenpoint to Rockaway Beach: We wanted to build equity in a more affordable community
They traded a two-bedroom rental for a three-bedroom condo on the beach
Sellers had to pay $50,000 to relieve a lien based on outstanding HOA dues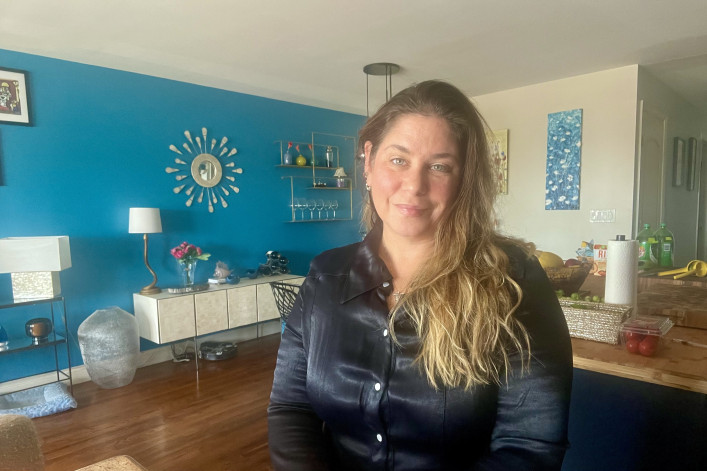 After Stephanie and her spouse saved up enough to buy a place, they wanted to find a more affordable neighborhood with a strong community feeling. They happily scored a ground-floor duplex in the Rockaways, just steps from the beach. Here's her story. 
I was born in Yonkers and raised a bit further north in Carmel. I moved to New York City in 2015 from Albany because my husband and I wanted to experience city life.
Most recently, we were renting a two-bedroom duplex with one and half baths in Greenpoint, Brooklyn. It was roomy for the two of us—along with our two cats. We were on the ground floor of a former retail building with very high ceilings and floor-to-ceiling, double-paned mirrored windows looking out onto the street. The lower level was a small finished basement. Even though the in-unit combo washer/dryer didn't work well, we used it versus going to a laundromat. 
The rent was ideal at just under $4,000 per month. The location was key too, right on Greenpoint Avenue and the same block as the G train, offering convenience to Manhattan. We also walked to Williamsburg and around the neighborhood, so we never had a car.
Greenpoint is such a food scene. Ordering food was a breeze, and there were many wonderful choices. Food shopping was also convenient, with a large grocery store around the corner and several boutique specialty food stores around the neighborhood.
We loved the restaurants—such a fantastic variety. We would walk over to Acme Smoked Fish for freshly smoked salmon and Brooklyn Brewery for fantastic beer. Paulie Gee's pizza and Taqueria Ramirez! are other favorites. A drink at Pencil Factory was only a few steps from our place, and Oxomoco was next door and became our go-to for when we wanted a fancy dinner or cocktail. 
---
[Editor's Note: Brick Underground's series "Transitions" features first-person accounts of what it's like to move from one New York City neighborhood to another. Have a story to share? Drop us an email. We respect all requests for anonymity.]
---
Transmitter Park and the East River were within a three-minute walk, and we spent a lot of time there during the pandemic. And the Skyline Drive-In was a go-to during the warmer months for an amazing movie experience on the water.
I've been in the tech sector for over 15 years and am currently chief of staff for a tech consulting firm. I work from home (and have for many years), but transportation was simple with the G train on our corner, plus the ferry was within a five-minute walk. My husband commuted into the city, taking around 30 minutes each way. 
Why they left 'exciting and convenient' Greenpoint
All this was great, but we dislike the fact that we couldn't open any of the windows for fresh air or use the rooftop as advertised.
And although Greenpoint has a lot to offer, we were disheartened when the ferry stop was damaged and shut down for a year and a half. 
In the spring of 2022, we decided to buy a place as we had saved enough money. We wanted to invest in the future and build equity versus renting. I had sold a house I owned in Albany just before the pandemic and was eager to be a homeowner again. We also wanted to settle down in a tighter-knit community than Greenpoint, where we knew we couldn't afford to buy.
Having spent several weekends at the beach in Rockaway, we decided to explore buying a condo there.
How they landed a duplex condo in the Rockaways
Our price range was $550,000 to $625,000, and we wanted at least two bedrooms and two baths, preferably with outdoor space. 
We worked with an amazing agent—Susan Lavin, an agent at Neponsit Realty. There were five showings on our list the first time we came out to Rockaway to meet with her. We ended up seeing four of them and considered three as viable options. It was like an episode of "House Hunters," where the one with the lowest price needed the most work, the middle of the pack was within our budget yet didn't check all the boxes, and the highest priced was slightly out of our range but we loved it. 
I kept an eye on the one we loved via Zillow and a couple weeks later, the listing price came down from $710,000 to $658,000. We negotiated with the seller's agent and ultimately agreed on a price that was significantly lower than their current asking price. We ended up paying $615,000. 
Our new place is a ground-floor, three-bedroom duplex with two and a half baths. Unlike in Greenpoint, the finished basement spans the entire upstairs space. Overall, it's much larger—1,500 vs. 1,000 square feet—and the open layout provides more usable space. 
The building is gorgeous, directly across from the boardwalk and beach. We can hear the ocean from the living room and patio, which is large enough for a small dining table and chairs plus a lounge area—perfect for entertaining. Since moving in, I've decorated the interior in a beachy theme and added a kitchen island. We now have a brand new washer and dryer that we purchased upon moving in—and couldn't be happier! 
Why closing on the condo turned into a nightmare
The buying process was supposed to be painless: We had the mortgage pre-approval, down payment, and all the paperwork that was needed to facilitate a smooth closing.
However, we discovered there was a lien on the property because the owners hadn't paid their Homeowner Association dues for quite a while. So what should have taken one or two months took more like three months because the lien had to be satisfied prior to closing, meaning the sellers had to come up with over $50,000 out of pocket.
Meanwhile, we had to vacate our Greenpoint place and move into a hotel room (with two cats!) for 10 days. 
At the closing table, the sellers' funds still had not cleared—on a Friday. But they gave us the keys even though we technically didn't close that day—all paperwork was signed under the assumption the funds would clear by the end of Monday. We were on pins and needles all weekend waiting for the call on Monday and it came right before 5 p.m. Ultimately, it all worked out.
The pros and cons of living in the new nabe
Moving to the Rockaways has lowered our cost of living overall. If we rented here, we would pay around $1,000 to $2,000 less per month than in Greenpoint. Groceries and general expenses are much lower here, too, as are restaurants and nightlife. 
The neighborhood is essentially a beach community, especially in the summer season. There are always activities around the neighborhood and there's the beautiful and peaceful beach for relaxing or walking.
I tend to walk the boardwalk almost every day. The concessions are open a good portion of the year and typically there's live music on the weekends with a good band rotation. I love The Rockaway Hotel, which brings in many tourists and has a consistent number of events. 
My husband and I are huge foodies; we just launched a chocolate ravioli business here in Rockaway called Pastazerts, so we make sure to experience every eatery possible. For casual dinners, we love Pico, which has a fantastic Mexican menu and makes their own hot sauce. Our neighbor runs the best seafood/pizza restaurant, Whit's End, and we end up there several times a month. And the concessions at Beach 97th are second to none: Red Hook Lobster Pound is my go-to for a lobster boil and raw bar, while Seany Pizza is another solid option when we are hungry. Bungalow Bar is perfect for bayside cocktails and a snack, and they have a ton of live music as well so we typically end up there at some point almost every weekend. 
I've noted something interesting things since moving here: I had no real understanding of how much humidity there is living beachside. I have to use up produce more quickly and constantly clean the windows! Also, who knew crickets could be so loud? I hadn't heard them in such a long time.
Airplanes are another noise to contend with; they are very loud because we are directly under JFK's flight path. Also, there are a lot of stray cats at the beach. Yet, there's a dog park nearby that rarely has any dogs in it; I've never seen an empty dog park before moving here. Lastly, surfers come to the area year round—even in winter. 
 
Getting off the peninsula is certainly not fast—it takes a while (via two trains) just to get to mainland Queens and a significant amount of time to get to Brooklyn and Manhattan. We will be purchasing a car soon.
I still work from home and occasionally take the ferry or train into the city for meetings. My husband's commute has drastically expanded from 30 to 35 minutes to close to 90 minutes each way. 
How their social life is going
And ultimately it was a great decision. The community aspect has been everything I had hoped for. People here are very friendly and supportive. Our neighbors are warm and welcomed us immediately, and we occasionally get together for holidays and beach time.
We've also made some new friends in the year we've been here. I've joined some community groups, such as Rockaway Creates, and we participate in nearly all local pop-up markets with our small dessert business. 
We've had several friends visit and my family came for the holidays last year. The best time to visit of course is the late spring and summer, so people who have been here during those times love the beach and say we are very lucky to live here. They love the lively boardwalk and music and taking the ferry from Manhattan. 
We plan on staying a long time and getting more ingrained in our wonderful community. 
Brick Underground articles occasionally include the expertise of, or information about, advertising partners when relevant to the story. We will never promote an advertiser's product without making the relationship clear to our readers.