Transitions
From the UWS to Central Harlem: We bought a larger, more affordable place to raise our son
They were paying $2,750 per month for a small, one-bedroom rental with zero amenities
After seeing 20 places over 18 months, they made offers on two condos in the same building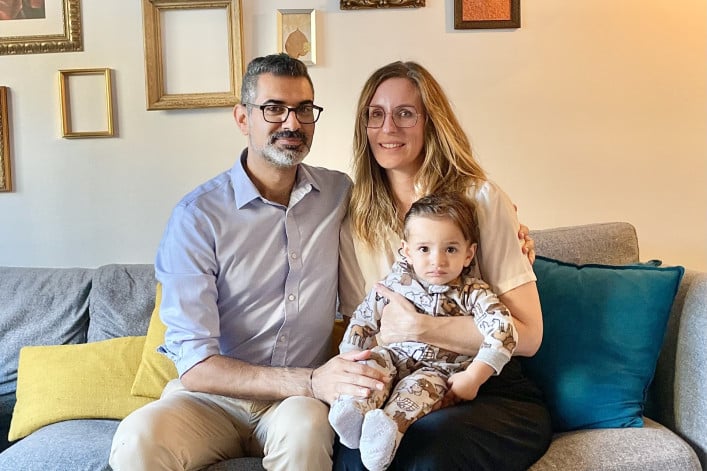 After their son was born, Meir Mualem and his wife decided to get a bigger place—and to buy rather than keep renting. They were priced out of the Upper West Side but landed in nearby Central Harlem. Here's his story. 
I was born and raised in Tel Aviv, Israel. I moved to New York City in 2014 to manage a restaurant. I had an amazing offer that included a one-bedroom apartment in the East Village—rent-free! However, I decided to leave NYC after 10 months because the city was eating me alive, and I missed friends and family. 
But I was lured back by another amazing job in hospitality that I simply couldn't refuse. I became the director of operations for three restaurants at Yotel, which later grew to five. 
Most recently, my beautiful wife (who grew up in Germany) and I lived on the UWS, where Luca, our son, was born. 
We rented a one-bedroom apartment, roughly about 600 square feet with a kitchenette. We had no amenities in the building and our monthly rent was $2,750. 
---
[Editor's Note: Brick Underground's series "Transitions" features first-person accounts of what it's like to move from one New York City neighborhood to another. Have a story to share? Drop us an email. We respect all requests for anonymity.]
---
The apartment was relatively spacious and the layout was what we were looking for. It was also facing south and at the corner of the building, so we had sunlight almost all day. This was both a benefit and a disadvantage as we realized later, since it was very hot in the summer. The apartment was also overlooking Broadway, which meant a lot of noise all day (and night) long. 
Laundry was in the building (using a rechargeable laundry card), and for grocery shopping, we mostly went to the closest supermarket, West Side Market on 97th and Broadway, which was very expensive. We used to order food a few times a week from local restaurants. 
I loved the diverse culinary scene, the proximity to Central Park and Riverside Park, and the easy access to public transportation. The neighborhood has a small-town charm in the middle of NYC, with lots of families, small local businesses, and restaurants. 
For a great authentic Israeli brunch and dinner, we loved to go to Miriam on 74th and Amsterdam and for Italian food to Bosino on West 103rd. We also had the best challah bread and cinnamon rolls at Silver Moon Bakery at 2740 Broadway and our morning coffee at Peaky Barista at 2689 Broadway.
We would head to Central Park and Riverside Park regularly with friends for a walk, picnic, or just to hang out. We would regularly meet for dinner in one of the nearby restaurants, for coffee in one of the coffee shops, or to see a movie. One of my best friends and our babysitter lived in the area, which was convenient, and even going out Downtown was just a quick train ride away.
My door-to-door commute to work was also easy and took about 20 minutes via the 1, 2, or 3 train to 73rd Street. 
Why they left the UWS for Central Harlem
We moved out of the previous apartment for two reasons: We had a six-month-old baby and needed more space, and instead of paying someone else rent, we wanted to invest in owning. To be frank, we couldn't afford a two-bedroom, two-bath place on the Upper West Side, so we looked at other neighborhoods. We began our search in June 2021 and didn't move into our new place until December 2022. 
When we started looking for a new place, the interest rate on mortgages was low. On top of that, we calculated how much money my wife and I have spent individually on rent since we moved to NYC, and that made the decision pretty easy.
We worked with Kobi Lahav, the sales director and senior managing director of Living New York. We viewed about 20 apartments over the course of 18 months. Because my wife and I both worked, seeing places during the week was almost never feasible, therefore we spent a lot of weekends viewing apartments. 
In August 2022, we viewed two apartments in a condo building in Central Harlem. My wife liked the first apartment on the third floor, but I liked the second apartment on the sixth floor better. The layouts were similar, and we could imagine living in either one, though the sixth-floor unit had been renovated. We decided to make an offer on both apartments. 
We initially offered $735,000 for the third-floor apartment and $770,000 for the sixth-floor apartment because it was updated, and we wouldn't need to invest in anything besides repainting.
The broker of the apartment on the third floor was very responsive and the owner eventually accepted our offer of $775,000. The broker of the apartment on the sixth floor was stalling and not responsive to Kobi, so we reached out to her ourselves to see what was going on. It seemed to us she considered our offer too low. We decided we would prefer this unit because of the renovation.
We did something rather unorthodox and dropped a letter off to the owner expressing how much we liked the apartment and how much we would love to raise our son there. The next week, we received a note from the broker that the owner accepted our offer. We signed the contract within two days and secured the interest rate with our bank for 90 days. 
For the next roughly two and a half months, we went back and forth with the bank, mostly sending requested documents so that they could secure the loan. A couple of days after receiving the confirmation from the bank, we set a date for closing. The entire process took a bit over four months, from viewing the apartment until closing.
Our living expenses now are obviously higher, simply because our current apartment is about 400 square feet larger than our old one, but in comparison to renting or owning the same size apartment on the UWS, we are saving about $1,500 each month.
The new apartment is in a building that was built in 2005. It's a two-bedroom, two-bathroom space covering about 950 square feet. It has new floors, renovated bathrooms, and a renovated kitchen. The building has common amenities such as a gym, courtyard, 24/7 doorman, laundry room, and storage/parking garage. 
How they like the new neighborhood
The neighborhood is culturally diverse and most people are very friendly. We love our neighbors—everyone welcomed us with open arms—and we definitely experience more of a community feeling than where we were before. 
We love taking our son to Playground 123 in Morningside Park and to MyGym on St. Nicholas Avenue. We really enjoy the Ethiopian food at Abyssinia on West 135th Street and spend almost every Sunday having brunch at The Edge on Edgecombe Avenue—their live music on Wednesday night is definitely worth a visit.
Unlike the UWS, which has a great variety of different small local businesses, coffee shops, bakeries, and restaurants, our new neighborhood has none of that—the next bakery is about a 20-minute walk away. We have also noticed that there's always a lot of trash on the ground, the sidewalks are not clean, and even playgrounds and parks are neglected in a way that some things are not safe to use (e.g. glass on benches, the floor at the playground is uneven, the climbing structures are falling apart). There are also too many fast-food chains and almost no healthy food options. 
For grocery shopping, we usually take a 15-minute walk to Lidl on Frederick Douglas Boulevard—my wife knows the store from back in Germany. They are very reasonably priced and have great food plus an in-house bakery. Generally, grocery prices in Central Harlem are much cheaper than we previously experienced on the UWS. 
We order in once a week. Some of our old favorites don't deliver up to Central Harlem, so we had to find new places to order from. Also, due to safety reasons, our building only allows food drop-off at the lobby. In our previous building, we were able to have the food delivered to the door, which is sometimes convenient, especially when you have a baby.
Our new building is literally right next to the B/C/D train, less than a two-minute walk. The 2 and 3 train station is about 10 minutes away. My wife and I are both working from home most of the time; the few times I have to go to the office, I take the D train to Midtown, which takes about 20 minutes.
Fun fact: I loved working with Kobi so much on our apartment hunt that I now work as an agent for Living New York myself. 
Why buying—and changing nabes—was the right decision
From a financial perspective, buying a home was the best decision. We're now paying less for our mortgage and maintenance than we would pay for a rental on the UWS, but our new place is all our own. The apartment and the building are in great shape and even if we decide to move somewhere else in a couple of years, it is a great investment. But we have no plans of leaving. 
Both of our families and lots of friends came to visit from Israel and Germany. Everyone was very excited about the fact that we managed to buy a place in NYC, and they all loved the apartment and the building. 
We have also made new friends—not only among our neighbors, who are simply the loveliest people, but also from MyGym and the playground. We are lucky that a lot of special people entered our lives over the last nine months since we moved into our home. 
Brick Underground articles occasionally include the expertise of, or information about, advertising partners when relevant to the story. We will never promote an advertiser's product without making the relationship clear to our readers.