Transitions
From Bed-Stuy to Ridgewood: I traded hip and happening for quaint and charming
The 'aha' moment: Seeing lines of 50 people at two open houses for pricey rentals in Brooklyn
He now pays $2,308 for a rent-stabilized two bedroom, slightly more than his one bedroom
Bonus: Commuting to his job in Union Square is more predictable—no more G train trouble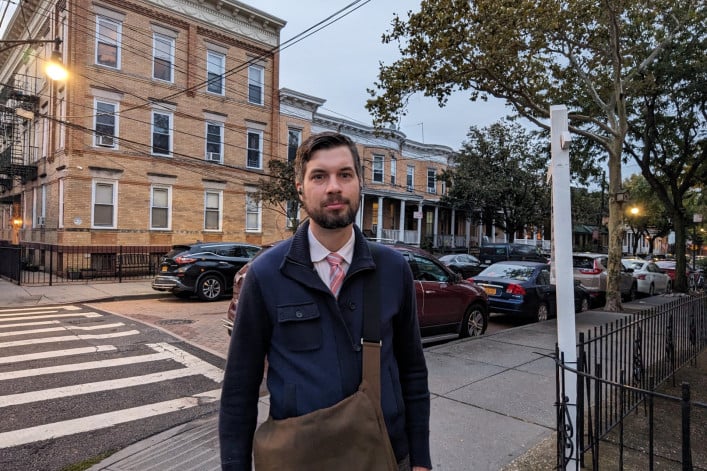 Faced with stiff competition for rentals in Bed-Stuy, Ron and his wife decamp for Ridgewood, Queens, which they discovered while visiting friends. They scored a larger rent-stabilized apartment with an extra bedroom for about the same monthly rate. Here's his story. 
I was born in Michigan and raised in Arkansas. I moved to New York City in 2007 to join a band. Over 15 years, I lived in five different spots in Bed-Stuy. I had roommates, lived alone in a few, and ultimately shared a place with my wife. 
My first apartment was a large one bedroom with no amenities to speak of and cost $875 a month, which is pretty unbelievable to think about now. Our last place was a one bedroom in a brand-new building with a laundry room, roof deck, virtual doorman, and shared backyard for $2,200 a month. Being a new building, the cabinets, fixtures, and everything else were modern and pristine.
I only have great things to say about Bed-Stuy—there is so much life on every block, the brownstones are so classic, and chefs who've worked in the best kitchens in the world are flocking to open restaurants there. 
Some of my favorite things about Bed-Stuy are: fancy pizza at Saraghina and a NY slice at Rocco's, everything at Fan Fan Doughnuts, the cod sandwich at Shipwreck Seafood, tacos and a beer at Chilos, anything they give me at Dept of Culture, the griyo sandwich from Grandchamps, the curry at Trad Room, the clam toast at Harts, and the patties at Tastee Pattee. Aside from eating my way through the area, I also loved the social activity: Sistas' Place and LunÀtico for live music, and Herbert Von King Park to watch the dogs at the dog run or sit in the sun. Bed-Stuy is happening—you can stay social.
The worst thing about Bed-Stuy is the lack of trains. I am an account director at an arts and culture publicity firm and work in Union Square, so when the G train was down, the commute could be a real issue.
---
[Editor's Note: Brick Underground's series "Transitions" features first-person accounts of what it's like to move from one New York City neighborhood to another. Have a story to share? Drop us an email. We respect all requests for anonymity.]
---
Why he left happening Bed-Stuy
This June, after living there for a little over a year, we decided to move out of our building, which was sold and changed hands three times during that time. We never met the last two landlords or building managers.
We started by looking in Bed-Stuy, but after two open houses with at least 50 people waiting to go see an expensive apartment we weren't really in love with, we decided to move over one borough to Queens. 
Next we looked in Ridgewood, which we were familiar with. Every time we visited our friends there, we realized how quiet and quaint it felt compared to our neighborhood.
We spoke to a few brokers but with luck found our current spot on our own. We saw three places in total, and signed on the same day as seeing the third. It was the most painless rental procedure I've ever experienced. We saw it and liked it, told the landlord we'd take it, and leased it within an hour.
We now have a two-year lease in a rent-stabilized apartment. At $2,308, we are paying a little more for a very large two bedroom right next door to a bakery. So our pastry budget has gone up too. 
Our building has 12 units total, a virtual doorman, and a very responsive management team, and is located on a quiet block near a park. 
What he likes about quaint Ridgewood
The neighborhood is very clean and has amazing thrift stores. I love Little Gotham and Ridgewood Thrift but my favorite is Forever Vintage. My wife always finds a unique outfit in there. She also loves OPC (Other People's Clothes) for its curated selection.
Here's the lowdown on what and where to eat in Ridgewood: Rolo's—everything is wood-fired and delicious, but the burger is a standout, and Guadalajara De Dia 2 has some of the best tacos I've eaten in NYC. Go to Bennys Cuban Cafe for a Cubano, Pupusas Ridgewood for pupusas, Buttah for cupcakes, and Ice Cream Window for the best ice cream. You are welcome! 
Ridgewood has a lot of charm with old European businesses and bars and new hip spots. If you want to see the social scene, here are some good places we love: Milo's Yard for pinball, The Footlight Underground at the Windjammer, TV Eye, and Trans-Pecos for live music.
The L train and M line both run near me, so on a good day, I can be in Union Square within 20 minutes of leaving home. 
Our friends and family say they love the area. Everyone uses the word "cute" to describe our neighborhood. We also befriended another couple that lives by us. We are very happy with our choice to move to Ridgewood and plan on staying for at least the next few years.
Brick Underground articles occasionally include the expertise of, or information about, advertising partners when relevant to the story. We will never promote an advertiser's product without making the relationship clear to our readers.