Buy Curious
A new tech campus is jacking up property values on Roosevelt Island, but there's still room to buy
Roosevelt Island has never been the most in demand place to live in New York City, but change is afoot following the recent opening of the Cornell Tech campus on the skinny little landmass in the East River. Jason Warner of Citi Habitats, Veronica Raehse of Bond New York, and Natalia Gavrilov of Compass explore the area with us in this week's Buy Curious.
The questions
Now that Cornell Tech has opened on Roosevelt Island, is it a good time to buy there? What's available?
The reality
Last month Cornell Tech, a science-oriented graduate school that's a joint effort between Cornell University and the Technion-Israel Institute of Technology, opened part of its new 12-acre campus on the southern end of Roosevelt Island.
And now, according to Gavrilov, real estate on the island is more sought after than ever before. A resident of the island herself, Gavrilov says that while prices are on the rise, it's still a good time to buy.
"It may be a bit past the ideal time," she says, since prices at some of the island's condo buildings are already "comparable to prices in [some areas of] Brooklyn." Still, she thinks that they'll only continue to rise as more people discover what she calls "Manhattan's best-kept secret."
Where is it exactly?
Roosevelt Island is a slim, two-mile spit of land in New York City's East River that runs from roughly East 46th to East 85th streets. Manhattan is to the west and Queens is to the east.
Who lives there?
Roosevelt Island had a population of 11,661 as of the 2010 U.S. Census. The island was 54.4 percent white, 23.4 percent black, 14.9 percent Hispanic or Latino, and 20 percent Asian, with a median income of $91,400, well above the city median of $53,400. It is popular with people who work at the nearby United Nations.
What's it like there?
"Roosevelt Island is a part of the city, but also apart from it," Warner says. He notes that although many people don't realize it, Roosevelt Island is officially considered a part of the borough of Manhattan, "complete with a 212 area code."
The island has a lot of the benefits and conveniences of Manhattan, he says, "without the crowds or the litter."
"All of the garbage on the island is collected by a vacuum system—similar to the one used at Disney World," Warner says.
Raehse describes the island as "a tight community where you have a sense that you know everyone." It has a bit of a small town feel to it, she says, complete with a Main Street.
Once called Welfare Island due to the overwhelming number of hospitals that used to line its streets, the island was renamed Roosevelt Island in 1971. Since then, the island has become more residential.
"It's truly beautiful," Warner says. ""There are trees, grass and water everywhere you look."
He allows that he may be a bit biased since he grew up on and still lives on the island.
He adds that there are lots of places for kids to play.
What types of housing are available?
"The housing stock available for purchase is limited," Gavrilov says, explaining that Roosevelt Island is mostly made up of rental buildings.
There are a handful of condo and co-op buildings for folks looking to buy, though, including Island House, a onetime rental building that recently converted to a co-op. There are also condo buildings Riverwalk Place, an 18-story tower with amenities galore, including 24-hour concierge service, a rooftop lounge, and a sun terrace; and Riverwalk Court, which has 123 units and a 1,000-square-foot gym.
A quick search of StreetEasy shows that there are just 12 apartments currently on the market on all of Roosevelt Island. They range from a $1,843,000 two-bedroom condo in Riverwalk Place to a $499,000 Island House studio.
"I imagine the addition of Cornell Tech's campus will create even more demand for this limited inventory," she says.
What's pricing like?
The average sales price on Roosevelt Island from January to September 2017 was $1.05 million, according to appraiser Jonathan Miller of the firm Miller Samuel. That's up 15.2 percent from the same period last year when the average price was $911,189, and up a massive 59.1 percent from the same time in 2012, when the average price was $659,879.
Warner says that prices for apartments in older '70s-era co-op buildings start at around $800 per square foot, whereas apartments in newer condos can go for up to $1,500 per square foot. But it can vary depending on the quality of the interior finishes and the view.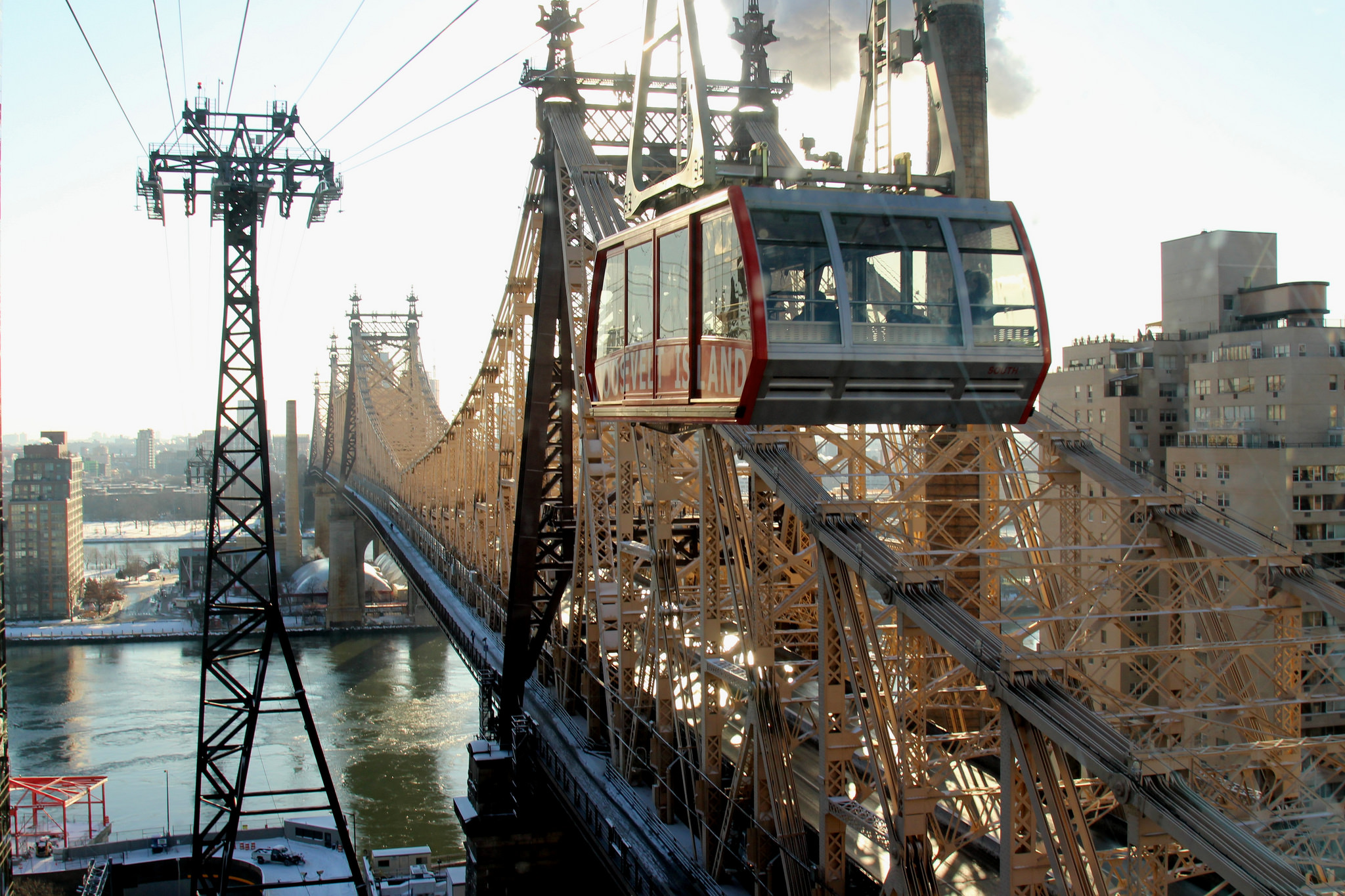 What's the transportation situation?
Many people—even native New Yorkers—think that the only way to get on or off the island is via cable car, but that's not actually true.
The tram, which generally takes about five minutes to reach Second Avenue and East 59th Street, is a big tourist attraction. Trams typically depart every eight minutes during rush hour, but since one of the island's two platforms is currently being repaired and won't be in working order again until sometime next year, they now leave every 15 minutes or so.
The F train also stops on the island
"Residents use the subway more," Raehse says. It takes about 20 minutes to get to Herald Square by train.
As of August, there's also a new ferry service. Boats leave every 25 minutes on weekdays and take 20 minutes to get to East 34th Street.
Finally, folks who want to drive around the island are free to, but street parking is limited to 20-minute intervals.
"If you own a car you keep it in a garage [near] the Queens side," says Raehse, referring to the Motorgate Garage, where many of the island's residents park their vehicles.
The Queensboro Bridge passes over the island, but to get to it, and to Manhattan, drivers have to take a smaller bridge into Queens and double back around.
What is there to do?
There are a lot of outdoor activities and a few historical sites as well.
"If you like to run, the ring around the island is one of the prettiest tracks in the city," Warner says.
For sports enthusiasts, there are multiple softball fields, tennis courts, and basketball courts.
Raehse suggests visiting the Roosevelt Island Lighthouse, a 50-foot lighthouse on the northeast corner of the island that was named a city landmark in 1976, and Gallery RIVAA, an exhibition space at 527 Main St. that features the work of members of the Roosevelt Island Visual Art Association.
There's also Franklin D. Roosevelt Four Freedoms Park, an FDR memorial that offers educational programs to the public, and Blackwell House, the sixth oldest farmhouse in New York City, which is currently being renovated and will eventually be turned into a community center.
What's the restaurant/nightlife situation?
"There aren't as many options for bars and restaurants as you might like," Warner says. "The Meatpacking District it is not."
That said, there are a few hot spots including the Riverwalk Bar & Grill, a casual bar that has 20 beers on tap and 14 flat-screen TVs, and Fuji East, a Japanese bistro that serves more than 70 kinds of sushi.   
Are there grocery stores?
The Gristedes at 686 Main St. is where locals pick up the basics and Wholesome Factory Market at 530 Main sells gourmet foods from all over the world. Fresh Direct also delivers to the island.
Curiosity piqued? Here's a sampling of what's available on Roosevelt Island: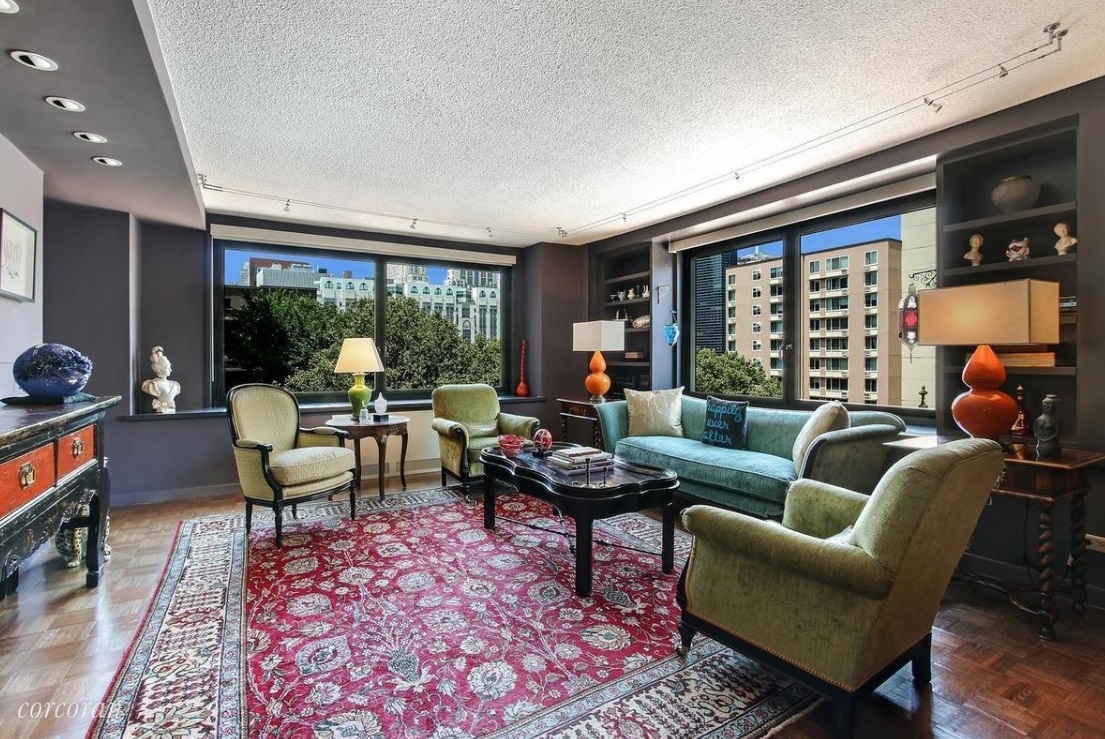 Three-bedroom, two-and-a-half-bath co-op, $1,600,000: This 2,000-square-foot corner duplex at 531 Main St. has a 25-foot-wide living/dining room, a windowed kitchen with a separate breakfast room, a walk-in pantry, and a terrace. Building amenities include a pool, a sauna, a sundeck, a fitness center, a bike room, and a playroom.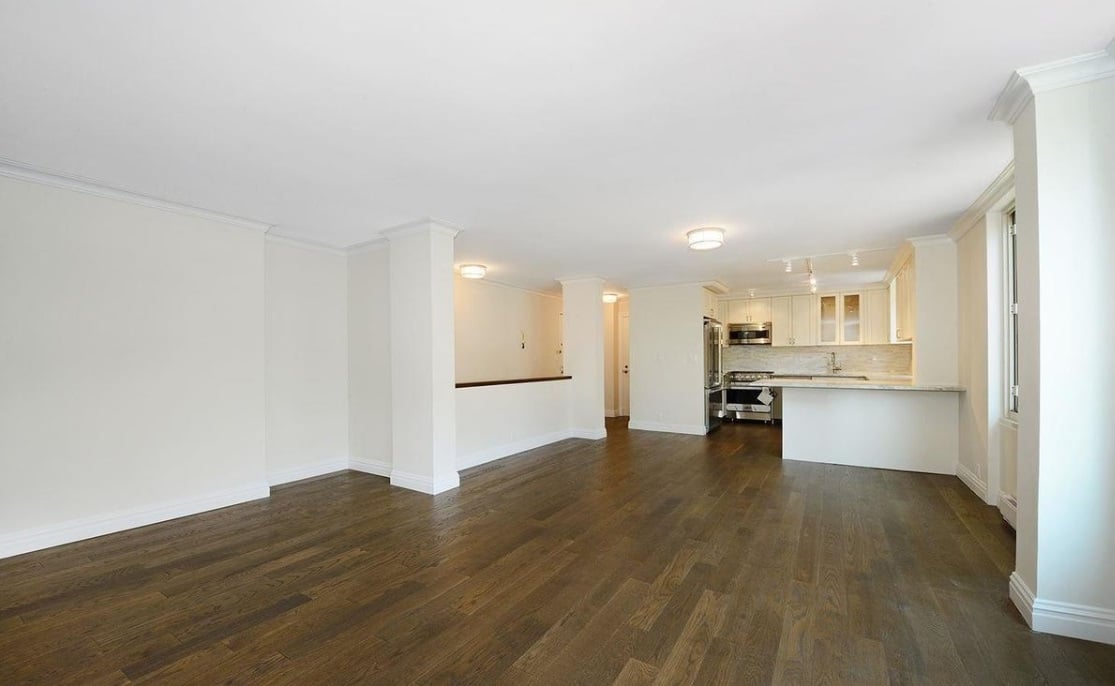 Three-bedroom, two-and-a-half-bath co-op, $1,199,000: This renovated duplex in Island House has wide-plank oak floors, stainless steel Viking appliances in the kitchen, new windows, and crown moldings throughout.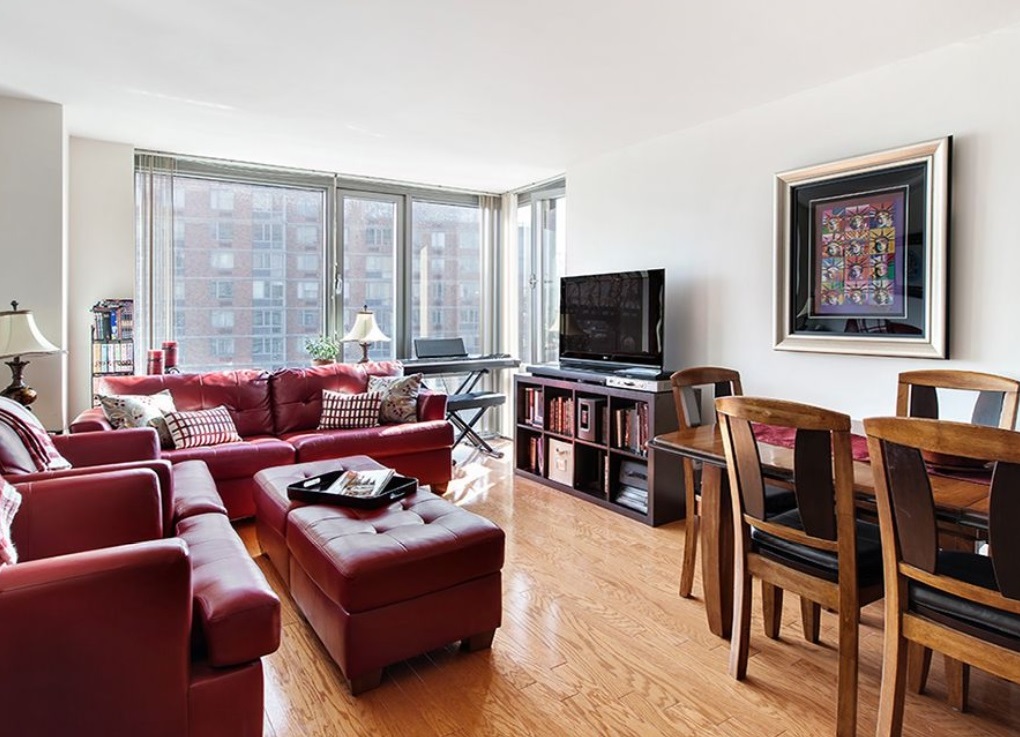 Two-bedroom, two-bath condo, $1,369,000: This two-bedroom condo in Riverwalk Place has floor-to-ceiling windows, stainless steel appliances in the kitchen, and in-unit laundry.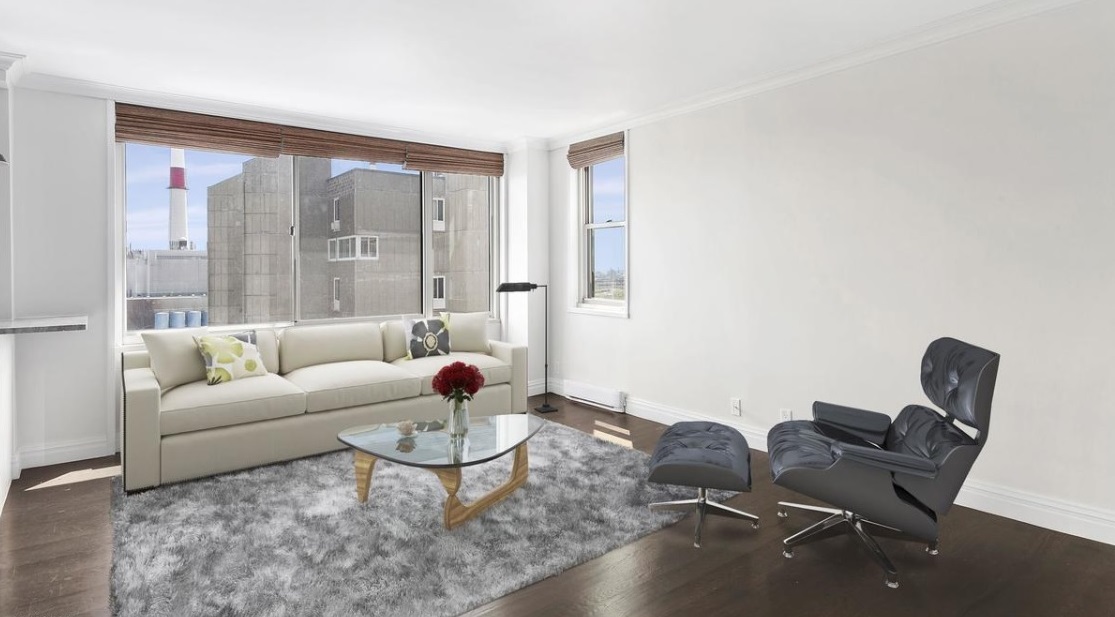 Studio co-op, $499,000: This 596-square-foot Island House studio has oak flooring, stainless steel appliances, new windows, and crown moldings throughout.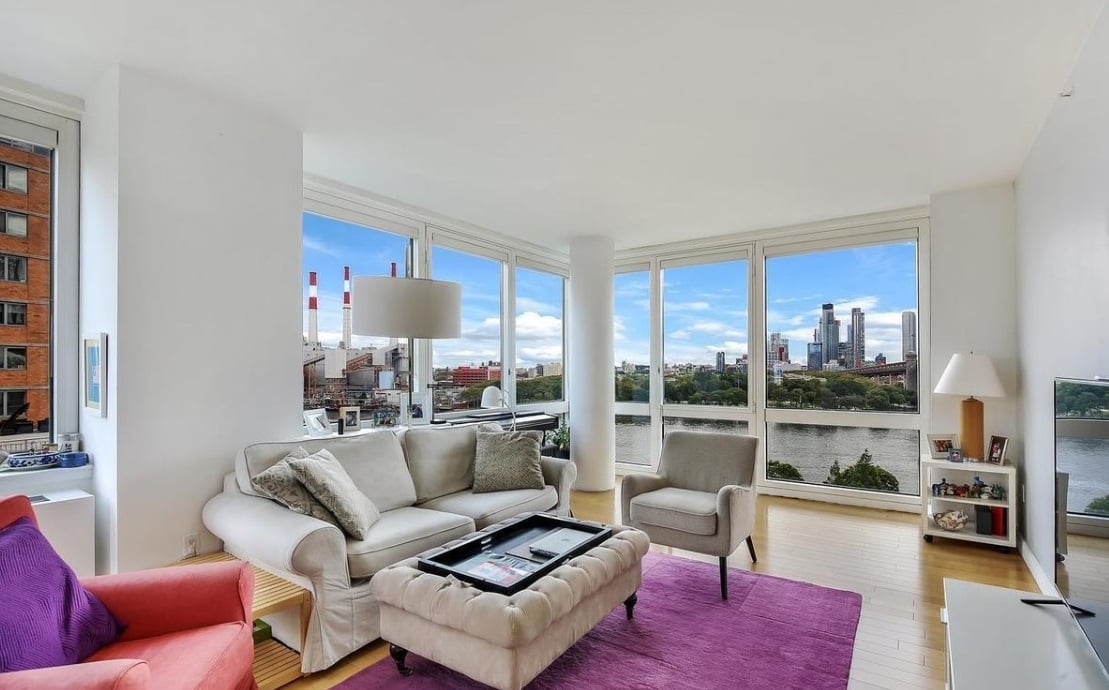 Two-bedroom, two-bath condo, $1,500,000: This 1,197-square-foot two bedroom in Riverwalk Court has floor-to-ceiling windows, a windowed chef's kitchen with granite counters, hardwood floors, in-unit laundry, and lots of closets.
Brick Underground articles occasionally include the expertise of, or information about, advertising partners when relevant to the story. We will never promote an advertiser's product without making the relationship clear to our readers.