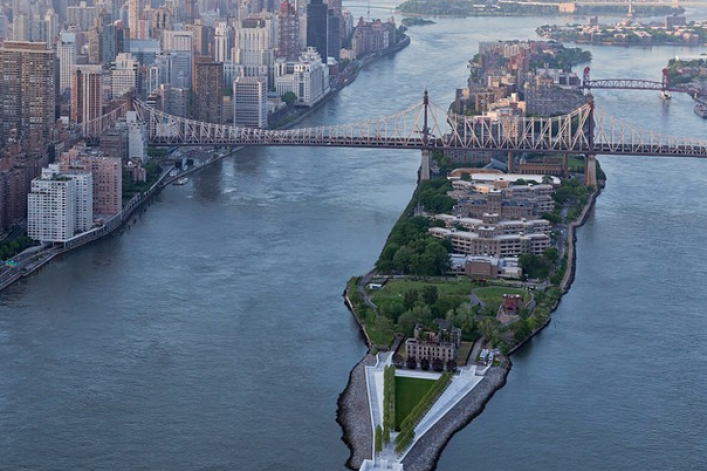 Brooklyn and Queens are go-to options for apartment hunters priced out of Manhattan (and even they don't offer much in the way of savings). But one subway stop or a tram ride from Midtown is another oft-overlooked option: Roosevelt Island, the two-mile strip of land in the East River.
Though it's a sleepy part of the city, several new rental towers have come to the island in recent years, including the Octagon conversion and Riverwalk Crossing, joining apartments previously earmarked for middle-income residents. Unfortunately, restaurants and shopping have not yet caught up, which residents say is one of the biggest downsides. But does cheap(er) rent and access to green space make it worthwhile? We talked to Roosevelt Islanders to find out the best and worst parts of living there.
---
Neighborhood boundaries: A small island in the East River between the East 50s in Manhattan and Long Island City in Queens
Median sales price: $864,000
Median rent: $2,750 per month
---
Getting in is way easier than getting out: "Roosevelt Island is hard to get in and out of. Very few of my friends visit, as it is a hike. ... Getting taxis and/or Uber out of the island is very, very tough. Our building orders from a Queens car service which is efficient. Taking cabs/Uber to the island has never been a problem." - Hartaj, who rents a one-bedroom in a luxury building  "No yellow taxis on the island typically so we use car services based in Astoria. Uber has a glitch in the system which makes using it on the island incredibly frustrating." - Jonathan, who owns Riverwalk Bar and Grill and lives on the Upper East Side "The F train can be very crowded in the morning commute and can also be a problem on weekends, because service to or from the island is suspended at least once a month. Perhaps less, but it feels like that often." - Janet, who owns a three-bedroom in a luxury building​
Do your shopping in Queens: "In a pinch, I will shop at Gristedes but I am much more likely, 98 percent, to cross the bridge into Long Island City and go to Tradefair or Western Beef. There is no cell phone store nor place to buy men's clothes or shoes. There are no places, so it would be fruitless to try and find one." - Jonathan "Roosevelt Island has few stores beyond a supermarket and card shop. I have a car and drive it on Saturdays to shop at Costco and supermarkets in Queens. There is a farmer's market on the island I occasionally visit on Saturdays for fresh produce and Greek olives. I also go to the Duane Reade on the island for necessities. For clothes, books, home furnishings, office supplies, etc., I go to Manhattan or drive to a mall." - Janet
There are basically two good places to eat: "The Riverwalk Bar and Grill is a standard. Sports bar, good value for money, and nice outdoor seating. Fuji East is decent Japanese. ... I usually travel out of the 'Roose' 25 to 50 percent of the time to meet and eat with friends." - Hartaj "I go to Riverwalk Bar and Grill for fish tacos, burgers and sweet potato fries. I also like the beef negimaki at Fuji East. On weekends, I might drive to Astoria or Long Island City. If I'm going to a movie or show in Manhattan, I'll eat dinner near the theater." - Janet
The tram is transit and tourist destination in one: "I love the tram! The view of the East River is spectacular. There always are tourists on board and I point out the best spots to stand so they can see the Chrysler and Empire State Buildings, plus the UN Secretariat." - Janet "The tram comes every 15 minutes and costs a subway fare. It's 50 percent tourists and 50 percent residents most of the time. Beautiful morning and evening commute to work. About a seven-minute glide along the Manhattan skyline." - Hartaj "The tram is a great commute unless the F train isn't running to Manhattan and then it backs up quickly." - Jonathan
It's a good place to "space" out: "There is space between the apartment buildings, not like the usual jammed-in feeling of other areas." - Janet "There's cheaper rent, a relaxed vibe, and lots of diversity, not just single people, but old [people], families, lower income also. I have a fantastic view of the Manhattan skyline and the East River. Very peaceful. I think for couples and families, it is one of the best-kept secrets in the city." - Hartaj "I have a 210-degree view of Queens, Brooklyn and the Citicorp Building [now known as 601 Lexington]. My home office has a spectacular view of the East River Channel and the Queensboro Bridge." - Janet
And the "hidden" gems are all outdoors: "The park space [Franklin D. Roosevelt Four Freedoms Park] is a hidden gem. I can play games of touch football or just throw a baseball around right outside my building. In summer, [there are] monthly Saturday free movies in the park." - Hartaj "[At my building], there are six outdoor tennis courts and I rarely wait for a court. Annual permits cost $150 for residents and $25 for residents who are seniors. The indoor swimming pool costs only $5; some [of my husband's coworkers] call it the biggest bargain in NYC! It's free for seniors." - Janet
Related:
Would you brave the Roosevelt Island tram for low-priced luxury perks?
Adventures in landscaping: When a co-op board cuts down a building's trees
Park Slope to Roosevelt Island: More reasonable rents, better views and a pretty perfect neighborhood if you don't need much nightlife
Brick Underground articles occasionally include the expertise of, or information about, advertising partners when relevant to the story. We will never promote an advertiser's product without making the relationship clear to our readers.