Whether you are one of the many people affected by the pending L train shutdown or another straphanger waiting for a delayed Queens-bound A train for your commute home, one thing seems clear: getting around New York City has seldom seemed worse.
It doesn't have to be this way. Consider taking a look across the Hudson River to Port Imperial—a hidden jewel of New Jersey's Gold Coast that offers stress-free commuting to the city. And with spectacularly designed residences, ample green space, entertainment options, and resort-style amenities, this waterfront destination also has everything you need to call it home.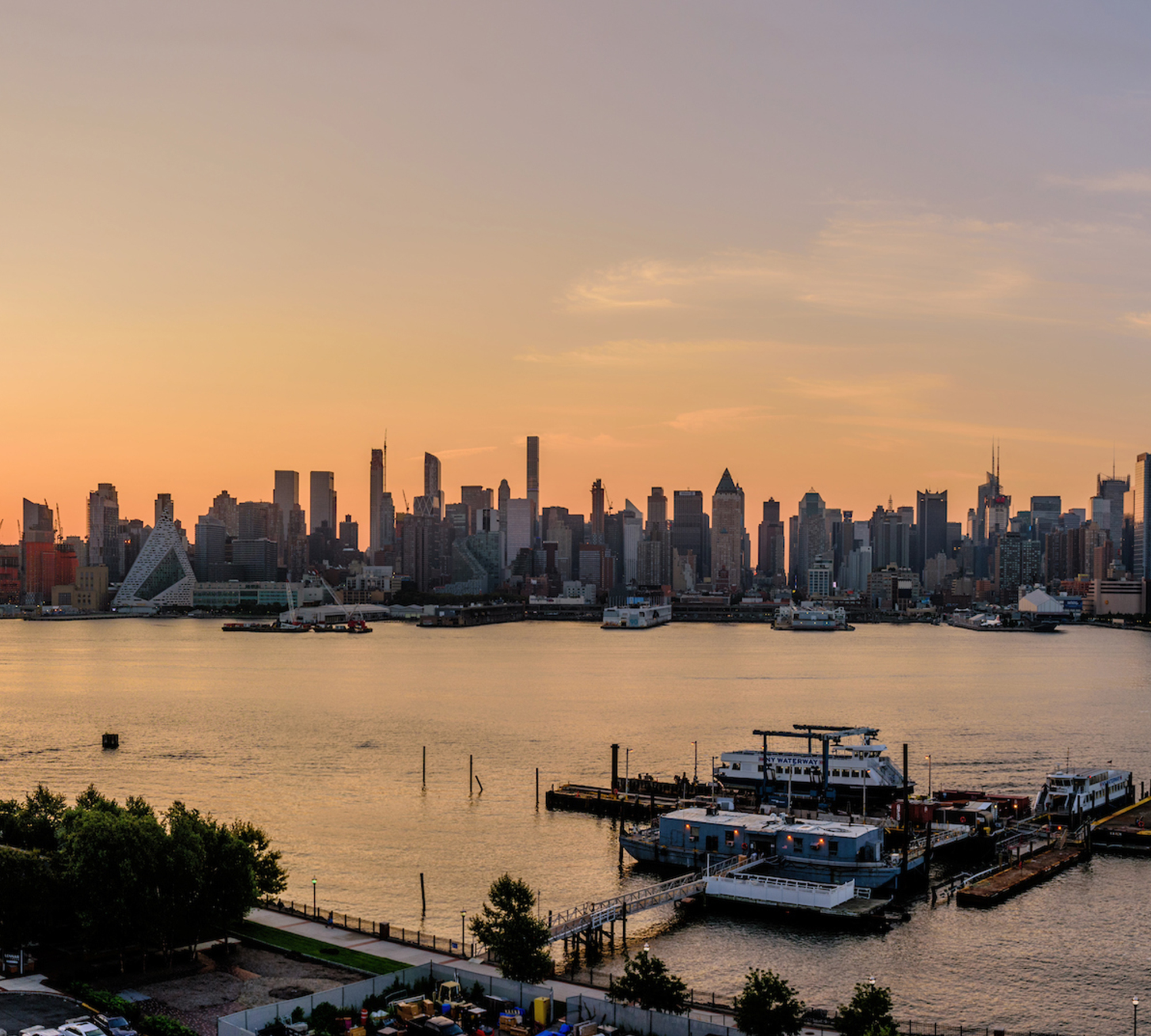 Closer than you know
Originally envisioned as "Venice on the Hudson," Port Imperial is a waterfront destination winding two miles along the Hudson River. The community comprises Weehawken, West New York, and Guttenberg, and with its breathtaking views of the Manhattan skyline, it feels enmeshed in the bustling New York City lifestyle.
That lifestyle isn't just a shimmering fantasy across the water, either. With light rail, bus, and ferry service, Port Imperial is a multi-modal transit hub.
The New York Waterway ferry is the standard option for getting to New York City. It departs every 10-20 minutes from the Port Imperial Ferry Terminal every day of the week, arriving at the 39th Street Pier in eight minutes, and the Financial District stops at Pier 11/ Wall Street and World Financial Center in 15-20 minutes, making for one of the most enjoyable and least stressful commutes to Manhattan. There are also free shuttle buses for those looking to go cross town.
The best of the Garden State is easily accessible, as well: Port Imperial Station offers quick and convenient access to Jersey City and Hoboken via the Hudson-Bergen light rail – with numerous stops in each city and connections to the PATH train making it an efficient and inexpensive way to get around – and features a bus stop for NJ Transit routes 23, 158, and 159. By car, it's a simple, short drive south to the Lincoln and Holland Tunnels, or north to the George Washington Bridge.
Plenty of reasons to stay and enjoy the view
Port Imperial is a convenient departure point, but with buzzworthy shopping, dining, nightlife, and entertainment options, the community is a vibrant destination in its own right.
Weehawken is an especially hot foodie spot, offering a culinary world tour that includes  Mexican (Charrito's), Thai (Hi-So), Japanese (Robongi), Mediterranean (Molos), and cafe fare (Park Cafe)—not to mention a forthcoming new location of famed Hoboken barbecue joint House of 'Que. In West New York, you can get coffee at Starbucks and ice cream at Ben & Jerry's. Whether you want upscale and chic for a date or relaxed and casual with the kids, there is no shortage of options. For your grocery shopping needs, there's ACME Markets (which has a pharmacy, deli, and bakery in house) and Giannone Wine & Spirits.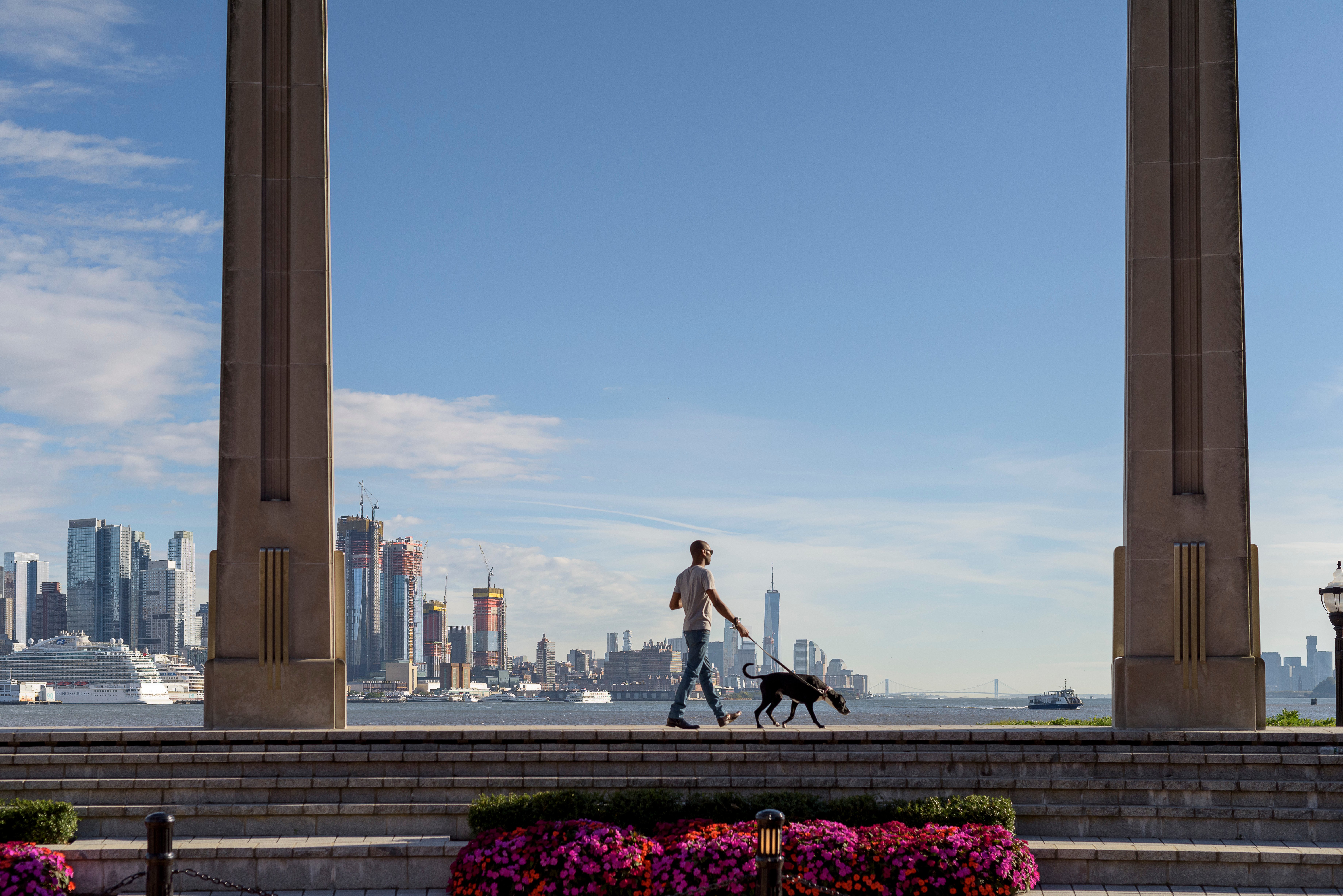 Riverside community and activity
You'll also find a strong sense of community at Port Imperial. A scenic waterfront promenade links the strip, serving as a vibrant common space for residents and visitors alike.
The promenade makes outdoor activity a way of life for the community, providing a breathtaking space for family strolls, vigorous jogging, leisurely bike rides, and other recreational activities. Days Point playground is the heart of the promenade, where community fitness classes and food truck festivals take place with the backdrop of  picture postcard Manhattan views. The strip ends at Weehawken Waterfront Park, home to the Hudson Riverfront 9-11 Memorial.
The healthy lifestyle doesn't stop indoors, either, as the luxury residential buildings at Port Imperial offer gym facilities, pools, yoga and spin studios—even an occasional rock climbing wall or golf simulator. There's also a spa onsite, where you can treat yourself to a massage or other high-quality bodywork.
Sound like home? It won't take long to get to Port Imperial. For more information, visit portimperialnj.com.