Boards & Buildings
>
Boards
[ SPONSORED ]
6 questions to ask before your board invests in new tech to run your building
Do a trial run of any new application or platform before you pay for it
Make sure whatever you choose will integrate with your existing systems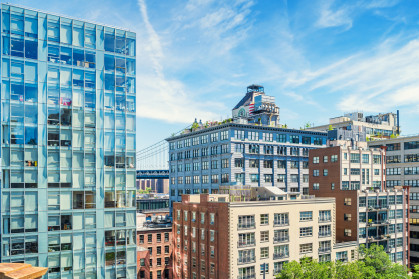 There seems to be an app for everything these days, and your New York City condo or co-op board might be looking toward the growing field of property technology (proptech for short) to solve a myriad of building problems. But there are a handful of questions every board should ask before deciding to get more tech savvy.
For the past two decades, boards and property managers have been using proptech to better run their buildings, such as manage repairs and package deliveries, and monitor heating systems and water usage. But not every new tool is going to fit your building, says Andy Marks, senior vice president of new business and marketing at property management firm Maxwell Kates.
"Technology can be very attractive and [have] that shiny object syndrome. Maybe a board president is more excited about something and wants to try it," Marks says. "[But] do your research. Really make sure everything you're looking at really has a tangible application and a return on investment."
If your board is thinking about investing in a new type of technology, you should make sure to identify what your building needs, if the product will work with existing building systems, and if residents will use it. Your board should also always do a trial run, and make sure it's working with a company that won't disappear in a few years.
Read on to learn how your board should evaluate new technology.
Does our building need help with communication?
It's worth making a list of the problems your board wants to solve before diving into the research process, says Tatiana Peck, the board president of a seven-unit condo in Williamsburg that began using the management platform Super last year.
Super helped Peck's condo solve a communication problem: Instead of getting texts and emails from residents about repairs or other issues, residents can communicate directly through Super's interface, or text or email the platform. 
That's precisely what Lindsay Liu, co-founder and CEO of Super, had in mind when she started the company. She wanted a better way to keep track of a board's history after receiving her previous condo's emails, printed out and stuffed in a binder, when she joined the board. (Super can cost as low as $20 a month, Liu says).
"As a new board member, [I remember] another board member knocking on my door, giving me a binder, and in that binder was printed-out emails from the past sponsor lawsuit, debates with other owners, [and] warranty information," Liu says. "That is to a large extent how a lot of information is passed down. It almost becomes folklore."
Does this tech help us respond in real time?
Your board could also be looking to solve infrastructure problems. A handful of companies offer leak detection and monitoring, including Aware Buildings, which tracks water usage in 45 properties in New York City. Leak detection can also help bring a board's insurance costs down, because a building's insurer better understands its risk for water damage, says Jerry Kestenbaum, founder of the company. (Aware's sensors cost around $70 each, though the company charges an additional monitoring fee).
And there's a handful of other technological solutions for building problems; companies like Zendesk can automatically generate repair tickets and track fixes, a virtual doorman can accept deliveries and handle calls, and heat timer technology can monitor apartment temperatures so that a boiler only turns on when needed, saving energy. Just make sure your board knows the problem it's trying to solve.
Can this new tech integrate with our existing systems?
If your building or property manager already has existing technology in place, whatever your board uses should be able to communicate with those existing systems, says Scott Marino, the executive managing director of property manager Rose Associates, which handles 24,850 rental apartments in New York state.
"The number one pitfall is integration," Marino says. "Before you commit to any app—whether it's a resident app, a payment app, or a maintenance app—make sure it integrates with your primary property management system."
Essentially, you don't want your building staff or board members to spend hours copy and pasting information from one app to another. It's a headache, wastes time, and can overwhelm staffers or board members, Marino says.
"If you're not careful and thoughtful, you can end up with four, five, six, eight apps that don't talk to one another," Marino says. "[Instead], you have to log in and out from one to another in order to do what is supposed to be done." 
Can we do a trial run?
Aside from doing your research, your board should always test out whatever new tech they're considering, Peck says.
"I would say this with basically anything—if there's a trial period you can have, that's really smart," Peck says. "It's good to try it [out] before you really commit to it."
Doing a trial run is particularly helpful if you're checking out a new app for residents or building staff. For example, Harlem Property Management always tests out new technology internally before sending it off to the condo and co-op buildings the company manages in northern Manhattan, says James Simari, senior property advisor at Harlem Property Management.
"I'll bring it to a small select number of buildings to try it first and see if they like it," Simari says. "We also like to test it out internally before we even roll it out to clients."
Will our residents and board actually use it?
Not everyone is interested in moving into the digital world. If your shareholders or owners are simply indifferent toward technology made after the 1990s, there's likely little reason in paying for it.
Technology is only as good as the people using it, Marks says. If your residents are unlikely to use a new app, why buy it?
"There are some boards that just don't want to deal with that," says Mark Levine, principal of property management firm EBMG. "So they'll deal with email, phone calls, and Zoom meetings. And that's the extent of [their] technology."
Alternatively, Levine has seen boards get very excited about a new platform, and then slowly stop using it after a few months. It's important to remember that board members are volunteers, and everyone in your building has a day job. If a new app has a steep learning curve, it may not be a great fit, Levine added.
And if an app doesn't work out, make sure to cut things off quickly so you're not wasting time and money, Marino says.
"What I learned is if the tech is not working out, move away from it quickly," Marino says. "Fail fast and fail forward."
Will it go out of date quickly?
Before you jump in on any new technology, make sure you're working with a company that will keep it up to date in the long run. If a developer isn't interested in continually improving their product, your board might have to go back on the hunt for a new app.
For example, Harlem Property Management worked with a developer to build a management app in 2016, but three years later, the developer sold the app to a hotel company. When the app began to change to work better for the hotel industry, Harlem Property Management decided to abandon it to focus on finding technology intended for apartments.
"Try to choose your apps that belong to companies that are in it for the long haul, they serve the property management industry, they understand what their primary business focuses, and they're not looking to have this app be the thing that's going get them a super yacht or make them a gazillionaire," Simari says. "You can make a mistake by choosing something glitzy and cool, but that hasn't been around [for] a long time."