Ask a Co-op & Condo Lawyer
Our board is negotiating the sale of air rights. Should shareholders with lot-line apartments be compensated?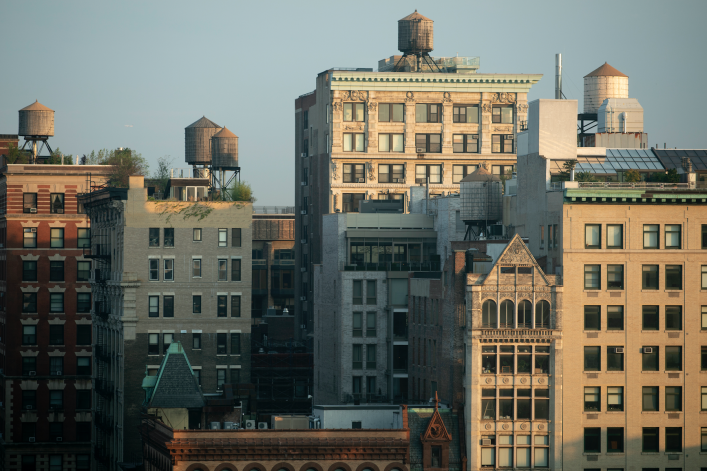 Our board is negotiating the sale of our air rights. Are shareholders with lot-line apartments entitled to compensation?
"Owners of apartments with lot-line windows will inevitably argue that it's unfair for them to have their views blocked or windows bricked as a result of the sale of air rights for the benefit of the building," says New York City real estate attorney Steven Wagner, a partner at Adam Leitman Bailey, P.C. who represents tenants, apartment owners, co-op and condo boards, and owners.  This imbalance of who is affected within the building can make negotiating the sale of air rights a very difficult business for a co-op board. 
However, unless there is an easement—a contract protecting your light and air—there are no standard rights to air or light or views in New York. This means once a developer owns an adjacent property and has the air rights, they can build right up to your property line. "Buyers of apartments with lot-line windows need to be aware of this," Wagner says. 
In many cases, compensating shareholders most affected by the sale of air rights may be prohibited under laws governing the conduct of co-ops because in nearly all cases shareholders must be treated equally. What's important is that the board takes the lead on negotiations and gets the advice of an attorney with expertise in this area. 
How can you tell if your apartment has lot-line windows?
Sometimes lot-line windows have wire embedded in the glass but this is not always the case.   
You can figure out if your apartment has windows on the lot line by looking at the offering plan or at zoning maps online via the Department of City Planning. What's particularly difficult for a shareholder is if they have been sold an apartment where a room with lot-line windows is used as a bedroom.  
"It's an important reminder for buyers to do their due diligence before signing a contract," Wagner says.  The value of the apartment will be affected if what is being sold as a three bedroom then loses one of those rooms because lot-line windows are blocked. 
In fact, rooms with lot-line windows are not habitable rooms, Wagner says. No one will police how the space is used once you live in your apartment but if you buy based on the use of a room with lot-line windows as a bedroom, and then lose that due to a neighboring development, your apartment may have less value when you sell. 
"The difference in value is something that can be best established by an appraiser," Wagner says. 
All shareholders must be treated equally
Even though the shareholders who are most affected by the sale of air rights may want compensation for an air rights deal, it is not advisable to have the co-op pay money to the tenant shareholders from the proceeds of the sale.
 "Unequal treatment of tenant shareholders is prohibited by the Business Corporation Law —the law under which co-ops are governed," Wagner says.  
The very limited circumstance where shareholders can be treated differently in a co-op is restricted to flip taxes, Wagner says. 
Paying lot-line shareholders may violate the Internal Revenue Code 
Serious tax issues could arise if the co-op tries to compensate shareholders whose windows might be blocked after the sale. For example, the ability for all shareholders to make tax deductions on the maintenance may be affected.
In order to qualify as a co-op entitled to deduct a portion of your maintenance charges on your taxes, there can be no distributions to shareholders. "Payment to shareholders whose views are blocked may be a distribution and violate that rule," Wagner says. Under the Internal Revenue Code, no shareholders can receive distributions from the co-op unless it is upon complete or partial liquidation of the co-op. 
This has big consequences for a co-op building because if a co-op does not meet the IRC rules, all shareholders would lose their deductions for the applicable portions of maintenance charges. 
"In a typical building, mortgage interest and taxes are two of the largest items in the budget and if you're paying $1,000 a month, 50 percent of that could be deductible," Wagner says.  
It's possible that asking the developer to compensate affected shareholders rather than having the co-op do so, creates a work-around for a board. However, there would be further tax implications if you took this route, Wagner says.
If the deal were to go through, it's likely the co-op would be paying capital gains rates on the sale of the air rights. In addition, individuals who receive money from the developer may be taxed at standard income tax rates.
Persuading shareholders on the merits of selling air rights
The reason a board may consider selling air rights is to bring in much needed revenue for the building. As with any change a board wants to make, good communication is key. 
It's possible the revenue from the sale of air rights will pay for facade repair or to help a building meet new requirements for gas lines and energy efficiency. Will the sale of the air rights prevent maintenance from being increased for a period of years? Will the proceeds allow the addition of a roof deck or other valuable amenity that will benefit all shareholders? 
Deploying the air rights revenue in a way that at least softens the blow for the lot-line shareholders will be important as you move forward with negotiations. 
The board alone should deal with air rights
Striving for fairness, a board may consider setting up an air rights committee and include shareholders who would be affected by the sale. This is misguided, Wagner says. 
"Air rights are a board matter and should be handled by the board," he says. If interested parties are involved, they most likely will be primarily interested in protecting their views and light.  They will not want to investigate the deal, and will be less interested in negotiating, and instead want to kill the deal with the developer. 
"This makes for a very ineffective committee," Wagner says. 
That's not to say there may be disagreements within the board. "In many cases, it can split the board and the building, so it's well worth seeking the advice of an experienced attorney as you move forward," Wagner says. 
New York City real estate attorney Steven Wagner, a partner at Adam Leitman Bailey P.C., has more than 30 years of experience representing co-ops, and condos, as well as individual owners and shareholders. You can submit a question for this column via email or if you'd like to arrange a free 15-minute telephone consultation with Steve, send an email or call (212) 584-1973.
Brick Underground articles occasionally include the expertise of, or information about, advertising partners when relevant to the story. We will never promote an advertiser's product without making the relationship clear to our readers.