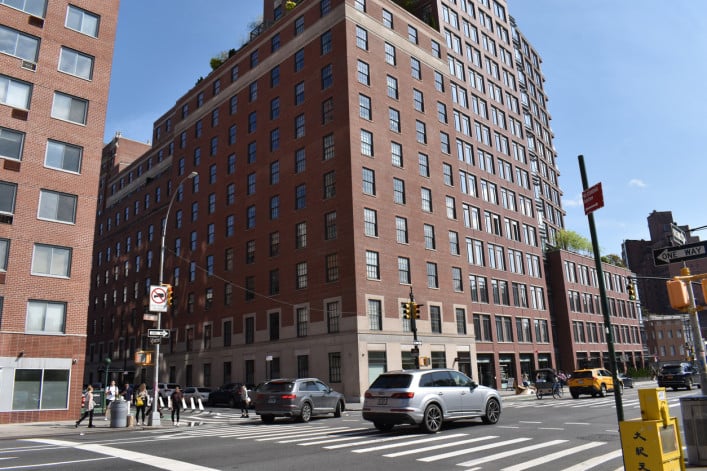 Real estate investment advice largely boils down to being brave enough to break free of the crowd and buy something that no one else is buying now, but everyone will want later.
That's usually a challenge in New York City, when buying a place to rent out means you're up against lots of competition from buyers who are shopping for a primary residence.
But this is a very unusual and interesting moment to invest in NYC residential real estate. Sales are turning out to be "absolutely dead" this summer because buyers are scared—they're waiting out rising mortgage rates and current economic instability by parking themselves in the rental market. That's sending rents soaring: The average monthly rent for a Manhattan apartment hit a new record high of $5,000 in June according to the Elliman Report. Both factors work in your favor if you're buying a condo to rent out (co-ops are not well-suited for investors because of restrictions on sublets and boards' traditional antipathy toward investor-owners).
---
[Editor's note: This article was originally published in July 2022. We are presenting it again here as part of our summer Best of Brick week.]
---
"People don't like to make decisions when things are unstable," Kobi Lahav, senior managing director at Living New York, previously told Brick. "It feels like the world is going to hell so now is not the time" to buy. But buyers are "willing to pay more for rentals. It feels more flexible and they're willing to pay a premium," he says.
Most investors are "savvy and happy to buy right now," he says, calling now "the best time to negotiate." An offer that's 8 to 10 percent lower than asking is no longer considered insulting. "Just a month ago if you put a low offer in a broker wouldn't even respond. Now they're texting back," Lahav says.
Pro Tip:
Fight back against rising mortgage rates. Work with a local expert from Prevu, the brokerage that saves New Yorkers an average of $23,000 per transaction. You'll pocket a rebate of two-thirds of the commission paid to the buyer's broker at closing. Click here to learn about Prevu's Smart Buyer Rebate.
So ok, you're sold on buying in NYC. That leaves the important question: Which neighborhoods should you consider buying in?
One tactic is to see where renters are hunting for apartments. According to Allia Mohamed, CEO of rental listings and building review platform openigloo, since May 2022, there has been an increase in searches for the Upper East Side, Lower East Side, and the East Village. In the months before May, the top searched neighborhoods were the Upper West Side, West Village, and Chelsea. A lack of listings among popular West Side Manhattan neighborhoods "drove renters to search elsewhere," she says.
For more intel, Brick spoke to brokers about how to strategize your search as an investor, including which neighborhoods attract young renters, places where inventory is limited, where to hunt for new development, and areas where you can get a deal. Here's what they had to say.
Buy where young renters want to be
Lower East Side, East Village, Bushwick, and Bed-Stuy
Even though they suffered during the pandemic and haven't yet fully recovered, the Lower East Side and the East Village are still top choices for young renters who like the authentic, "gritty" feel of living Downtown, Lahav says.
He says prices on the Lower East Side "took a major hit," and the neighborhood has "problems with homeless and retail hasn't returned." If you're thinking "ugh"—then you don't get the appeal.
"Rents are through the roof. People will pay a lot of rent here," Lahav says, pointing out how easy it is to get from the LES to other hot destinations. "They're willing to pay $5,500 a month because the same place would be $7,000 or $8,000 in Soho."
The East Village—which also is near lots of places that appeal to a young renter—is also a good choice for an investor. Lahav says prices there have also "taken a beating" and can give an investor a "really nice return."
The pandemic put a crimp in the ongoing gentrification for the Lower East Side's Alphabet City—and the same holds true for Brooklyn neighborhoods like Bushwick and Bed-Stuy.
"Bushwick prices started coming down but rents are going through the roof," Lahav says, making the neighborhood another example of a place buyers can find a good deal. Bed-Stuy is also seeing lower prices "but rents have never been higher. Like Bushwick, it has bars, restaurants and is close to the subway," he says. Plus it's likely to see more development.
Buy somewhere where inventory is limited and unique
Tribeca and the West Village
New Yorkers (and those that want to live here) have strong, even illogical preferences for certain neighborhoods, says Vickey Barron, a broker at Compass.
"Most people are neighborhood specific," she says. "Even people relocating to NYC for jobs, people who never lived here before, already have a preconceived idea of where they want to be."
With that in mind, her advice to investors is to buy where there's less inventory and lots of demand: The West Village and Tribeca.
For example, if you search StreetEasy for one bedrooms for sale—you'll find there are currently 33 in Tribeca, 55 in the West Village, and on the Upper East Side—over 470. Rentals in these neighborhoods show a similar disparity, leaving you with less competition for renters if you stick to Tribeca and the West Village.
"When you invest in something unique and what you have is not easy to find, you bring value," Barron says.
The East Village and the West Village both have "around 150 properties available, making competition a bit stiffer and prices less negotiable. Still, the rental rates in these neighborhoods are some of the highest in the city and should yield investors a strong return," says Garrett Derderian, director of market intelligence at SERHANT. 
A client of Kimberly Jay's, a broker at Compass, recently bought in the West Village, a neighborhood she describes as likely the most desirable neighborhood with the lowest number of units available.
"My buyer purchased a one-bedroom condo for $1,700,000 and we quickly rented the unit for $7,000 a month," she says.
Buy in new development with lots of amenities
Downtown Brooklyn, Fort Greene, Dumbo, Williamsburg, and Clinton Hill
For many New Yorkers, renting in a new development is a way to get nicer finishes and amenities that they could not otherwise afford if they were buying, says Gerard Splendore, a broker at Coldwell Banker Warburg.
"Renters are drawn to new, shiny developments with amenities and perks. Gyms, pools, roof decks, and doormen are catnip to renters, who may not be able to afford to purchase apartments in buildings with 'glamorous' perks," Splendore says.
These renters want apartments with washer/drivers, terraces, spa-like baths, and "impressive kitchens, even if they do not cook," he says.
Head to downtown Brooklyn, near the Brooklyn Academy of Music, Fort Greene, and Dumbo for neighborhoods attractive to renters who want new development and look at buildings surrounding the Barclays Center in Brooklyn, a shopping, entertainment, and transportation hub.
Derderian suggests investors check out Brooklyn Point, a condo tower with a long list of luxury perks.
The building "not only offers a convenient location with multiple transit options but also has one of the last 25-year tax abatements available in the city. By purchasing in a building with an abatement, the carrying costs for the buyers are significantly reduced, while still commanding a high rent," he says.
Downtown Brooklyn, Williamsburg, Greenpoint, and Clinton Hill draw high-earning young professionals who are putting off ownership because of the economy, says Seth Levin, a broker at Keller Williams NYC.
"New developments in Downtown Brooklyn are a great place for investors to look. The neighborhood is connected to all major subway lines and amenity rich buildings are garnering top rents. The returns are higher than what we are typically accustomed to here in NYC," Levin says.
There are several condo buildings in Williamsburg and Greenpoint that still have a few years left on their tax abatements, presenting opportunity for investors, he adds. "Two-bedroom condos that would trade close to $2,000 per foot in comparable Manhattan buildings are trading around $1,350 per foot."
Finally, Levin says, "we really like Clinton Hill as well, since it is priced below neighboring Prospect Heights and Fort Greene. Inventory is scarce and rents are similar to higher-priced Brooklyn locales."
Buy where you can get a discount
Washington Heights, Central Harlem, Yorkville, Hell's Kitchen, and Midtown East
If you're an investor looking for a more affordable apartment, Derderian suggests Yorkville on the Upper East Side.
"Since the expansion of the Q train, more renters have flocked to the neighborhood. Currently, there are just under 400 homes available for sale with a median asking price of $998,000. Values have held steady, increasing 0.3 percent from last year," he says. (Compare that to Lenox Hill, the neighborhood just to the south, where the median asking price in the neighborhood, $1,900,000, is up 2 percent year-over-year.)
Another relatively more affordable neighborhood to consider is Hell's Kitchen. Derderian says listings here have increased 13 percent year-over-year to nearly 350 homes for sale.
"As one of the more affordable options south of 59th Street, there is opportunity for investors looking at both resales and new developments. Proximity to the Theater District and Midtown offices are also a benefit, especially as the city more fully looks like its pre-pandemic self," he says.
New developments offer investors negotiability and the ability to achieve high rent, Levin says.  
"We just listed a new development unit for one of our investor clients in Midtown East for $14,000 per month. Within days, we had multiple offers and just accepted one above our ask. A couple years ago, we wouldn't have imagined that this could rent above $10,000 per month. We were able to negotiate the purchase price on that particular unit down more than 10 percent from its asking price, which was around $4,000,000.
"Luxury two-bedroom inventory in particular in these neighborhoods is incredibly low right now and prospective tenants are not balking at the asking rents," he says.
Consider the frenzy over a studio represented by Michael Biryla, an agent at The Agency, who listed apartment #3C at 342 East 53rd St. The studio had 25 showings and received six offers, he says. The apartment was asking $325,000 and ended up in contract for $5,000 over the asking price.
Co-ops like this in Midtown East are desirable because they're within walking distance of many office buildings. "Lot of companies are going hybrid" and workers want to live nearby even if they're only going to the office some days, Biryla says.
With that sort of desirability in mind, this studio "could be rented out at $3,000 tomorrow," Biryla says.
Prices in Central Harlem are "a little soft" compared to prime Manhattan but rents are on rise, says Douglas Wagner, manager of brokerage services at BOND New York. Prior to 2019, you didn't see rents above $4,000, but that's changed with new buildings going up in the area from 125th to 155th streets, where a two bedroom can rent for $4,200-$4,500 and a three bedroom can get $5,000 to $6,500, he says.
For some investors it "may be an opportunity that didn't exist a year ago," Wagner says. "If you can buy an apartment for $400,000 to $500,000, those rents makes sense."
Farther north in Washington Heights is 1950 Amsterdam, a new building which recently launched sales. A studio here starts at $405,000 and could rent for $2,400. The building wasn't there before the pandemic and is benefiting from the "ripple effect" of people being priced out of other neighborhoods, he says.
"You wouldn't see the space or finishes 20 or 30 blocks south for the same price. You don't see studios in the low $400,00s on the Upper West Side unless they're in co-op buildings that are 50 years or older," he says.
The final word on choosing a neighborhood
Look beyond the building you are considering buying in—and think about what the future holds, Barron advises.
"When you're investing, look at what is happening down the block and in the neighborhood. It's all about projecting and forecasting," she says. What is coming to a neighborhood that would entice renters, like a new park, school, or ferry route? That's why people end up paying a premium," she says.
After all, renters have their reasons for wanting to live somewhere—you need to think like they do in order to get there first.
Brick Underground articles occasionally include the expertise of, or information about, advertising partners when relevant to the story. We will never promote an advertiser's product without making the relationship clear to our readers.