Transitions
From Bushwick to Yorkville: Apartment hunting was tricky but I found the right place in the end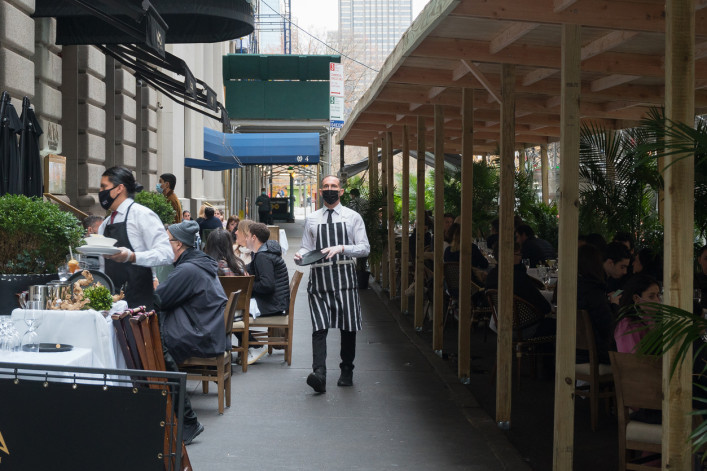 Kylie had a good deal in Bushwick but she was tired of her hour-long commute to graduate school in Manhattan and problems with her building. She decided to move in July—just when the rental market was seeing explosive demand and apartments were being snatched up sight unseen. Here's her story.
I was born and raised in New Hampshire near the coast. I moved to New York eight years ago for college. I was living in Bushwick in a spacious two bedroom with private outdoor space, paying $1,900 of the $2,500 rent because I had the larger bedroom and my roommate had the smaller one. My building had laundry in it and I knew I could never have all that in Manhattan for what I was paying.
---
[Editor's Note: Brick Underground's series "Transitions" features first-person accounts of what it's like to move from one New York City neighborhood to another. Have a story to share? Drop us an email. We respect all requests for anonymity.]
---
I loved living so close to Roberta's—their Bee Sting pizza is to die for! I also loved Santa Panza and Concrete, which offers the best cacio e pepe.
But the outdoor space and good food weren't enough to make me stay. There were many reasons to leave, namely my commute to Manhattan each day, which was about an hour with one transfer.
I was a full-time grad student at the New York School of Interior Design. The ride was inconvenient since I had to go in six or seven days each week and would get home very late. If I was every running late I had to Uber and that was expensive. I was really only in Brooklyn to sleep.
My roommate, one of my best friends, was moving to Spain to pursue a degree in music production so when my lease was up in July I knew it was time to move.
I wouldn't miss it too much. The building was very loud and management company was really difficult to deal with. We felt they thought we were naïve. They never had our backs or were willing to assist us. If we wanted something fixed, they would imply it was our fault because we were the first residents in a new building. For example, our washer rarely worked and it took them months to come fix it.
My neighborhood also didn't feel very safe—another reason to leave Brooklyn.
So I started to look at what was available in Manhattan. I wanted to live in a studio or one bedroom—the location wasn't too important to me. Over the past eight years, I've rented in the East Village, Midtown, and the Upper East Side—I enjoyed all of these places. I just wanted an apartment spacious enough to work from home and be a place to unplug and relax.
I saw about 10 apartments in person throughout my search. It was tedious, but after a lot of trial and error with various agents, I connected with Danielle Holmgren and Matteo Caruso, agents at Keller Williams NYC, who did a really great job of setting up appointments for apartments that fit my criteria so I wasn't wasting my time. (It's so frustrating to make time to view a place, and then when you get there, it's obvious it's not what you are looking for.)
They were great to work with and never made me feel like I was out of luck in last summer's volatile rental market. Still, the pandemic made my search really difficult—there were so few apartments available that fit what I was looking for. When I saw something I liked online, it would be gone just a few hours later. People were signing leases without even viewing units in person. I repeatedly went from thinking I hit the jackpot, only to have to start back at square one.
Thankfully with Danielle and Matteo's help I found my new home on the Upper East Side, just a short ride on the 6 train to my campus.
It is a one bedroom and I pay $2,395. The living and dining area is a really good size so there's enough room to create a work area. I have a lot of natural light and exposed brick. There is laundry in the building but no elevator—that's ok with me.
My new building is on a tree-lined street in Yorkville and my neighbors are respectful too. I love almost everything about my new building, especially how quiet it is. I could do without the five-floor walk-up but it's otherwise worth it.
My favorite thing to do in my new neighborhood is go to the 82nd Street Greenmarket on Saturday mornings. There is a family-oriented spirit in Yorkville that was lacking in my old neighborhood. Living alone and working around the clock can be isolating so I love checking out the vendors, as well as going for walks and trying new coffee shops. A favorite of mine is Stella & Fly on 1st Avenue and 88th Street.
There are a couple of great grocery stores right on my block. In Bushwick I had a 10-minute walk to go food shopping.
I have a 15-minute walk to the 6 train and about a seven-minute walk to the bus. I enjoy the walk to the train because I always spot new places to try out. But I've always preferred the bus in New York even if taking it means a few more minutes tacked onto my trip. The bus drivers are always so nice and when I take a certain route for a while they become like friends.
My family loves my new neighborhood and a lot of my friends live here and are happy I'm back. I plan on staying put for a long time.
Brick Underground articles occasionally include the expertise of, or information about, advertising partners when relevant to the story. We will never promote an advertiser's product without making the relationship clear to our readers.