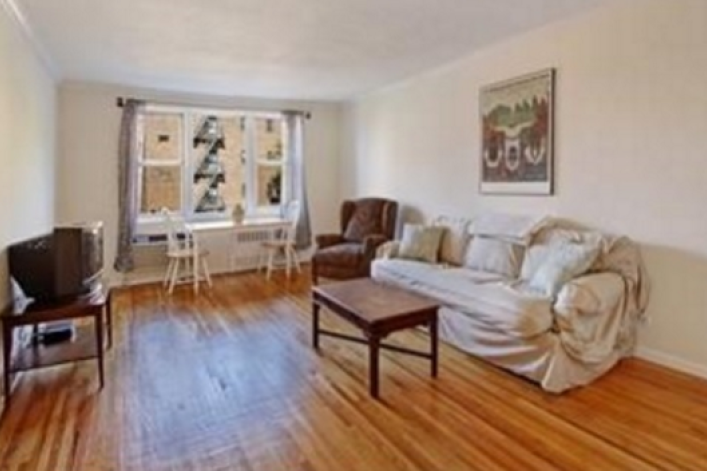 This $230,000 one-bedroom, one-bath at 609 Kappock Street in the Spuyten Duyvil section of the Bronx has a lot going for it. A deeded parking space comes with the 850-square-foot apartment, which also has a bonus room that can be used as an office or a nursery. And the pet-friendly co-op offers a doorman, on-site laundry and even a swimming pool (!).
But the building was built in 1962 and the unit could definitely use a sprucing, including a complete kitchen and bath update. So what exactly should that renovation entail? And how much should it cost? We asked Michael Zenreich of Michael Zenreich Architects to tell us what he would do to fix up this fixer-upper to, as he explains, "bring it up to contemporary, condo-quality standards...I'm not talking over-the-top or highfalutin renovations."
His recommendations:
• REPLACE MOLDINGS
"The existing moldings have to be ripped off," says Zenreich. "The scale is wrong. They look to be about three inches and are too small. He suggests that the new moldings be a minimum of five-and-a-half inches, and that the new owners hide all their electrical wiring behind them.
Price: Around $600 to $800 in materials; about the same in labor costs.


• SAND AND POLY THE FLOORS
No need to put in all new flooring here, says our architect. Just make sure to give them a good sanding and a few coats of polyurethane to protect it from scrapes and scratches. "Just don't choose a poly with a shiny finish," advises Zenreich. "That's where it looks cheap."
Price: Buckets of polyurethane can be purchased on Amazon for between $10 and $20. Labor will obviously be more.
• PRETTY UP THE WINDOWS
"The windows look naked," says Zenreich. "You need a valance to hang a curtain or blinds behind."
Price: "Probably a couple hundred dollars for labor and materials," says Zenreich.

• UPDATE ALL THE LIGHT SWITCHES
"Use Decora rocker switches," suggests Zenreich. "They look much more modern than the apartment's current switches. You'll get big bang for your buck."
Price: Amazon lists many of these switches in the $5 to $20 range. Tack on labor costs.
• GET BETTER LIGHTING
Whether it's lamps from Home Depot or adding high-hats, Zenreich thinks the apartment would benefit from some more lights everywhere, including in all the closets.
Price: Costs vary depending on which option you choose. You can buy a decent floor lamp for under $25. A contractor or electrician installing recessed lighting can run into the thousands.
• ADD RADIATOR AND AIRCONDITIONER COVERS 
Custom enclosures are worth it, says Zenreich, who feels they'll give a cleaner look to the space.
Price: "They're usually about $2,500 to $3,000 a piece," he says.
• HANG NEW DOORS 
"We typically always change doors," says Zenreich, noting that updating them can change the whole look of a place, making it look more modern.
Many older doors are boring and "lack character," he says. He replaces those dull hollow-core flush (or smooth) doors with newer solid-core ones (if the client wants a flush door) or, "more typically we replace them with paneled doors… that come in flat, recessed or raised panels and give texture and character to the interior architecture."
Price: New wood-panel doors cost around $175 each, according to the architect. Labor will be more.
GUT THE KITCHEN
There's no ifs, ands or buts about it, this 1960s-era kitchen needs to be "completely zapped out," says Zenreich.
Price: Hard to say, as Zenreich says it depends on many factors, including whether you want "an IKEA kitchen, a Home Depot kitchen" or a custom job. "Cabinets alone can be $40,000," he says. "Appliances can be $15,000-$17,000." It all depends on what the new owner wants to do with the space.
REDO THE BATHROOM
"You need to bring it down to the studs," says Zenreich. "You'll have to reinsulate the walls, put in all new piping, retile it and then waterproof it." As it is now, "there isn't even an electrical outlet to plug in a hair dryer."
Price: "Probably $20,000 to $25,000," he says. "But it varies. People can choose $3.50 tiles or $27 tiles. We've done beautiful bathrooms with $3.50 tile."
Related:
Brick Underground articles occasionally include the expertise of, or information about, advertising partners when relevant to the story. We will never promote an advertiser's product without making the relationship clear to our readers.