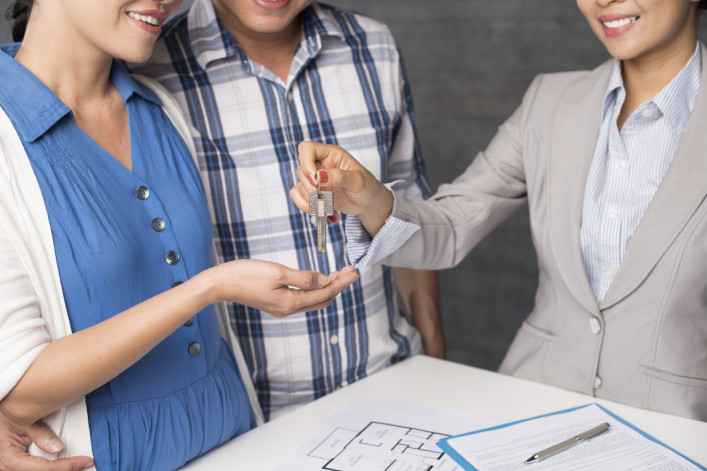 If you use a broker to find your new New York City digs, you'll more than likely have to pay a hefty fee—typically between 12 and 15 percent of the annual rent, amounting to thousands of dollars that need to be paid upfront. Why so much? And is there any way to save some money during the process? Below, a former rental broker answers these questions and more.
Why are broker fees so high?
Almost all brokers are independent contractors, meaning they don't have a salary and their broker's fee is the only money they make when they rent an apartment. And, since only one out of every 10 people who responds to an agent's ad will actually rent an apartment from said agent, 90 percent of the work a broker does he/she doesn't actually get paid for. In addition, brokers have to pay for marketing expenses (including mailings and ads on sites such as NakedApartments and StreetEasy), copies of keys and more.
Where does your money go?
Let's break it down. If you rent a place for $3,500 a month, you'll owe the rental agency 15 percent of a year's rent, or $6,300. If the building's owner is working exclusively with a broker to market the unit, that landlord's broker will get half of it (or $3,150). If it's an open listing, then 10 percent of the fee ($630) goes to the person at the agent's company who maintained the listing and arranged access to the apartment. From what's left, your agent gets a portion depending on his "split" with the company. It's usually 50 percent—meaning he'd be entitled to $2,835 for an open listing or $1,575 for a listing with a landlord's broker. After that, your broker's rental agency gets whatever's left.
What will you get for the fee?
In addition to showing you apartments, a good broker will educate you about neighborhoods and market trends, help you stand out from other applicants, share insider knowledge, and figure out what your priorities are in a new home.
How can you get the best bang for your buck?
Be sincere and involved. If your broker sees you as a serious client with realistic expectations, you'll be at the top of his list when a new apartment hits the market or there is a price drop.
Can you negotiate to lower the fee?
Yes. Brokers may not love it, but you can do it. Don't ask to wipe it out entirely, but offer to pay about 10 percent rather than 15 percent (it helps if the apartment's been on the market for a while or it's slow season like it is now). In our experience, they'll usually settle somewhere around 12 percent.
What's a "no-fee" apartment?
When a place is listed as "no-fee," that just means "no fee for you." Landlords will cover the broker's fee to tempt tenants to show the apartment, and tenants to rent it. Sounds great, right? Not always. Not that many places are no-fee, and they may be in pricey buildings. You're probably paying for the fee in some capacity.
For more, read "Why are NYC broker fees so high? A former rental agent explains."
In Case You Missed It: Every so often, BrickUnderground digs through the archives to find the best advice our experts have shared through the years.
Related:
A rental broker confesses—and yes, all your worst fears are confirmed
Rent Coach: Are brokers more willing to negotiate their fees in the winter?
Brick Underground articles occasionally include the expertise of, or information about, advertising partners when relevant to the story. We will never promote an advertiser's product without making the relationship clear to our readers.