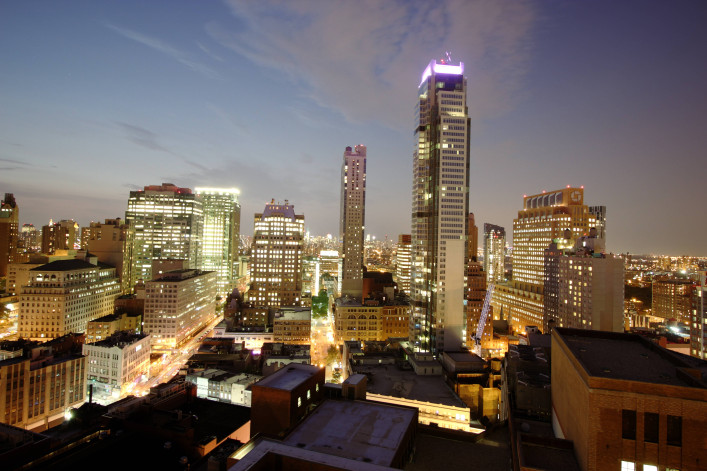 As residential Brooklyn ascended to prominence—maybe even dominance?–here in the city, commercial real estate in the borough has begun to keep apace, too.
Companies have been planting roots of late in downtown Brooklyn. The office market has grown to 17 million square feet in the last 10 years, according to the Downtown Brooklyn Partnership, with a bevy of tech businesses coming in to form the borough's "Tech Triangle" with other up-and-coming neighborhoods DUMBO and the Brooklyn Navy Yard.
But what makes downtown Brooklyn especially appealing to employers is the wealth of transportation options (11 train lines, the Long Island Railroad, and a host of buses), a plus for those in other boroughs and especially workers based in Brooklyn. 
For those who don't want to languish on the subway every morning (or deal with the prices in Cobble Hill, Dumbo and Park Slope only to stay close), we've rounded up five neighborhoods that get you to major transit hubs in downtown Brooklyn in 30 minutes or less that are, in many cases, relatively easy on the bank account, too.
A one-and-a-half-bedroom apartment at the border of Crown Heights and Bed-Stuy comes with a huge kitchen and a dishwasher for $2,350. 
CROWN HEIGHTS
The neighborhood: Bordering Prospect Park to the south, Bedford-Stuyvesant to the north, Prospect Heights to the west, and Weeksville to the East, Crown Heights offers not only park access, but proximity to some of Brooklyn's most notable attractions—namely, the Brooklyn Museum, Brooklyn Botanic Gardens, and Brooklyn Children's Museum. And the real estate getting is relatively good, at least for now.
"It's perfect for someone who wants a townhouse and was priced out of Fort Greene or Park Slope," Trevor Connolly, a broker with Elegran Real Estate, tells us. In terms of rentals, there are a slew of lovely prewar buildings with a "stately" vibe. "It has a real neighborhood feel," Connolly adds, noting the weekly Greenmarket in Grand Army Plaza. 
The neighborhood has become one of the city's most notorious hotbeds of gentrification (and prices have risen accordingly), spawning pushback from locals  concerned about the neighborhood's changing character, and greedy landlords using underhanded tactics to give stabilized or lower-income tenants the boot.
But developers and landlords continue to flock to the neighborhood along with new buyers and renters. Last year, Goldman Sachs Urban Investment Group teamed up with BFC Partners to create 1000 Dean Street, which now houses a business incubator complete with Berg'n, an artisanal beer hall and gourmet food market run by the Brooklyn Flea; plus, there's the fantastic wealth of Caribbean food restaurants and the not-to-be-missed West Indian Day Parade.
Travel time: 9 minutes (Franklin Avenue to Borough Hall)

Mode and cost: $2.75 one-way on MTA (2, 3, 4, or 5 lines)
A sunny studio - ahem, loft - with a private outdoor space is on the market for $2,800. 

LOWER EAST SIDE
The neighborhood: Once home to tenements, immigrants, street cars, gangs of New York, and later, the punk rock scene, the Lower East Side has again changed its personality. Developers have realized that the lower Manhattan enclave is not only hip, but great for transportation, too, and have begun knocking down old buildings in favor of glossy new condos in earnest. And while it's a hot-button topic for many of the neighborhood's long-term residents, there is still a lot of the old character to be found here, from the legendary Katz's Deli to music venues and plenty of bars and restaurants.
While it's likely going to cost you more than $1 million to buy downtown, there are still deals to be found with rentals, with the average cost of a one-bedroom non-doorman building averaging around $2,200, according to MNS.
And there's nothing quite like the Old World feel of walking these streets. As Irving Berlin once said, "Everyone ought to have a Lower East Side in their life." We couldn't agree more.
Travel time: 9 to 11 minutes (from Delancey Street-Essex Street to Jay Street-MetroTech)
Mode and cost:  $2.75 one-way on MTA (F train)
This three-bedroom top floor of a townhouse is a bargain at $2,200. 

SUNSET PARK
The neighborhood: The area north of Bay Ridge and south of Park Slope was once in fact part of Bay Ridge, and was only christened its new name in the 1960s. It got its moniker from the beautiful views seen in Owl's Head Park from Dead Man's Hill (thankfully, the neighborhood namers didn't pick the latter). It's seen an influx of first Irish and Polish immigrants, then Norwegians, Finns, and Italians, and more recently, a large Chinese population.

These days, Sunset Park is also a place for people to live who are priced out of Park Slope or Bay Ridge, says Connolly. "You can get a single-family home here for under a million or a newer condo for deep discounts," he says, adding that this is a great neighborhood for younger people just starting out in their real estate ventures (though, admittedly, that's a pretty relative term). 
The area boasts plenty of great Mexican joints and much of it is within walking distance of the historic Green-Wood Cemetery. This 'hood also has a bustling Chinatown (no need to head into Manhattan or Queens for dumplings!) and Industry City, a waterfront post-industrial space that's lured both buzz and debate that's being converted into offices, attractions, and eateries. 
Travel time: 17 minutes (36th Street to Jay Street-MetroTech)
Mode and cost: $2.75 one-way on MTA (R train)
This two-bedroom at 267 N. 6th Street comes with a washer and is steps away from the G train. Not bad for $2,950.
WILLIAMSBURG
The neighborhood: The pricey epicenter of  North Brooklyn also happens to be a great place to live. Hipster jokes aside (we get it – kale! Craft beer!), the neighborhood has a lot of real perks. Namely? Convenience. "You're only 10-12 minutes from Union Square, which is an entry point to the rest of the city," Connolly says. "You get more space than you would in Manhattan and it's got a real neighborhood feel."
Aside from the new glut of chain stores lining Bedford Avenue (currently including Starbucks, Dunkin' Donuts, and J.Crew), there are plenty of mom and pop shops and restaurants, great vintage shopping, and of course, Smorgasburg, the gastronomic weekend event featuring local restaurants. And even the notorious G train has gotten, dare we say, better over the last few years thanks to an influx of new developments along the line. For a more affordable place (but slightly longer commute), South Williamsburg is booming. It has a strong Puerto Rican influence, with plenty of great restaurants and endless bodegas. 

Travel time: 17 minutes (Metropolitan Avenue to Hoyt-Schermerhorn)
Mode and cost: $2.75 one-way on MTA (G train)
A no-fee one-bedroom in Bushwick with high-end appliances for $2,448 per month.

BUSHWICK
The neighborhood: As chain stores and rising rents have driven the artsy crowd out of Williamsburg, a large contingent of them have hopped the L train a few stops east to set up camp in Bushwick. The northern Brooklyn neighborhood sits just to the north of Bed-Stuy and is famous not only as a hub for artists (it has more than 50 gallery spaces!), but also for its murals, warehouse-heavy architecture, ever-booming restaurant scene, and large, longstanding Hispanic community. Though a lot of newcomers are of the young and single variety, there are certainly many families that call Bushwick home, with about 20% of real estate here devoted to single-family homes. The average one-bedroom is around $2,148, and you can snag a co-op or condo for under $500,000. 

Travel time: 28 minutes (Central Avenue to DeKalb Avenue)
Mode and cost: $2.75 one-way on MTA (G, M, and B trains, B54, B38)
This one-bedroom condo has a slew of amenities and sits on Prospect Park. It's asking $1,949.
PROSPECT-LEFFERTS GARDENS
The neighborhood: In many senses, the neighborhood to the east of Prospect Park is still in transition, or to be blunt, is still in the early stages of gentrification, for better or worse. That means fewer artisanal coffee shops and eateries, but lower prices: the average one-bedroom rental is around $1,700, according to MNS.

"You have proximity to great retail, there's the park, and you can get more bang for your buck here," Carolyn Cedar, a broker with Douglas Elliman, tells us. "The neighborhood is beautiful and it has lovely, lovely architecture." And the numbers don't lie. According to StreetEasy, the price per square foot is around $500 in PLG. In Prospect Heights, it's more than double that amount. And it has not one but four express trains that run through it, so whether you're going to Downtown Brooklyn or beyond, you can bet you'll do it expediently. 
Travel time: 10 minutes (Prospect Park B or Q to DeKalb Avenue B or Q)
Mode and cost: $2.75 one-way on MTA
Related:
30 Minute Commute: Financial District
The 8 best neighborhoods for first-time buyers
Bay Ridge is only out of the way if you don't live here
The millennial's guide to getting a mortgage
Brick Underground articles occasionally include the expertise of, or information about, advertising partners when relevant to the story. We will never promote an advertiser's product without making the relationship clear to our readers.