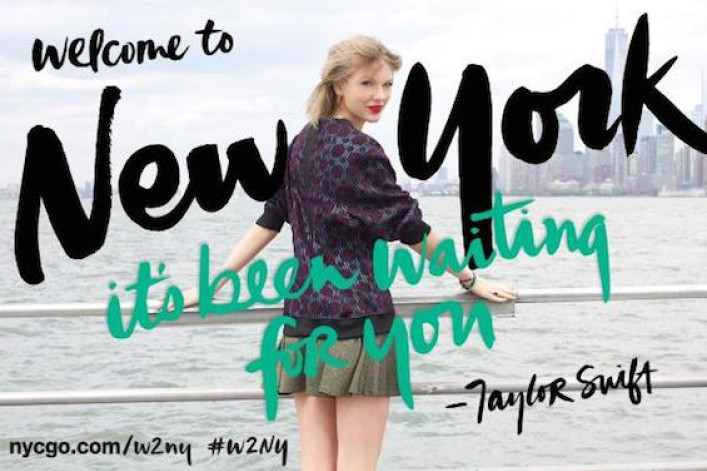 There are countless singers and songwriters who've tackled New York City life in their songs. As far as muses go, our city is clearly one of the all-time greats. Somewhere along the way, though, the hunt for NYC's musical mascot went awry. How is it that a city so complex, so unique, ended up with someone like Taylor Swift as a spokesperson? "Welcome to New York / It's been waiting for you"? No. (Seriously Tay, New York waits for no one). And Alicia Keys? Just what exactly does she think dreams are made of in this concrete jungle? (Sorry, Jay.)
The thing is, the New York of people like Lou Reed is gone. Lower Manhattan is hardly a DMZ. Instead of dodging crackheads and sex workers, the greater danger has become bridge-and-tunnel transplants with a penchant for stilettos and Four Loko (and low-grade Four Loko, at that). As someone who was born and raised in NYC — and works in the music business — I feel like enough of an authority on the evolution of the city to nominate the following songs as the more accurate soundtrack to living here.
AN OPEN LETTER TO NYC - BEASTIE BOYS
KEY LYRIC: "Just a little something to show some respect / to the city that blends and mends and tests." Consider this a welcome mat. The NYC-native Beastie Boys dare you to join the masses of people that try to make this crazy place their home.
L.E.S. ARTISTES - SANTIGOLD
KEY LYRIC: "What am I here for? / I left my home to disappear is all / I'm here for myself / not to know you, I don't need no one else." Santigold has the right idea. Once you do get to New York, you might be overwhelmed by how possible it is to be on your own in a city of millions.  And you'll learn to see it as a good thing — if you're truly meant to live here.
AVENUE A - THE DICTATORS
KEY LYRIC: "Takin' the edge off on a beautiful day / with a Frappuccino and a creme brulee / yeah, it's all over when you see a Range Rover / and to my bodega, I say 'hasta luega.'" If you needed help imagining what the influx of newcomers looks like to OG New Yorkers, this is a good example.
NYC - INTERPOL
KEY LYRIC: "I had seven faces / thought I knew which one to wear / but I'm sick of spending these lonely nights / training myself not to care." See, New York isn't about changing yourself to fit in. It's about flying your personal freak flag and hoping that you attract like-minded people.
LUDLOW STREET - JULIAN CASABLANCAS
KEY LYRIC: "On Ludlow Street / faces are changing on Ludlow Street / yuppies invading on Ludlow Street / nightlife is raging on Ludlow Street / history's fading / and it's hard ... to just move along." Another spot-on sob story. Even the lead singer of seminal-turn-of-the-millennium-NYC-band The Strokes can't pretty up the reality of what's happening to the downtown scene.
NEW YORK, I LOVE YOU BUT YOU'RE BRINGING ME DOWN - LCD SOUNDSYSTEM​
KEY LYRICS: "New York, I love you/ but you're bringing me down/ like a death of the heart/ Jesus, where do I start?/ but you're still the one pool/ where I'd happily drown." We New Yorkers love to bitch about the state of our fair city. But move out? Fat chance.
M79- VAMPIRE WEEKEND
KEY LYRIC: "It's going to take a little time/while you're waiting like a factory line/ I'll ride across the park/ backseat on the 79." Yes, the crosstown buses take a long time (and you will, at some point while you live here, bemoan the state of the MTA). Try to enjoy your downtime. 
NEW YORK IS A WOMAN - SUZANNE VEGA
KEY LYRIC: "Look down and see her ruined places / smoke and ash still rising to the sky / she's happy that you're here, but when you disappear / she won't know that you're gone to say goodbye." Consider this a swift kick in the rear to those who aren't ready for New York's wiles.
You're more than welcome to try the city out. You'll surely find it magical. But don't expect it to feel abandoned if you leave, because Taylor Swift's song? Just plain wrong.
Related:
Brick Underground articles occasionally include the expertise of, or information about, advertising partners when relevant to the story. We will never promote an advertiser's product without making the relationship clear to our readers.