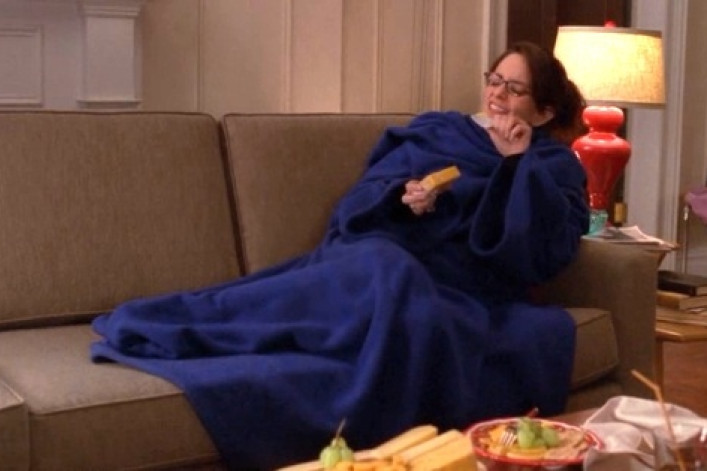 When a movie or TV show is set in New York City—and if the people making it are savvy—real estate becomes part of the story itself. In Reel Estate, we look at some of the more memorable domiciles to grace the screen.
There aren't a lot of reasons to be jealous of 30 Rock's Liz Lemon, with one pretty major exception: her apartment. Even for a program as ill-conceived as 30 Rock's fictional show-within-a-show TGS, you'd think that a showrunner for a network series would be able to afford pretty nice digs, so it makes sense that Liz has a spacious Upper West Side one-bedroom all to herself (the better to hang out in a Snuggie singing to her cheese).
Lemon is said to reside at 160 Riverside Drive, which in the real world is a pre-war co-op between 88th and 89th, where the most recent rental in 2011, a two-bedroom, went for around $3,000 a month, and the most recent sale was of a two-bedroom for $1.85 million. Again, this price range seems about right for a character who runs her own TV show.
Back in the world of 30 Rock, however, it's a rental building—Jon Hamm plays one of her neighbors—and in season four episode "Sun Tea," Liz finds out that it's going condo when a broker busts into her apartment to show it to prospective buyers. "They can't kick you out, but they can hike your rent up," says the broker. "Way up." 
She turns to her boss Jack (Alec Baldwin) for advice, and he recommends she not only buy her place, but get the unit above hers so she can turn them into a duplex. "Sniff around your upstairs neighbor, see if he's planning to leave," he tells her. "If he's not, make him an offer he can't refuse. I know it sounds ugly but with Manhattan real estate there are no rules. It's like check-in at an Italian airport." (Truer words have never been spoken.)
Liz meets her upstairs neighbor Ryan, who it turns out, has no intention of leaving. (He's also inexplicably incredulous that a different neighbor offered him a $10,000 buyout to leave—he seems to think it's an astronomical number, but given the situation, it seems like a lowball to us.) Still, the apartment is enticing enough—working fireplace, two bedrooms, original moldings—that Liz agrees to move in with him to split the new, higher rent. Of course, it's all part of a bigger plan. "I'm going to pretend to move in with Ryan, somehow drive him out, then buy both places to make my dream apartment," she tells Jenna (Jane Krakowski).
Per Jenna's advice, Liz first tries to scare Ryan off with "drama":
When that doesn't work, she has Dot Com—a member of Tracy Jordan's (Tracy Morgan) entourage—come by and pretend to be her crazy, violent boyfriend. "I'm gonna be coming by all the time, getting jealous, and taking things out of context!" he yells. "That dude Ryan would be better off moving out!" As it turns out, Ryan is actually a cop, so he takes down Dot Com with a nightstick and cuffs him. (Ryan would actually be a great roommate, all things considered.)
Out of options, Liz takes a cue from the grossest dude on her writing staff, and makes sure that Ryan walks in on her peeing into a jar in the middle of their living room. Ryan moves out, and Liz moves forward with her grand plan for renovations. Extreme, maybe, but still not as bad as the time she tried—and failed—to win over a co-op board.
Related: 
What are the risks of buying into a co-op or  condo conversion?
Ask Sam: My landlord's renovation is making my life miserable. What are my rights? (Sponsored)
How to kick out a roommate—with minimal drama
Reel Estate: Everybody knows a "roommate" like Broad City's Bevers
Brick Underground articles occasionally include the expertise of, or information about, advertising partners when relevant to the story. We will never promote an advertiser's product without making the relationship clear to our readers.