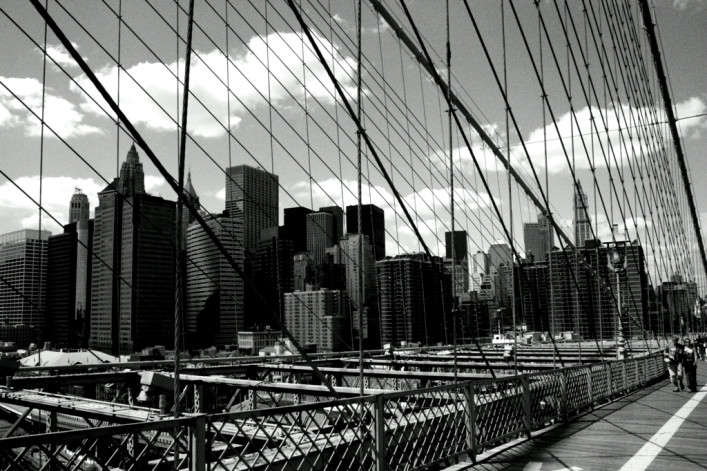 Ah, Brooklyn. Long the affordable alternative to Manhattan, are you now just another expensive place to live in New York City? That was certainly the takeaway from news coverage of the second-quarter market reports released this week by the city's big real estate brokerages. More than one headline blared that prices have reached an all-time high in Kings County. 
To be sure, the gap in prices between Manhattan and Brooklyn has been narrowing: Back in 2008, the difference yawned at $500,000; now, it's shrunk by a third to $335,000, the New York Daily News reports, citing figures from brokerage Douglas Elliman. 
But before we all throw in the towel and move to Jersey, let's take a look at the numbers. 
In the last three months, the median sales price of a Brooklyn home was $575,000—an increase of 4.5 percent from the same time a year ago, per Elliman's figures. Meanwhile, the median price for a Manhattan apartment climbed to $910,000. 
The lesson here? To afford the same place you would have bought a couple of years ago, you'll probably have to try a different, cheaper neighborhood. But, at least in the aggregate, Brooklyn is still way cheaper than Manhattan. Not a bargain by any means, of course, but still the less expensive alternative.
Speaking of which... In Queens, the median sale price actually dropped by 9 percent, to $355,000 from $390,000, compared to a year ago, according to Elliman. 
"Queens was weaker than expected this quarter, but not clear if it is a trend," appraiser Jonathan Miller, who prepares Elliman's numbers, tells Curbed. But, he adds, that might have more to do with an "unusual surge" in prices last year, rather than a real slowdown.
Meanwhile, when it comes to rents, you're pretty much facing an uphill battle no matter which borough strikes your fancy.
In Manhattan, median rents hit a five-year high, and the vacancy rate plunged to a five-year low. In Brooklyn, rents held pretty much steady over the previous year. And lastly, in Long Island City, Astoria, Sunnyside and Woodside—the Queens neighborhoods tracked in Elliman's report for the first time this month—the median rent was $2,830 a month, or higher than in Brooklyn overall (probably because those are the priciest areas of Queens).
The key figures:
Median sales price of a Brooklyn home: $575,000 (4.5% increase)
Median sales price of a Queens home: $355,000 (9% decrease)
Median rent of a Manhattan apartment: $3,300 (3.3% increase)
Median rent of a Brooklyn apartment: $2,800 (2.3% increase)
Median rent of a Queens apartment (Long Island City, Astoria, Sunnyside, Woodside): $2,830 (0.5% decrease)
Dig deeper:
Brooklyn sales prices set record (Brownstoner)
Brooklyn sales market shatters records (The Real Deal)
Median rents in Manhattan hit five-year high (The Real Deal)
Brooklyn sales set records; Manhattan rents hit 5-year high (Curbed NY)
Brooklyn or bust! Thin inventory and hot demand send home prices to new record high (NYDN)
Soar spot: Manhattan rents hit record high in June; renters find little relief in Brooklyn (NYDN)
Stop saying Brooklyn is cheap. It's not. (NYMag)
Related:
Brick Underground articles occasionally include the expertise of, or information about, advertising partners when relevant to the story. We will never promote an advertiser's product without making the relationship clear to our readers.