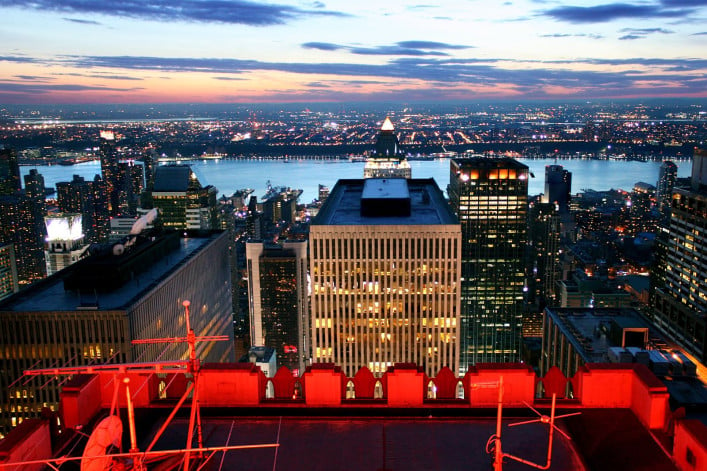 Worried that living in the city means sacrificing idyllic suburban vistas for glimpses of airshafts and other buildings? Thomas Kim of Miron Properties and Brian Lewis of Halstead Property explain the pricing and suggest the best neighborhoods for apartments with water views in this week's Buy Curious.
THE WISH LIST:
My wife and I are moving to the city, and she's dead set on views of the water, but happy to be on the Upper East or Upper West Sides. How much extra will we pay for this privilege? Our budget is $1 million for two bedrooms, though I'd love to come in a little lower. Is it doable? Where should we look?
THE REALITY:
Finding a two-bedroom with a window on the water for under $1 million will be difficult, but doable—as long as you and your wife are willing to make some compromises. 
According to StreetEasy data, the median asking price for a two-bedroom apartment on the Upper East Side is $1.6 million; on the Upper West Side, try $1.5 million. And Kim says that for water views, the premium would be about 10 to 20 percent more than units without them. Since you have to be on the 20th floor or higher to see the river in most Manhattan buildings, you'll also probably have to spend more to be on an upper level. Listing prices for high-floor units are typically 5 to 25 percent more than lower apartments in the same line.
And it could be even more of a premium, depending on how dramatic and impactful the water views are: "If jaws drop when you enter the apartment and see the views, there are sometimes very emotional prices that come out of reactions like that," Lewis explains. "It's the setting for your life and what you're going to see every day, so that could be more than a 10 to 20 percent jump in price."
It could be a challenge, then, to find those epic vistas for under $1 million—but not impossible. Here's a rundown of how you might make it happen:
Do you really need two bedrooms? Or would you consider a den/office? Being flexible with room configurations can help; perhaps you can section off part of a living room or convert a dining room.
Is a doorman a dealbreaker? Do you absolutely need to be in a luxury building with a doorman? If we can scratch that off your list, then we'll be able to look at a number of properties in both neighborhoods that will undoubtedly be more affordable than anything you'd find below.
Would you go downtown? Is the Upper East Side and the Upper West Side truly the only areas you're interested in living? Battery Park City also has great views of the water, and you can see the Hudson River from almost any west-facing window. A StreetEasy search reveals that two-bedrooms can be had in Battery Park City for as low as $1.2 million—still above your budget, but less costly than similar places uptown. (Lewis notes, though, that many properties in Battery Park City are landlease buildings, meaning residents don't own the land beneath the building; prices are lower, but maintenance fees are higher.)
Would you consider Midtown or an outer borough? Other neighborhoods with great views of the water include the Financial District, West Chelsea, and Tudor City. The latter, Lewis says, has great views because it's perched on a hill—plus, it has its own private parks. "It feels a little like Savannah with these squares, " he says. Dumbo, Brooklyn Heights and Long Island City are other possibilities, if you're comfortable exploring another borough. In fact, if you're interested in nightlife and restaurants outside your door, Midtown locations might actually suit your personality better than uptown. 
Or, would you head north to Upper Manhattan? "The further uptown you go, the further your dollar will stretch," Lewis says. Be prepared, though: Even in neighborhoods like Washington Heights, apartments priced below $1 million will "have a little hair on them," he says, meaning you may encounter inconveniences like a need for renovations or a long walk to the subway.
Two-bedrooms that fit the bill:
Midtown West two-bedroom, one-bath condo, $1.05 million: This unit boasts floor-to-ceiling windows that look out onto the Hudson. Located in the luxury Atelier building, the condo also features stainless steel appliances in the kitchen, marble tile in the bathroom, and access to amenities like a fitness center, Pilates studio, and landscaped deck.
Yorkville two-bedroom, two-bath co-op, $1.25 million: Though it comes in over budget, we had to include this apartment with direct views of lovely Carl Schurz Park and the East River beyond—especially since you can take in the scene from a spacious terrace. The unit has an appealing prewar layout, including a foyer and separate living and dining areas, and the master offers a large walk-in closet. Amenities include full-time doorman service, a gym, and private garage parking.
Hudson Heights, two-bedroom, two-bath co-op, $1.05 million: Head further north for an apartment that offers views of the Hudson from every room—something you'd be unlikely to find at this price point downtown. The two-bedroom comes with additional office space, as well as luxe, custom features like top-of-the-line appliances and hand-blown glass tiles in the bathroom, plus original prewar touches in its arched doorways and millwork.
One-bedrooms that might work:
Financial District, one-bedroom, one-bath condo, $775,000: You'll have vistas of the harbor from both the bedroom and spacious living room of this unit. The condo is located in a landmark building that blends the old and new, thanks to its Tudor-style, pre-war exterior and recently renovated interiors. Plus, a 421G tax abatement is in place until 2020, meaning lower common charges for a while.
Upper West Side one-bedroom, one-bath co-op, $929,000: This Riverside Drive one-bedroom offers partial river views; what it lacks in sweeping vistas it makes up for in charming pre-war details like parquet floors and a large foyer. The kitchen and bathroom have been updated, and the building offers full-time doorman service.
Battery Park City, one-bedroom, one-bath condo, $875,000: You get direct views of the Hudson in this Albany Street condo, as well as the peace and privacy of its location in a Battery Park City cul-de-sac. (You're still near tons of downtown attraction, though.) The one-bedroom feels airy and elegant, with its high ceilings, new wood floors, and renovated kitchen.
**This post was originally published on April 24, 2014, and updated by Alanna Schubach on July 28, 2016.
Related posts:
Buying, renovating or refinancing next year? 5 mortgage trends to watch in 2014 [sponsored]
What 8 first-time buyers wish they had known
Here are the 7 most likely reasons you'll get turned by a co-op board
7 questions to ask about the building before you buy an apartment there [sponsored]
---
Buy Curious is a weekly column in which NYC real estate brokers help buyers develop a realistic search strategy. Want some advice on your search? Send us your wish list.  
Brick Underground articles occasionally include the expertise of, or information about, advertising partners when relevant to the story. We will never promote an advertiser's product without making the relationship clear to our readers.