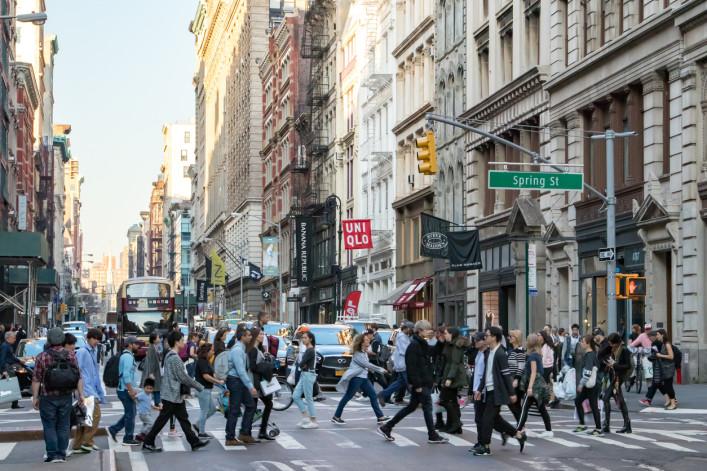 If you're applying for a mortgage or refinancing your existing one, you probably already know that there's a bit more to the process than finding the best rate and filling out some paperwork—and that it pays to do your homework.
To accelerate your learning curve, Brittney Baldwin, vice president of National Cooperative Bank, rounds up 12 of the most frequent questions she hears from co-op and condo buyers. 
1. What's the difference between working with a bank and working with a mortgage broker?
You can work directly with a financial institution to get a loan for your co-op or condo unit, or you may decide to use a mortgage broker. A bank or credit union will give you rates and fees based on the products they offer, and you can apply directly with the bank or credit union. In this instance, you will work directly with the loan officer at that financial institution to find the best product that they have available.
A mortgage broker can assist you with finding products and services that fit your needs and typically works with a variety of financial institutions. Whether you go with a mortgage broker or directly with a bank/ credit union, make sure you are getting all the information to make an informed decision on your loan rates, fees, and terms.
"The choice is yours on how you want to handle your loan process," Baldwin says. 
2. What's a portfolio loan?
Banks offer a variety of home loans. You may hear the term "portfolio" or "saleable" when you are doing your research. A saleable mortgage means the bank or mortgage lender will likely sell the loan (for example, to Fannie Mae or Freddie Mac). That's not the case with a portfolio lender or portfolio loan.
In that situation, Baldwin says, "the bank will hold the loan in its own portfolio or on the bank's books and not sell the loan."
The advantage, she explains, is that "many times lenders will offer portfolio loans that are not conventional or fit into a saleable product. This gives you more loan options to choose from and can be particularly helpful if you, your apartment, or your building don't meet traditional lending criteria—for example, if the building is a 'low-sold' building, less than 51 percent owner occupied."
3. How do I get pre-qualified for a mortgage?  
"Typically you fill out a standard residential loan application, listing your name, current address, date of birth, income, and assets, and other property owned," Baldwin says. "You also authorize a credit check, which is the only outside source of information that is checked at this point in the process."
Pre-qualification is quick and relatively painless. In National Cooperative Bank's case, the bank (which, despite its name, lends to condo buyers too) usually tells borrowers whether they're qualified within about 10 minutes, Baldwin says. You can print out your own pre-qualification letter, which a real estate broker may want to see before showing apartments and which you'll need to submit with an offer letter. 
4. Can a building be pre-qualified?
In addition to getting yourself pre-qualified, you may want to take the additional step of asking your lender to approve your prospective building.
"In a seller's market, where bidding wars are more common, buyers are better off submitting an offer without financing contingencies," Baldwin says. "To remove as much risk as possible when they're waiving contingencies, an increasing number of buyers are asking us to pre-approve the building, which we are happy to do."
Here are a few items National Cooperative Bank looks at when getting the building approved:
Whether it is a co-op or condominium
A review of operating documents
The number of apartments occupied by owners versus renters
Percent of apartments delinquent on their maintenance fees or common charges
Cash flow and cash reserves
Pending lawsuits
Insurance coverage including flood if applicable
Sponsor information—for example, what percentage of units is sponsor-owned, and are they current in assessments? Are they selling units? Is there a current attorney general amendment? Are the shares pledged?
Any deferred maintenance at the building
5. What's the difference between a pre-qualification letter and a mortgage commitment?  
A pre-qualification states that you are qualified for the loan subject to verification of certain items. Thus it is important to note that the only item that has been verified is your credit history via the credit report.
Before issuing a commitment, the bank gathers supporting documents for the information you provided in the pre-qualification process, sends out standard mortgage disclosures and issues a good faith estimate about all the costs involved in obtaining a mortgage.
The next step is the verification process. Information on the application is verified (i.e. income, employment, assets, etc.), and the property and title search are ordered. Once these are completed, the lender can then issue you a loan commitment. 
"At this point, we basically know that you're qualified and you can proceed to your co-op board interview," Baldwin says.
Even so, there may be some items outstanding even after the commitment letter is issued that could affect whether the loan ultimately goes through.
For instance, Baldwin says, besides getting the building itself approved, "you will need to have sufficient funds to close and we do a verification of employment," Baldwin says.  
6. What's a Fannie Mae loan?
Fannie Mae is a government sponsored entity created in 1938 as a way to add stability to the housing market. The sole purpose of Fannie Mae is to provide banking institutions and other mortgage companies a way to keep mortgages available and affordable on the market.
Fannie Mae does not directly lend money to the public. They work with financial institutions and mortgage companies to purchase loans. Fannie Mae sets the guidelines and rates they are willing to purchase. 
Pro Tip:
Looking to buy a co-op apartment?  National Cooperative Bank offers competitive rates and easy pre-qualification. With 40 years of lending to buyers in New York City, NCB is the bank for co-ops. After all, Cooperative is our middle name! Call us at (202) 349-7455 or email Ryan Greer [email protected] #507534. Equal Housing Lender.
7. Can you explain what a conventional loan is and how big a jumbo loan is in NYC?  
A conventional loan is any mortgage that is not guaranteed or insured by the federal government. Conventional loans may be conforming or non-conforming. Conforming loans follow the terms and conditions set by Fannie Mae and Freddie Mac. These guidelines put the maximum price for a first mortgage at $647,200 for a single-family dwelling.
In New York City and some other expensive housing markets across the U.S., however, "anything from $647,200 to $970,800 is considered conventional 'high-balance pricing,' and Fannie Mae is doing those loans as well," Baldwin says.
Loans above $970,800 are jumbo loans, and you will need to find a portfolio lender—a bank—that will keep the loan on their own balance sheet instead of selling it to Fannie Mae, Freddie Mac, or other purchasers of mortgage assets. National Cooperative, for instance, offers jumbo mortgages that it keeps on its own balance sheet.
8. Which is better—an adjustable-rate mortgage or a fixed-rate mortgage?
"It really depends on your budget and how long you think you're going to live there," Baldwin says. Right now, fixed-rate loans are at historic lows but ARM rates can be a great alternative as well if you think you may only live in your property for a few years. 
On the other hand, you might not.
"Five years goes by quickly. The market could change and you might not be able to sell," Baldwin says. 
9. How much do I need to put down, and how high does my income have to be?
"At NCB, we require 20 percent down without having mortgage insurance," Baldwin says. "If you put less down, we will require mortgage insurance. Mortgage insurance is an insurance policy that compensates lenders for losses due to the default of a mortgage loan."
As far as income, Baldwin says, "We like to see that the amount of your monthly mortgage plus maintenance payments—or common charges and taxes, if you're buying a co-op—divided by your gross monthly income to be no higher than 43 percent typically." With that said some cooperatives for board approval may require a lower debt to income.
There are some case-by-case exceptions.
"Borrowers who are retired may be able to count their 401Ks, pensions, and social security as income."
10. How long can I lock in my rate?  
"In general, lenders usually lock in rates within a range of 30-60 days," Baldwin says.
11. Can I take cash out when I refinance?  
If it's your primary residence, most lenders will allow you to take cash out (subject to your board's approval) for any reason, such as renovation, debt consolidation, or the purchase of a second home.
Lending guidelines and rates will differ from lender to lender.
"At National Cooperative, you can typically finance up to 80 percent of the appraised value," Baldwin says. "Rates may vary depending on loan-to-value or credit score."
12. How much are closing costs?  
"On a purchase or refinance, the banks closing costs for a co-op are typically around $3,500-$4,000," Baldwin says. "Condos cost more because it includes additional fees, such as title insurance, mortgage recording tax, surveys, etc. which vary from county to county."
---
Brittney Baldwin (646-201-4714) is vice president at National Cooperative Bank in Manhattan. 
Brick Underground articles occasionally include the expertise of, or information about, advertising partners when relevant to the story. We will never promote an advertiser's product without making the relationship clear to our readers.