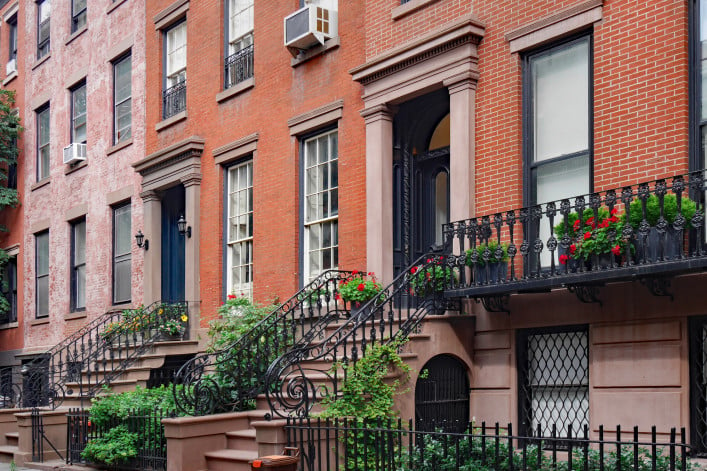 Are you thinking about taking advantage of the soft real estate market—and rising inventory—to buy an investment property in NYC, but need a little help to make your dream become a reality?
Even if you own or have owned an apartment in NYC, owning an investment property here is quite a bit different. And similarly, getting a mortgage on an investment property is different from getting one for a house that is your primary residence. But that should not be a deterrent, especially in the current market.
"Assuming the property can command enough rent, interest rates are still low to make financing an investment property an attractive proposition," says Brittney Baldwin, vice president of National Cooperative Bank,  which unlike many other banks, offers investment loans on co-ops, condos, and single-family homes. 
Here's what you need to know about getting a mortgage on an investment property in NYC.
1. It will be an adjustable-rate mortgage
The federal government doesn't back mortgages for investment properties, which means you'll need to shop around for lenders who'll loan the money on their own books. These so-called portfolio loans are rarely offered at fixed rates, Baldwin says, so you'll likely be offered a 5/1, 7/1, or 10/1 adjustable rate mortgage (ARM). That means rates remain fixed for either five, seven, or 10 years, respectively, and then adjust annually up to a certain percentage cap. Typically, there is a margin set (for example, 3 percent over LIBOR rates with a cap of 5 percent over the initial interest rate).
2. Interest rates will be slightly higher than a residential mortgage
"Most banks will charge around a quarter point more on loans for investment purchases than for a mortgage on a primary residence," Baldwin says. "But rates are still appealingly low." 
Currently, for instance, National Cooperative Bank is offering a rate of around 4.375 percent for a 5/1 ARM, 4.50 percent for a 7/1 ARM, and 4.625 percent for a 10/1 ARM on an investment purchase in New York. Annual adjustments after the initial five- or seven-year period are based on LIBOR plus a margin (for example, 3 percent) and can't exceed an additional 5 percent above the original interest rate.  
3. It's harder to qualify as a borrower—and your down payment will be bigger
You'll need a minimum FICO credit score of 720 (versus 680-700 if the property is your primary residence). The maximum loan-to-value ratio is 75 percent—meaning if the property you have your eye on costs $1 million, you'll need to come up with at least $250,000. (For primary residences, some banks lend up to 90 percent with mortgage insurance.)
Pro Tip:
Looking to buy a co-op apartment?  National Cooperative Bank offers competitive rates and easy pre-qualification. With 40 years of lending to buyers in New York City, NCB is the bank for co-ops. After all, Cooperative is our middle name! Call us at (202) 349-7455 or email Ryan Greer [email protected] #507534. Equal Housing Lender.
4. But it's easier to meet the owner-occupancy test
If you're buying a condo, the building will need to be at least 30 percent owner-occupied. This is actually a lower threshold than the 51 percent needed to obtain a federally-guaranteed mortgage.
5. You'll need a healthy reserve fund
Most lenders will want to see that you have six month's worth of principal, interest, taxes, and insurance stashed away in savings.  
6. Big-time investors need not apply 
If you already own a lot of investment units, financing your next purchase is probably not an option. At National Cooperative Bank, Baldwin says, there's a 10-unit cap on investment financing.
---
Brittney Baldwin (646-201-4714) is vice president at National Cooperative Bank in Manhattan. 
Brick Underground articles occasionally include the expertise of, or information about, advertising partners when relevant to the story. We will never promote an advertiser's product without making the relationship clear to our readers.