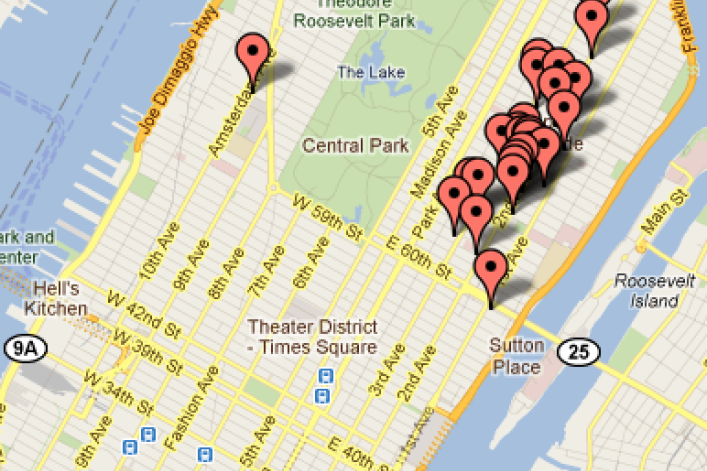 Construction noise is one of the banes of urban living, but we've never had the chance to see suffering visually represented on a map. Until this morning, when Cityproof--a Manhattan-based soundproof-window manufacturer and installer (and sometime advertiser here)--sent over this Google map pinpointing all of its construction-noise-related jobs in the past six months.  
Clearly, the Second Avenue subway has been good for at least one business.
"The windows have made apartments much more comfortable by blocking out or greatly muting much of the noise caused by the construction," says Cityproof owner Michael Damelin. While it's not possible to totally mute sounds like "jackhammers, heavy equipment, backup beeps from the trucks and construction vehicles," he says, "it's enough to make a significant improvement." 
Other construction hotspots generating lots of calls from apartment dwellers?
Damelin says he's been fielding cries for help from apartment dwellers near a longterm sewer project at 59th and Second Avenue; a school construction project at 7 East 14th; and a large building construction site at 205 East 22nd.
Related posts:
Read this before you buy, sell or rent a noisy apartment
16 things I wish I knew before buying this place
A white noise machine that hears too
Ask an Expert: The lowdown on soundproof windows
5 steps for putting a neighborhood nuisance out of your misery
Brick Underground articles occasionally include the expertise of, or information about, advertising partners when relevant to the story. We will never promote an advertiser's product without making the relationship clear to our readers.