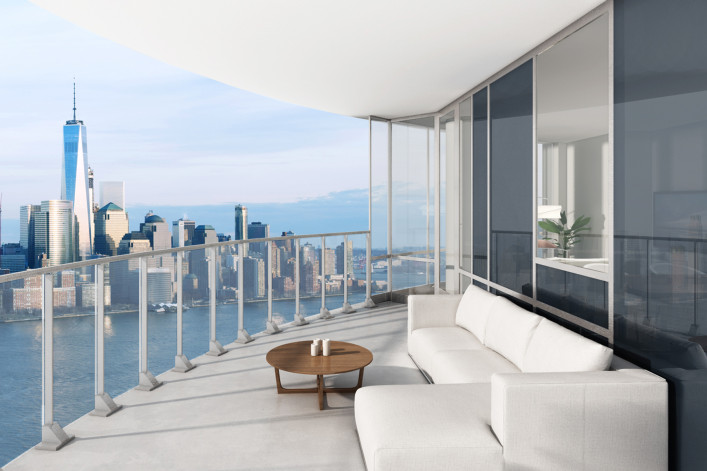 Sick of dropping 50 percent—or more—of your paycheck on rent? Up to here with studios trying to disguise a Murphy bed as a chic new decor "hack"?  Looking to get out of dodge before the L shuts down in North Brooklyn? Then it's time to take a close look at Newport, New Jersey, a several hundred-acre master planned high-rise community in downtown Jersey City. Located on the banks of the Hudson River across from Tribeca, Newport's myriad charms include a shorter commute to Manhattan than from most Brooklyn neighborhoods, a lot to do (including your very own urban beach), plenty of conveniences, and serious leverage on your rental dollar.
Below, nine reasons you should consider renting your next place in Newport.
1. All apartments in Newport are big enough to sustain normal human life — and none charge a broker's fee
You'll find everything from studios to three-bedrooms in Newport, where rentals start at $2,300 per month. And unlike Manhattan and parts of Brooklyn and Queens, "all of these apartments are oversized," says Arthur Kosmider, Director of Marketing at Lefrak, Newport's developer. "We don't create micro apartments." Bonus:  Since you can rent directly from management, there are zero broker fees. That means you'll save around $2,500 on a $2,300 per month apartment.  
There are 15 apartment buildings in Newport including the brand new Ellipse. Every one of them have doormen service, laundry facilities (in-unit washer dryers are available in the Ellipse, Embankment House, Laguna and Aquablu buildings), parking garages (available for an extra charge — about half of what you'd pay in Manhattan), lounges, playrooms, screening rooms and gyms. Many of the apartments have recently been renovated, too. And since the Newport is on the water, there's a good chance you can snag a bedazzling view of the Hudson River and the Manhattan skyline.
2. You can live in a brand new building without working a second job.
Ellipse, a 41-story skyscraper that has just begun leasing, is the newest building in Newport, with move-ins beginning  this summer.
No detail has been spared inside or out of the building. It boasts an expansive outdoor pool and a deck complete with barbecues, comfortable cabanas for lounging in and a firepit for roasting s'mores. There's a co-working space and a lounge inside the building, as well as a state-of-the-art gym. And one of the most unique (and hard-to-find) amenities: Free WiFi.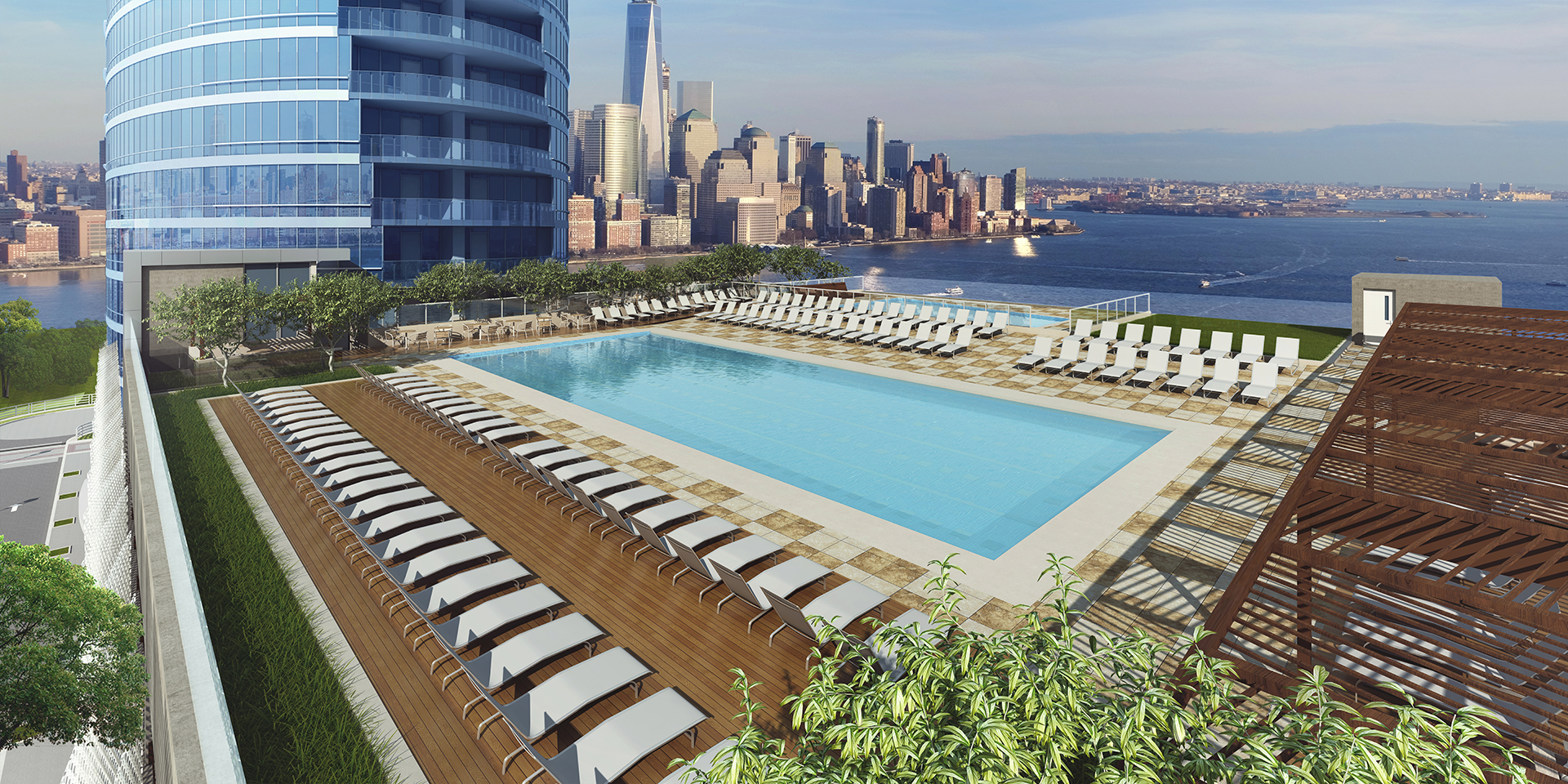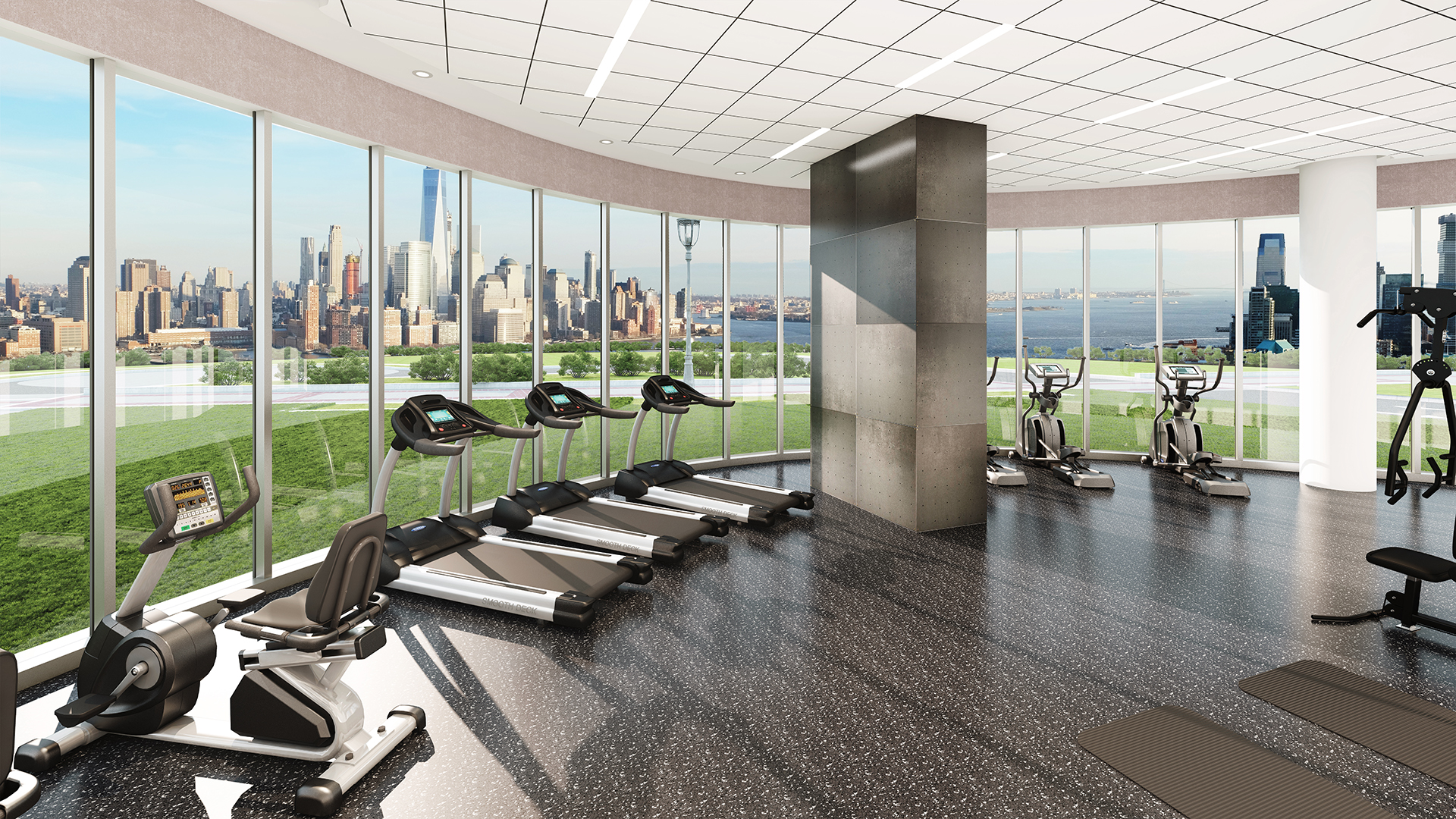 All apartments come with washer-dryers, floor-to-ceiling windows, hardwood floors and stainless steel appliances.
Oh, and did we mention the view of Manhattan? "Ellipse is right on the Hudson River, so in any apartment above the second floor, it feels like you're floating on water, because you can't see the ground. The views are amazing," says Kosmider.
Studios start at $2,600 a month, one-bedrooms at $3,200, two-bedrooms at $4,300 and three-bedrooms at $5,300. (Click here to view floorplans and current availabilities.) There are no broker fees, and early renters get one month's free rent.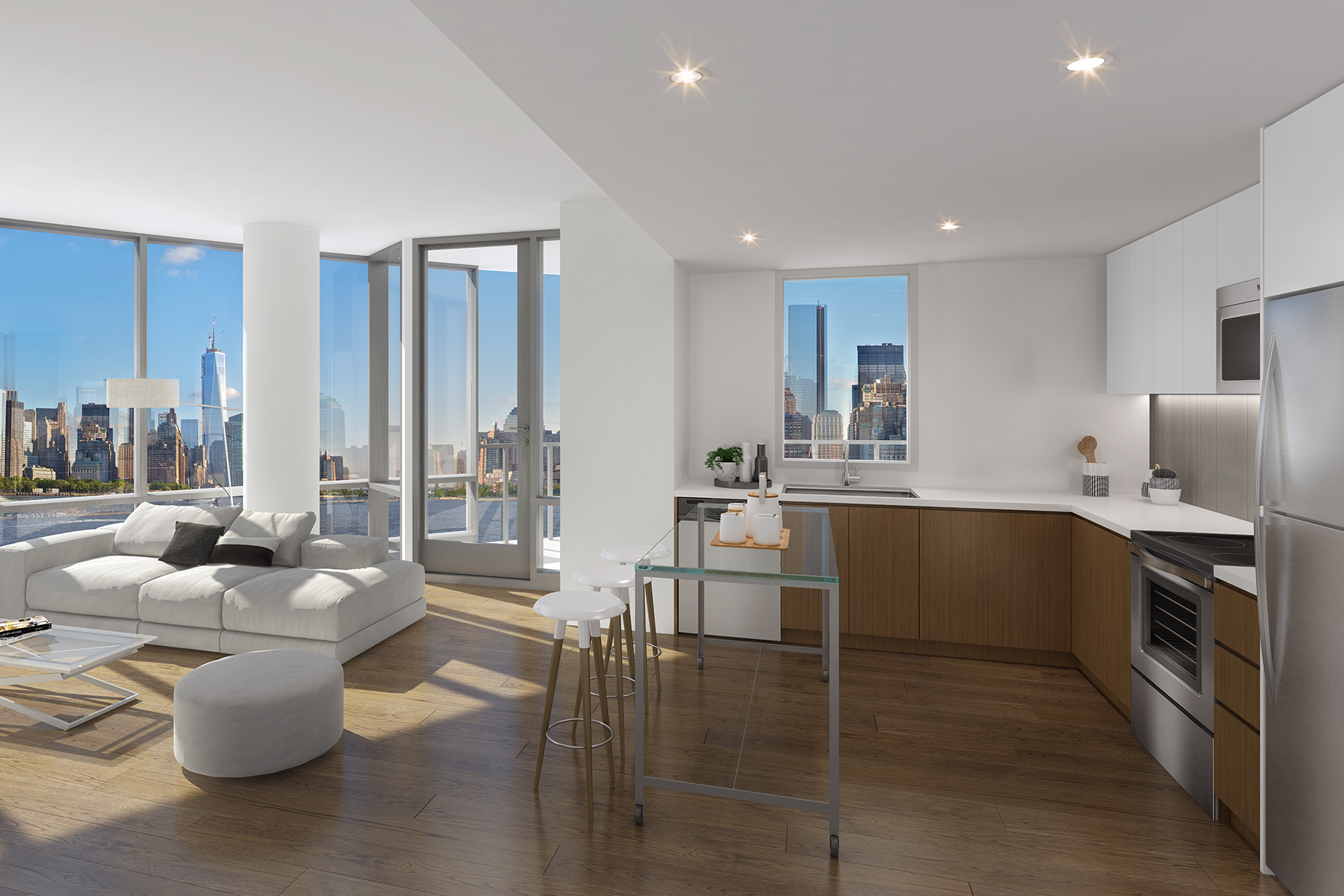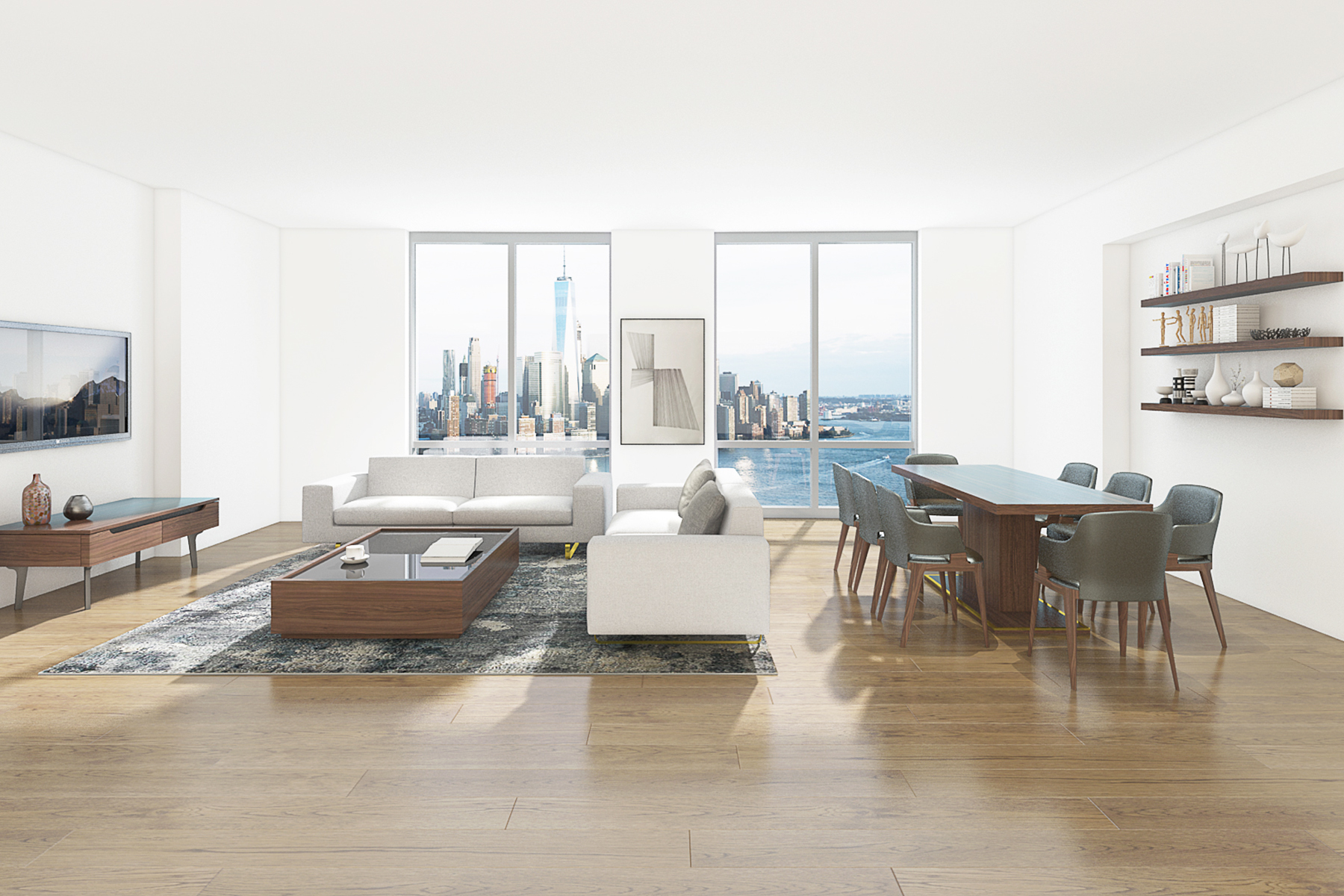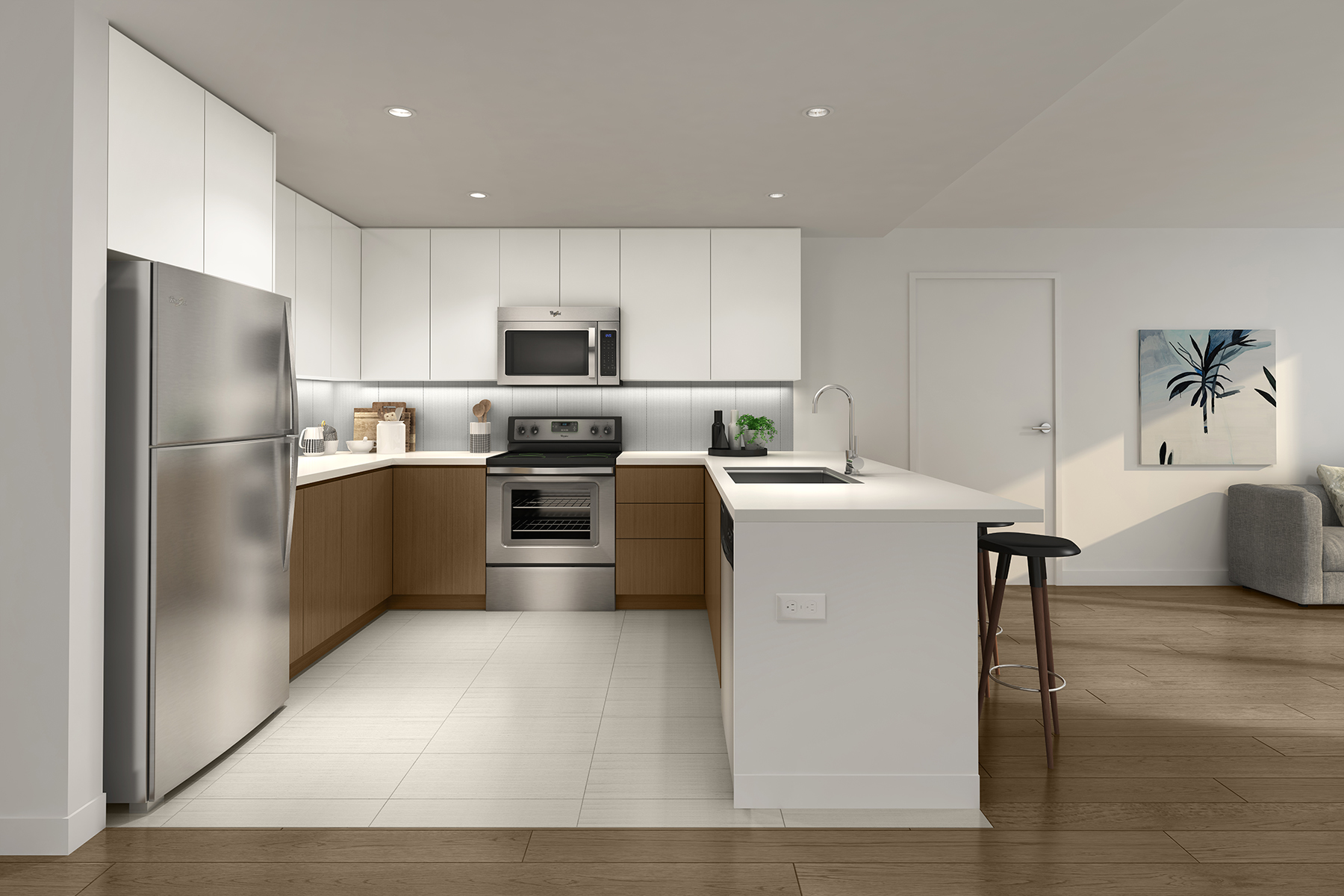 3. The commute to Manhattan is a breeze.
Unlike parts of New York City where you're beholden to the MTA for your commute, there are several transportation options to and from Newport — PATH, North/South Light Rail, New Jersey Transit (the Hoboken stop is steps away from Newport) and several major highways if driving is your thing. You can get to Midtown Manhattan in 25 minutes door to door via PATH train.  It helps that Newport is the first stop in New Jersey on the PATH train. That means if you happen to work near a PATH train stop in Manhattan, you're looking at an even shorter commute time, as little as 15 minutes. Another plus: A montly PATH train pass is $89 as opposed to the $121 monthly MetroCard.
4. Shopping is tons more convenient than in New York City.
The Newport Centre Mall—a 1.2 million-square-foot mall with 130 stores, including Macy's, H&M, Children's Place and Sephora as well as an 11-screen AMC movie theater—is the kind of one-stop shopping experience you may have dreamed of while living in the city. There's also a collection of outdoor shops known as Newport River Market. Those include staples like a Morton Williams Supermarket, a Duane Reade and a Target, making errand days a snap. Among Newport's 15 restaurants are Battello, a watefront restaurant that specializes in seafood, Dorrian's, a pub with another location on the Upper East Side of Manhattan, as well as popular sushi spot Komegashi-Too.
A whole new set of cool restaurants and bars are also less than 10 minutes and a less-than-$10 Uber ride away in Hoboken and Jersey City.
5. You'll get to spend a lot of time outdoors.
If you're someone who likes to be among the trees and grass (and even sand), you're in luck: Newport Green is a 4.25-acre park that features the only urban beach on the Hudson. Newport Beach has a 7,650-square-foot sandfilled area, with colorful umbrellas and Adirondack chairs. Newport Green Park also has an ocean-themed carousel, a 30,000-square-foot oval recreation field with eco-friendly turf surface and a boardwalk.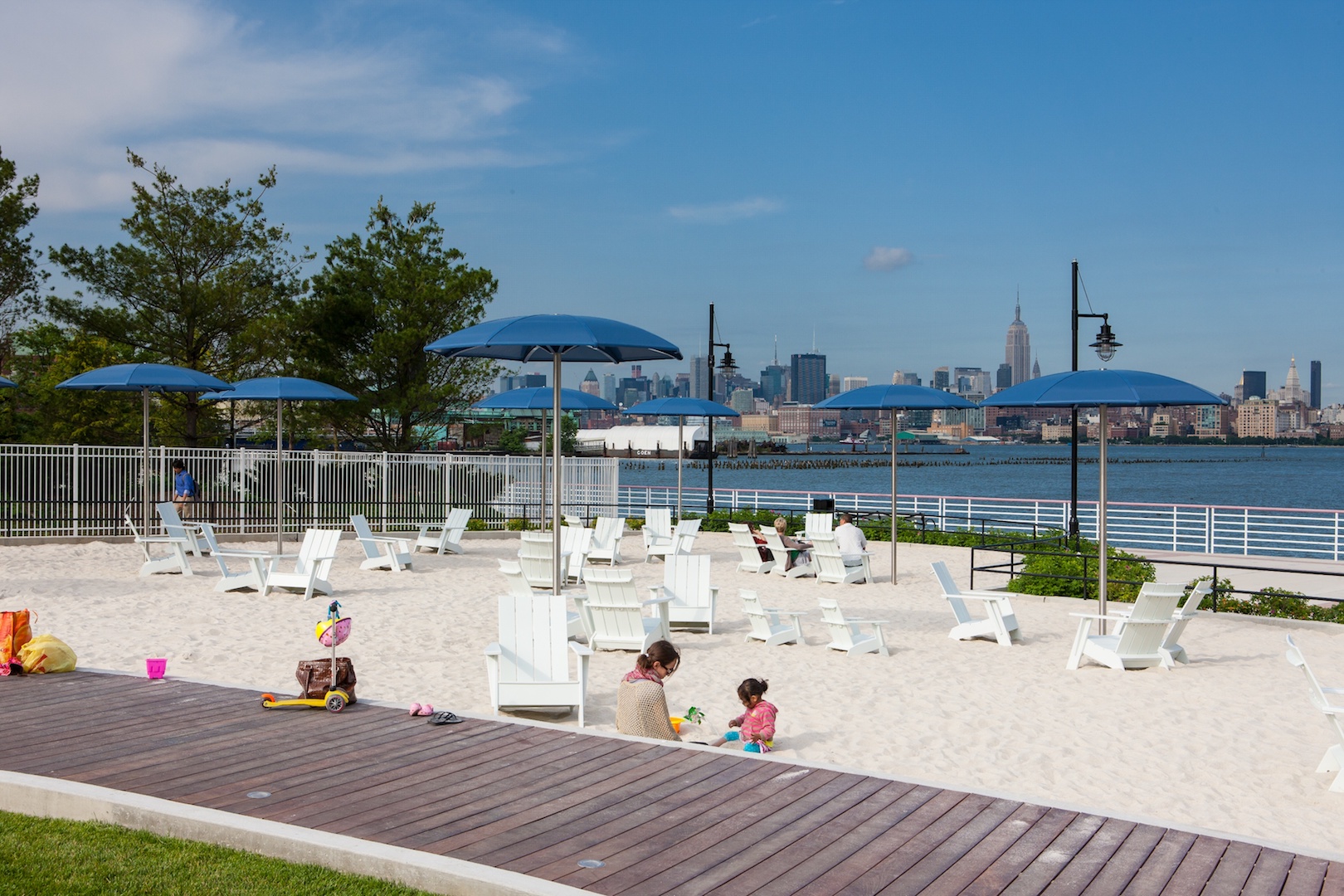 About three acres of the park are made up of landscaped lawns and several planted gardens. In the summer, you can take advantage of exclusive residents-only events like outdoor movie screenings, concerts and festivals.
If you're so inclined, you can even spend the day working from the great outdoors: There's free Wifi available across the park.
6. Cars are optional.
Between the Newport Center Mall (a mall you don't need to drive to is a rare and wonderful thing!), the aforementioned restaurants and park and the fact that the PATH offers such quick service into the city, Newport is one of the few areas in New Jersey where you can skip the hassle, and the expense, of owning a car altogether.
7. But if you have wheels, there's parking available.
We get it. Some people are car people, and when you live in New Jersey, it can be tempting to get a car — especially since there's no alternate side parking to speak of. All of the buildings at Newport offer parking facilities, usually for an extra monthly rate.
8. You're within walking distance of two bustling cities.
The Hudson River Waterfront Walkway is a well-lit pathway that runs along the Hudson River and provides direct pedestrian access to Hoboken and Jersey City. It also happens to be a well-lit, safe space for walking, running and biking along the river. That means that when you're done chilling on Newport Beach or shopping at the mall, you're just a 7-minute walk to Hoboken and a 10-minute walk to Jersey City. Spring for an Uber, and it'll be less than $10.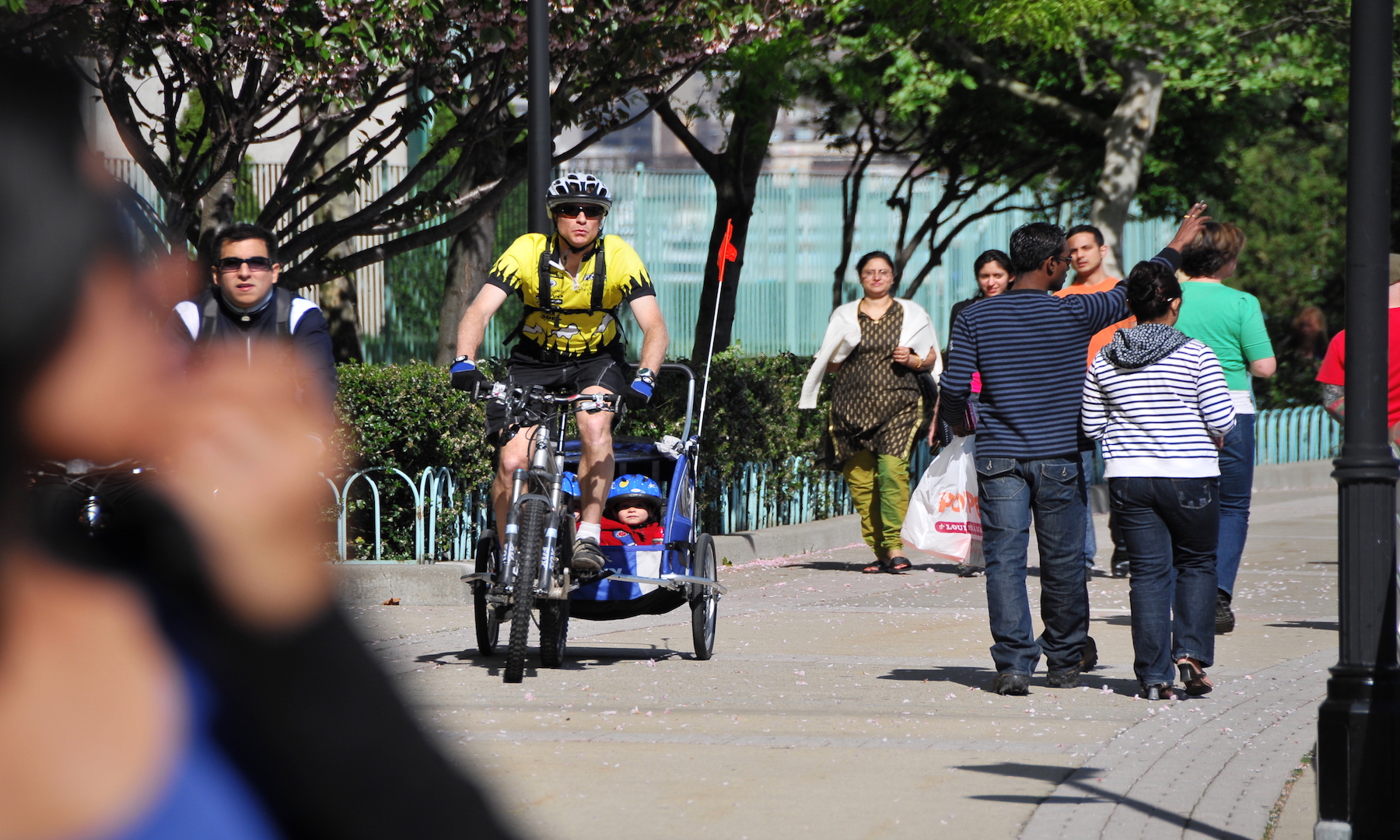 9. If you have (or are thinking of having) kids, everything you need is nearby...including schools.
Within the boundaries of Newport, there's a lot to offer kids and families. There are two schools: The River School, a preschool that also provides child care, and Stevens Cooperative School, a private K – 8th grade school offering specially-equipped rooms for science, music, indoor physical activity, and theater productions.
In addition to the amazing aforementioned offerings at Newport Green, there's a 17,000-square-foot playground, too, called the Playport, complete with play sets, water spray feature and a rubberized safety service.
Water features include a large splash pad with misters and jets, multiple spray hoops, and a "dump-bucket" tower. 
And in the winter time, Newport Skates is Jersey City's only outdoor, uncovered ice skating rink (during the spring and summer seasons, converts to an open seating area with a section of water play fixtures).
10. You won't have to pay NYC income tax anymore.
Since New York City residents pay a New York City tax, which can range from 2.907 percent of your income to 3.876 percent, choosing to live in New Jersey can save you about 3 percent of your income even if you continue to work in the city. New Jersey's income tax rate is also significantly lower than New York's — as low as 1.4 percent, unlike the 4 percent New Yorkers pay. You can take all that saved money and go on a shopping spree at Newport Centre.
---
The Ellipse is a 41-story high rise that raises the standard for luxury urban living. With a unique elliptical shape and ideal waterfront location, it stands apart from its contemporaries and provides never-before-seen views of the Manhattan skyline.
Brick Underground articles occasionally include the expertise of, or information about, advertising partners when relevant to the story. We will never promote an advertiser's product without making the relationship clear to our readers.