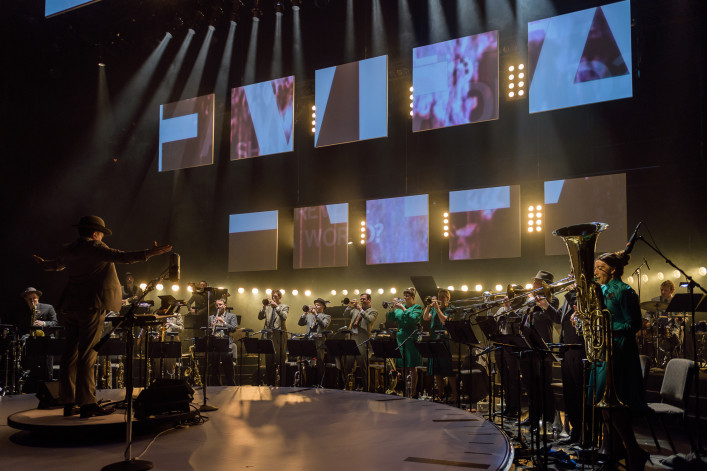 People citywide (and worldwide) look to Brooklyn as a place where lifestyle trends are made. The borough is fertile ground for innovative artists, designers, restaurateurs, mixologists and beyond, and the Brooklyn Cultural District provides unparallelled access to the world-class, cutting edge work and style that is now a hallmark of the borough.
Entertainment
There simply is no better location than the Brooklyn Cultural District to take advantage of the established yet innovative arts institutions of the borough, which, of course, give the area its name.
The oldest arts organization in the District is the Brooklyn Academy of Music, or BAM, as it is known. Established in 1908, it is recognized as a premier presenter of innovative arts, ranging from theater, dance, performance art, film, children's programming and more.
The organization's main venue, the Beaux Arts Peter Jay Sharp Building, is home to the grand opera house, where large-scale productions are staged, for the both the organization's regular season and its Next Wave Festival, a presentation of innovative work from artists around the globe; the BAM Rose Cinemas, which screens new releases (often with an independent film bent) as well as revival film series dedicated to vanguards and masters of the form; and BAMcafé, an open, second floor space with high, vaulted ceilings for live music, readings, and gathering and dining before or after performances.
BAM also operates two additional venues within the District: the more intimate BAM Harvey Theater, a former vaudeville and first-run movie theater renovated to stage modern productions while also preserving the architectural details and weathered character of the building; and the organization's newest building, BAM Fisher, home to several smaller performance spaces and a range of humanities, educational and family programming.
The Mark Morris Dance Group also calls the Brooklyn Cultural District home, operating out of a multipurpose modern facility on Lafayette Avenue. Established in 1980 and called the preeminent modern dance organization of our time, the company not only uses the dance center as its primary space to rehearse and premiere work, but also operates a dance school for children and adults and conducts community outreach here.
"The Brooklyn Cultural District is a richly rewarding arts and cultural neighborhood. There are so many ways to immerse yourself in the arts, from watching a performance to participating in dance and music classes," says Karyn LeSuer, Director of Marketing, Mark Morris Dance Group. "The great diversity of this borough is the inspiration for our programs and the driving force behind our success. We are proud and honored to be a part of it."
Still another cultural institution is located in the area, the Theatre for a New Audience, which is housed in the new, state-of-the-art steel and glass building of the Polonsky Shakespeare Center. Dedicated to presenting the works of Shakespeare and other dramatic classics, the Theater for a New Audience attracts some of the most accomplished and acclaimed artists in the field, and its work has been recognized with multiple theatrical awards, including the Tony, Drama Desk Award and OBIE.
On Fulton Street, BRIC Arts/Media House and glass studio UrbanGlass are located in the renovated historic Strand Theater, designed by LEESER Architecture. Home to BRIC, the leading presenter of free cultural programming in Brooklyn, BRIC Arts/Media House hosts a wide range of events year round, such as contemporary art exhibitions, poetry slams, music performances and festivals featuring multi-disciplinary programming such as the BRIC JazzFest.
While UrbanGlass does provide studio space for glass artists, it is also a center for art exhibits, talks, classes and ongoing cultural programming.  Also nearby, on Atlantic Avenue, is renowned center for cutting-edge art of all disciplines, Roulette.  The venue features bold, eclectic programming of experimental sound, movement and multimedia in line with its "new and adventurous" vision.
Housed in a building dating to 1881, the Brooklyn Historical Society features a robust slate of programming dedicated to the borough's past, present and future that includes talks, screenings and exhibits.
Additional venues can be found in the neighborhoods just outside the Brooklyn Cultural District; the popular and charming theater Cobble Hill Cinemas screens a mix of first-run, indie and foreign films, and blockbusters can be caught at the 12-screen United Artists movie theater in downtown Brooklyn. Fort Greene is home to the smaller theater company dedicated to producing original work, the New York City Players, and major acts and tours ranging from Beyoncé, to Billy Joel to Disney on Ice make stops at the Barclays Center on Flatbush Avenue.
For those wanting to do a deep dive on Brooklyn past and present, the Brooklyn Historical Society is housed in a magnificent landmark building dating to 1881 in nearby Brooklyn Heights. The organization hosts Free Fridays — when the admission fee is waived — and invites all to enjoy the museum as it stays open late for themed programming from 5-9 p.m.
"In addition to our revolving exhibitions, BHS hosts dynamic public programs three to four nights a week, making it a perfect place to stop in after work," says the Society's Jeanne Hodesh. "These events engage thought leaders and visitors in conversations that bridge our shared history with contemporary issues of the day. Driven by the pursuit of social justice, the topics of discussion, film screenings and presentations are an invitation to have a dialogue about our community, past, present and future."
The Prison Ship Martyrs Monument in Fort Greene Park was designed by famed firm McKim, Mead and White. 
Parks
Residents of the area have a few public green spaces to choose from. The closest, Fort Greene Park, might as well be considered the Brooklyn Cultural District's back yard. The 30,000 acre space has a rich history, including serving as a post for the continental army during the Revolutionary War, and securing an official designation as a park in 1847 at Brooklyn resident Walt Whitman's urging.
In 1867, acclaimed designers Olmstead and Vaux were commissioned to create a plan for the park, which included a monument to those who perished aboard Prison Ships following the Revolutionary War's Battle of Brooklyn. That monument, a 149-foot Doric column topped by a 20-foot bronze urn designed by architects McKim, Mead and White, was completed in 1908, and now serves as a widely-recognized landmark in the area.
Today, the park is a busy and lively natural haven with rolling hills, open fields, playgrounds, basketball courts, workout areas and a dog run. It is also home to the popular Fort Greene Park Greenmarket, which takes place year round in the the Southeast corner of the park, as well as public art installations, community festivals, open air concerts and movies, storytimes for kids and historic walking tours, to name just a few of the events that happen here.
To the South is another Olmsted and Vaux-designed park, the 585-acre Prospect Park, which opened in 1867, and is a destination for sports, leisure, culture and more. Highlights of the park include the Ravine, Brooklyn's only forest of 150 woodland acres with scenic waterways; the 90 acre Longmeadow, a popular spot for sports, picnics and sunbathing; and the LeFrak Center at Lakeside, which not only features the borough's only freshwater lake, but is home to an ice skating rink in the winter and playful splash pad in the summer, as well as the Bluestone Café for seasonal dining and drinking.
Additional destinations and activities in the park include a carousel, a bike loop, the Prospect Park Zoo, the Audubon Center (which leads bird-watching tours and other natural explorations of the park), fishing, the Bandshell (where BRIC/Arts Media's popular Celebrate Brooklyn! performances are held), multiple playgrounds and an annual 4th of July fireworks display. And just last year, gourmet food vendor market Smorgasburg moved its Sunday gathering to the park near Lakeside and the Lincoln Road entrance.
The area's newest park is the celebrated, 85-acre sustainable waterfront park, Brooklyn Bridge Park. Running 1.3 miles along the East River shoreline, the park, with native and varied landscapes by Michael Van Valkenburgh Associates has asserted itself as a world-class park and destination. Stretching from the base of the Manhattan Bridge in DUMBO to the edge of Brooklyn Heights, the park features multiple piers offering myriad opportunities for recreation and relaxing.
Among the diversions you'll find here: athletic fields, basketball courts, a roller rink, kayaking, Jane's Carousel (a restored, 1922 merry-go-round housed in a glass pavilion), a beach, riverside barbeque grills, a dog run, open green fields and eating and drinking options ranging from Luke's Lobster to Fornino Pizza to ice cream from Brooklyn's Ample Hills Creamery. Of course, the views of lower Manhattan and Brooklyn Bridge are stunning.
Walter's on Dekalb is a popular Fort Greene brunch spot.
Eating & Drinking
For those looking to explore the dynamic Brooklyn dining and drinking scene, it's hard to beat the Brooklyn Cultural District as a home base. The area itself is home to several celebrated eateries and bars, and lauded and diverse spots can be found nearby in any direction.
A sampling of the popular and critically-acclaimed establishments in the area includes Walter's on Dekalb Ave., known for creative takes on American cuisine, a stellar brunch and fashionable clientele; Prospect on Fulton St., a modern American restaurant and cocktail bar with an open kitchen and brick and wood interior; and nouveau German restaurant Berlyn, located directly across the street from BAM.
And, opening in the Brooklyn Cultural District this fall, Gotham Market at The Ashland will offer eight distinct dining and drinking venues at the base of the Gotham's newest luxury building, The Ashland. (Residents of the 53-story luxury building will receive discounts at the 16,000-square-foot market, as well as at the sister food hall Gotham West Market in Hell's Kitchen.) Beyond the permanent bars and restaurants housed at Gotham Market, the hall will include a pop-up space, which will feature a rotating selection of local chefs and restaurateurs throughout the year.
Additionally, scores of Brooklyn's most popular and buzzed about spots are just outside the District in nearby neighborhoods. The aforementioned Chef's Table at Brooklyn Fare is in downtown Brooklyn, as are foodie favorites Ganso Ramen, Jun Shokudo and Brooklyn's world-famous Junior's.
For small plates and cocktails, the intimate Lulu & Po on Carlton is a sure thing, while Smith Street gastropub Ugly Duckling offers 30 kinds of beers, updated bar food and live music. Cocktail aficionados can sip creations from some of the city's most inventive mixologists. A short list of stellar options includes the Clover Club on Smith, with a speakeasy vibe, fireplace and brunch on weekends; Grand Army on State Street, also popular for its raw bar and $1 oyster specials, Bijan's at Atlantic and Hoyt (which also serves a full dinner menu) and the gloriously-restored The Long Island Bar on Atlantic at Henry.
Additionally, the corridors of Smith Street and Court Street in Cobble Hill and Carroll Gardens are home to an eclectic blend of popular restaurants representing cuisine from around the world, as well as several foodie dining destinations. On Smith you can find excellent Japanese at Ki Sushi, classic French bistro fare at Bar Tabac and Cafe Luluc, Italian at Pane e Vino and one of the most in-demand tasting menus in town at Battersby.
On Court Street, options include local and seasonal American fare at Watty & Meg; modern Russian at Kitchen at Cobble Hill, and a powerhouse trio in Carroll Gardens of Buttermilk Channel (new southern), Prime Meats and Frankie's Spuntino, for fine Italian.
The Fort Greene boutique Jill Lindsey sells a variety of  fashionable clothes and accessories, and also serves as a coffee and wine bar, as well as an event space.
Shopping
The shops in the area reflect the distinct character and aesthetic of the Brooklyn identity that's captured the imagination of people literally worldwide. Fort Greene boutiques such as Cloth, Thistle & Clover and Jill Lindsey sell clothes from fashion-forward designers, with the last of these also serving as a cafe, event space, and all around community gathering hub.
The Brooklyn Circus is a popular spot for well-made, stylish menswear, while nearby Atlantic Avenue  is a destination city-wide for unique and vintage household furnishings at well-curated stores such as City Foundry, Sterling Place and Hunting With Jake. Acorn, a popular shop for children's clothes and toys, herbal apothecary Radical Herb Shop, and retailer of imported and specialty fragrance and beauty products Twisted Lily can also be found on Atlantic.
Still more independent boutiques and shops can be found on Court and Smith Streets. A sampling of Smith Street stores includes women's clothing stores Bird and Article&, offbeat gift shop Exit9, Brooklyn Industries, and home decor store Modern Anthology. Court is home to women's boutiques such as Pink Pepper, Neda and LF; kids' store Sprout San Francisco; art and stationery shops KC Arts and Papél, and record/antique store (plus coffee shop) Black Gold Records.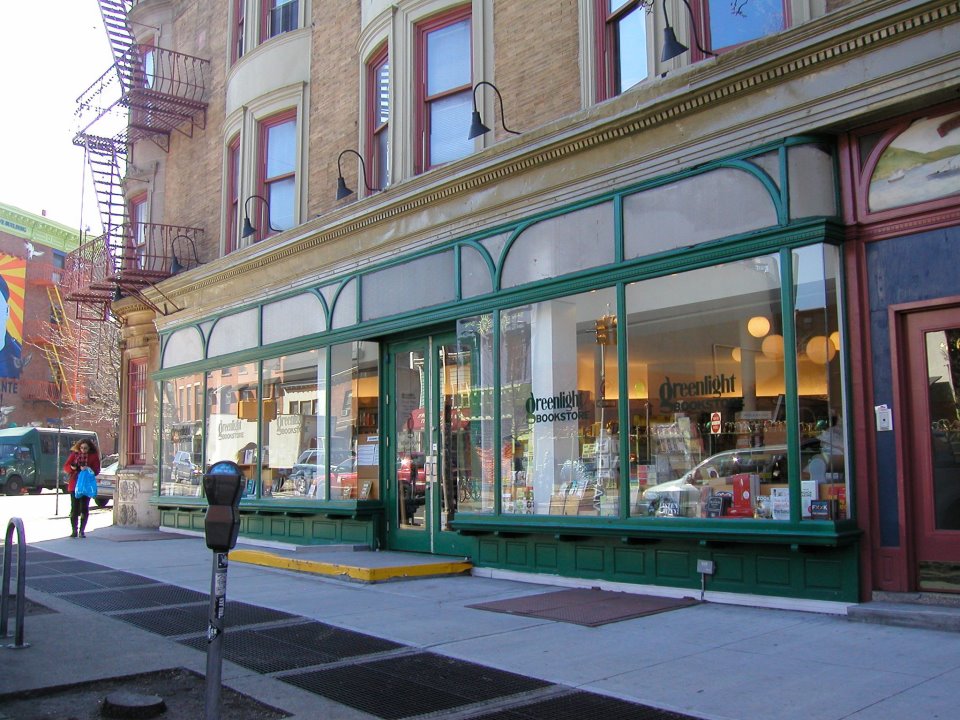 A cultural hub in the neighborhood with a passionate customer base, Fort Greene's Greenlight Bookstore holds multiple events, readings and signings throughout the year.
An independent bookstore also thrives near the Brooklyn Cultural District. Fort Greene's Greenlight Bookstore serves as a literary and all-around community gathering space, holding readings and events for both adults and kids.
And, it really wouldn't be Brooklyn without a flea market. What could arguably be called the granddaddy of the modern Brooklyn flea market phenomenon, The Brooklyn Flea's flagship location in Fort Greene hosts more than 150 vendors every Saturday from April to November. Organizers describe the emporium as "part vintage bazaar, part hipster hang, part old fashioned town square, part food bazaar."
Additional shopping options include the connected Atlantic Center and Atlantic Terminal malls, located at the intersection of Atlantic and Flatbush Avenues which house, among other retailers, Target, Old Navy, DSW and Uniqlo. To the west toward downtown Brooklyn, Fulton Mall, which in recent years has seen significant development is home to brands such as H&M, Gap, Nordstrom Rack, and Banana Republic. Macy's, another tenant of the mall, is currently undergoing a $100 million renovation of its 1873 building, spurred in part by the population boom of the area.
Sports
Serious sports fans can get their fix just a few blocks away at the new world-class, state-of-the-art venue the Barclays Center. The arena is home to not one, but two professional teams, the Brooklyn Nets and the New York Islanders, and while close to the Brooklyn Cultural District, its proximity does not affect the overall character of the neighborhood.
Related: 
The Insider's Guide to the Brooklyn Cultural District (Part 1): Living There
The Insider's Guide to the Brooklyn Cultural District (Part 2): Working There
---
The Insider's Guide to the Brooklyn Cultural District is brought to you by The Ashland.
The Ashland is a full service residential building offering an inspiring amenity package, exemplary service, and unrivaled access to Brooklyn's Cultural District and Fort Greene.  The Ashland is now leasing Studio to 3 Bedroom homes for immediate availability. 
Brick Underground articles occasionally include the expertise of, or information about, advertising partners when relevant to the story. We will never promote an advertiser's product without making the relationship clear to our readers.