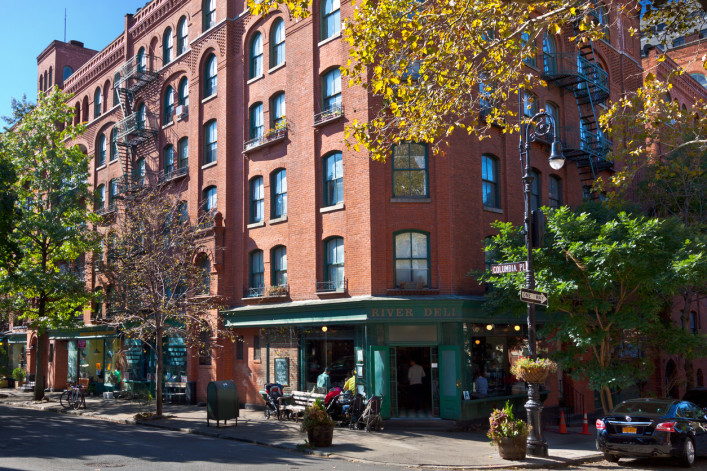 Brooklyn: The borough of tree-lined residential streets, a park in every neighborhood, and a tranquil, family-friendly vibe. Or is it the borough of block parties, noisy development projects on seemingly every street, elevated trains, and the BQE?
Whether Brooklyn looks like a peaceful, quieter alternative to Manhattan or the raucous playground of developers and out-on-the-towners depends on where you stand, of course. So where can you find that peace and quiet in Brooklyn? The apartment listings and analytics site RentHop recently updated a study, originally published in October 2018, which tracked noise complaints in New York City and their relationship to median one-bedroom rents. They found only a slight negative correlation between noise and prices, suggesting that tenants who prioritize living in quiet neighborhoods might have a minor market advantage. Also of note: More populous nabes don't always have the highest raw number of complaints, and city-wide, complaints were down 6.8 percent last year.
To create the report, RentHop's data scientists pulled noise complaints from NYC's open data portal, which is a better way of measuring unwelcome or unusual noise than sheer decibel level in a given neighborhood. (If there's always a steady hum of traffic in your area, would you call in a noise complaint?) The data was normalized by incorporating population by Neighborhood Tabulation Area, zones that are determined by census tract and thus don't always neatly represent the neighborhoods from a typical map of the city. But they're close enough that, with a little bit of common sense, we can approximate a list of the quietest neighborhoods.
---
[Editor's note: An earlier version of this article was published in June 2019. We are presenting it again here as part of our Best of Brick week.] 
---
We'll look at Brooklyn here. (If you're one of those people who seeks quiet but still wants to live in the noisiest borough, we ranked the quietest neighborhoods in Manhattan in a separate article). Each of these Brooklyn neighborhoods will have noisier-than-average pockets, just as the noisiest neighborhoods have quieter parts. So if you're seeking quietude, use this as a guide, and maybe consider soundproofing your apartment regardless of where you end up.
(Note: These are asking prices and asking rents sourced from StreetEasy. The actual rent and final sales price may be different.) 
1. Borough Park
Median rent for a one bedroom: $1,650 a month
Median price for a one bedroom: None for sale (median price for two bedrooms is $698,000)
Borough Park is a quiet, residential neighborhood surrounded by other quiet, residential neighborhoods. It has a huge population—106,357 in the Neighborhood Tabulation Area, the third-largest NTA in the study—but it actually had the fewest noise complaints per capita of any neighborhood in the entire city. That may be due in part to the insularity of the Orthodox Jewish community in Borough Park, and the neighborhood is also rated as one of the safest in New York. 
2. Brooklyn Heights/Cobble Hill
Median rent for a one bedroom: $3,300 a month (Brooklyn Heights); $2,800 a month (Cobble Hill)
Median price for a one bedroom: $792,000 (Brooklyn Heights); $725,000 (Cobble Hill)
The first nabe on the list hybridized by the NTA boundaries, however, there are many demographic similarities between Brooklyn Heights and Cobble Hill. Both are affluent residential areas, with beautiful (and coveted) housing stock and lots of families. In each nabe, most commercial activity is confined to a couple of streets, leaving the rest of the neighborhood quiet and peaceful.
3. Windsor Terrace
Median rent for a one bedroom: $2,290 a month
Median price for a one bedroom: $649,000
Windsor Terrace is exactly the kind of neighborhood you'd expect to make this list: Small, primarily residential, filled with families. The nabe is filled with attractive brick and limestone row houses that are cheaper than nearby Park Slope, which has driven gentrification in recent years and some new condo development in response. But there's relatively low turnover, and Windsor Terrace retains most of its quaint, small-town feel.
4. Midwood/Ditmas Park
Median rent for a one bedroom: $1,750 a month (Midwood); $1,795 a month (Ditmas Park)
Median price for a one bedroom: $304,000 (Midwood); $530,000 (Ditmas Park)
At first glance, these two adjoining neighborhoods have little in common. Ditmas Park (technically a historic district within the Flatbush neighborhood) is known for its picturesque Victorian mansions and prewar co-op buildings, competition for which drives sales prices higher than what you'll typically find in the surrounding area. Midwood, on the other hand, is very diverse both demographically and in its housing—you'll find low-rise apartment complexes, detached single-family homes, and multi-family houses. But both neighborhoods are largely residential, with little commercial activity beyond the main avenues, contributing to their ranking on this list.
5. Homecrest/Madison
Median rent for a one bedroom: $1,695 a month
Median price for a one bedroom: $254,500
Madison is a wedge-shaped area in the northwest portion of Homecrest, which is itself sometimes considered part of Sheepshead Bay (more on that neighborhood later). They're considered separate by the NTA boundaries, so we'll look at them separately here. Madison is entirely residential, with spacious single-family houses and an increasing number of condo units. Homecrest was historically an Italian neighborhood but has had a recent immigrant boom, including a growing Chinatown near the Avenue U subway station. It has a mix of single-family homes, "mini" mansions, characteristic South Brooklyn bungalows, and condo units.
6. Bensonhurst
Median rent for a one bedroom: $1,525 a month
Median price for a one bedroom: $402,000
The City's NTA map actually splits Bensonhurst into east and west sections, but conveniently they are back to back in the noise complaint rankings. At nearly three square miles, Bensonhurst is the largest neighborhood by size in Brooklyn, and it has a few busy commercial thoroughfares. It's also a mix of ethnicities: Originally a heavily Italian and Jewish neighborhood, it's now home to a growing Russian population and the largest population of Chinese-born residents in NYC. Insularity may be one reason for the low number of noise complaints. The housing stock is mostly attached or semi-detached 20th century houses in brick or stucco, though a number of low-rise apartment buildings and multi-family condos have gone up in recent years.
7. Sunset Park
Median rent for a one bedroom: $1,700 a month
Median price for a one bedroom: $434,500
Expect Sunset Park to fall down this list as new residents continue to move in, priced out of Park Slope or seeking to be closer to work at Industry City. Historically it's been home to Mexican and Puerto Rican communities west of Fifth Avenue, Chinese on the eastern side of the neighborhood, and pockets of Norwegians, Finns, and Poles elsewhere. The housing stock is full of beautiful brownstones and townhouses, and most of it is located up the hill that rises away from the water (where there are many more noise complaints), insulating residents on the eastern side of the neighborhood from the noise of waterfront industry and weekend goings-on at Smorgasburg and Brooklyn Flea.
8. Park Slope
Median rent for a one bedroom: $2,600 a month
Median price for a one bedroom: $676,500
New Yorkers know Park Slope as an affluent residential neighborhood, so it's no surprise to see it on this list. With its wide, shady residential streets sloping away from Prospect Park and attractive townhouses, Park Slope has come to epitomize the brownstone Brooklyn ideal. It's also one of the most desirable neighborhoods in the city, which makes for an engaged citizenry. 
9. Carroll Gardens/Red Hook
Median rent for a one bedroom: $2,650 a month (Carroll Gardens); $2,600 a month (Red Hook)
Median price for a one bedroom: $756,600 (Carroll Gardens); $637,000 (Red Hook)
Another dual-neighborhood entrant on this list, combined by the city's NTA boundaries. Carroll Gardens and Red Hook are divided by the BQE. Carroll Gardens is one of the city's oldest Italian enclaves and was considered part of Red Hook until the 1960s. Its name derives from the scenic gardens in front of the brownstones that comprise the Carroll Gardens Historic District. Red Hook, on the other hand, has been the site of industry for centuries. In recent decades it has started to gentrify, as artists and other creatives move into converted factory lofts. Other than the NYCHA Red Hook Houses (the largest public housing development in Brooklyn), it's not very densely populated, perhaps contributing to few noise complaints.
10. Sheepshead Bay/

Gerritsen Beach/Manhattan Beach

Median rent for a one bedroom: $1,700 a month (Sheepshead Bay); no one-bedroom units listed in Gerritsen Beach or Manhattan Beach
Median price for a one bedroom: $279,450 (Sheepshead Bay); $622,000 (Manhattan Beach); no one bedrooms listed for Gerritsen Beach

Sheepshead Bay was one of the best neighborhoods for first-time buyers in 2019. That was mostly because of its affordable, spacious homes, but you can add peace and quiet to the list of reasons to consider buying there. Its neighbors to the east and south are a study in contrasts. Gerritsen Beach occupies an isolated sliver of peninsula between Sheepshead Bay and Marine Park; it's a small neighborhood with a large, blue-collar, Irish-Catholic community, most of whom have lived there for generations. Manhattan Beach is primarily residential as well, with large Italian and Jewish populations. But it was originally a summer resort spot (it is on Coney Island, after all), and the detached single-family homes often sell for over a million dollars. It's busier in the summer; the rest of the year, Manhattan Beach feels like a quaint seaside town.

 
Brick Underground articles occasionally include the expertise of, or information about, advertising partners when relevant to the story. We will never promote an advertiser's product without making the relationship clear to our readers.