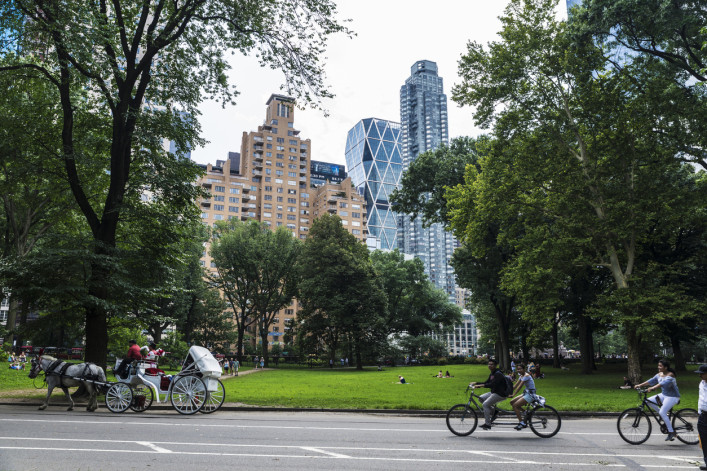 Between the sirens, subways, foot traffic, and construction, New York City doesn't exactly have a reputation as an oasis of calm. But it's still possible to find some peace and quiet in the city that never sleeps, if you know where to look.
RentHop recently updated a study, originally published in October 2018, that tracked noise complaints in the city and their relationship to median one-bedroom rental prices. They found only a slight negative correlation between noise and prices, suggesting that tenants who prioritize living in quiet nabes may have a minor market advantage. Also of note: More populous neighborhoods don't always have the highest raw number of complaints, and city-wide, complaints were down 6.8 percent last year.
To create the report, RentHop's data scientists pulled noise complaints from NYC's open data portal, which is a better way of measuring unwelcome or unusual noise than decibel level in a given nabe. (If there's always a steady hum of traffic in your neighborhood, would you call in a noise complaint?) That data was normalized by incorporating population by Neighborhood Tabulation Area, zones that are determined by census tract and thus don't always neatly represent the neighborhoods from a typical map of the city. But they're close enough that, with a little bit of common sense, we can approximate a list of the quietest neighborhoods.
We'll look at Manhattan here, and Brooklyn in a separate article. Each of these neighborhoods will have noisier-than-average pockets, just as the noisiest neighborhoods have quieter parts. So if you're seeking quietude, use this as a guide, and maybe consider soundproofing your apartment regardless of where you end up.
(Note: These are asking prices and asking rents sourced from StreetEasy. The actual rent and final sales price may be different.) 
1. Carnegie Hill
Median rent for a one bedroom: $3,100 a month
Median price for a one bedroom: $744,000
One of the most affluent, stylish neighborhoods on the Upper East Side, you'll end up paying a lot to live in Carnegie Hill, whether or not you're drawn to the quiet. Most of the neighborhood's historic brownstones, Neo-Gothic mansions, and wood-frame townhouses are protected by the Landmarks Preservation Commission, and local owners and tenants have fought against high-rise new construction projects for decades.
2. Lenox Hill/Roosevelt Island
Median rent for a one bedroom:: $2,995 a month
Median price for a one bedroom: $798,500
Lenox Hill forms the lower section of the Upper East Side, and has a mix of traditional architecture and new construction in the form of high-rise co-ops and condos more closely associated with Midtown. On Roosevelt Island, you'll find a lot of squat apartment buildings, some with ridged concrete walls. There's been a lot of change here, with new rental and condo towers rising and the opening of Cornell Tech's new campus in 2017, as well as new green spaces. Despite the development, the island still has a quieter feel than many other parts of the city.
3. Battery Park City
Median rent for a one bedroom: $3,970 a month
Median price for a one bedroom: $795,000
Prior to 1976, the 92 acres comprising Battery Park City were marshland. You'll find towering condo towers, but there is a lot of green space in the neighborhood, including the popular Battery Park City Esplanade, and the neighborhood is bordered on three sides by the Hudson River. That's the main reason why, despite its proximity to the Financial District, Battery Park City retains a peaceful, near-suburban vibe.
4. Turtle Bay/East Midtown
Median rent for a one bedroom: $3,500 a month
Median price for a one bedroom: $799,000
Turtle Bay is part of greater Midtown East, but the city's Neighborhood Tabulation Area aggregates the two (and splits off other portions of Midtown East, which we'll get to). Like other neighborhoods on the list, Turtle Bay is a relatively recent invention—as a residential neighborhood. Its one square kilometer was the site of slaughterhouses and power plants that were demolished to make way for the United Nations and the missions and consulates to support it. There are still a few parks among the historic walk-ups and newer high-rises. Traffic is diverted underground for five blocks along the United Nations campus, making the sub-neighborhood of Tudor City especially quiet.
5. Lincoln Square
Median rent for a one bedroom: $4,014 a month
Median price for a one bedroom: $1,078,000
Finding quiet in Lincoln Square depends on where you are. The neighborhood is a well-known cultural hotspot, drawing outsiders to Carnegie Hall, the Metropolitan Opera, and Columbus Circle, among other attractions. But its east and west ends are buttressed by Central Park and Riverside Park, and the interior of the neighborhood is much quieter and more residential. There you'll find prewar homes mixed with newer high-rise construction.
6. Murray Hill/Kips Bay
Median rent for a one bedroom: $3,658 a month
Median price for a one bedroom: $790,000
It's probably safe to say that Murray Hill would not have made this list without Kips Bay. It's also a testament to the boiling frog theory of noise complaints: if you're accustomed to certain noises, why call 311 to complain? The avenues of Murray Hill are chockablock with bars, restaurants, nail salons, and gyms, forging a 24/7, out-on-the-town vibe that is antithetical to quiet. And the younger population might just have a higher noise tolerance than is typical, especially if they're drawn to this area in the first place. But the side streets do have unexpected, welcome pockets of calm amid the college-town atmosphere elsewhere.
7. Morningside Heights
Median rent for a one bedroom: $2,897 a month
Median price for a one bedroom: $605,000
The academic community of Columbia defines Morningside Heights, one of the more affordable options on this list. With ample green space and wide residential streets, it's a quiet neighborhood, but there's also plenty to do in the cafes and shops throughout the area. Large, prewar apartment buildings comprise most of the housing stock, and likely help keep noise to a minimum.
8. West Village
Median rent for a one bedroom: $3,850 a month
Median price for a one bedroom: $1,200,000
With its cobblestone streets, quaint cafes, and historic residential architecture, West Village is probably what you picture as the quintessential quiet Manhattan neighborhood. Many of the buildings have been protected for their architectural or historic integrity, and development has been slowed somewhat by passionate local preservation groups. Since it's not on the grid, the West Village is full of side streets and places that feel hidden, but it also means that noise levels vary more block to block.
9. Yorkville
Median rent for a one bedroom: $2,600 a month
Median price for a one bedroom: $740,000
The third and final Upper East Side neighborhood to make this list. Yorkville is a low-key riverside enclave with a lively residential vibe, encompassing Gracie Mansion (among other tony manses), high-rise co-ops, and historic townhomes. Historically, Yorkville was a destination for Eastern European and German immigrants, and it retains a no-frills non-pretentiousness that sets it apart from other uptown neighborhoods.
10. Upper West Side
Median rent for a one bedroom: $3,350 a month
Median price for a one bedroom: $895,000
The Upper West Side as defined by the city's Neighborhood Tabulation Area is the largest area to make the cut, encompassing all the land between Central Park and the Hudson River from West 106th Street down to West 74th Street. The Upper West, of course, is famous for its wide, tree-lined streets, access to parks, and low-key vibe (no wonder when movies need to film people casually strolling, they head here). Its block-sized, prewar apartment complexes minimize noise, as well.
Brick Underground articles occasionally include the expertise of, or information about, advertising partners when relevant to the story. We will never promote an advertiser's product without making the relationship clear to our readers.