Products + Test-drives
A New Yorker's guide to choosing the right storage solution
With on-demand storage, Piece of Cake picks up and stores your items in its facility
Need regular access to your things? A self-storage unit may be a better fit for your needs
Piece of Cake Moving & Storage
If you're a New Yorker, you know that living here usually involves a tradeoff: You get access to entertainment, restaurants, and shopping right outside your front door in exchange for having less living space than what you could get outside the city limits. Even affluent NYC townhouse owners typically have less space than suburban counterparts.
But having enough room in NYC doesn't have to be a struggle. You can leverage Piece of Cake Moving & Storage's convenient on-demand storage, which is quickly becoming the popular storage solution for New Yorkers.
With on-demand storage, Piece of Cake will pick up and store your items in its storage facility and then deliver them to you whenever you need them—it's that simple. So you don't have to lift a finger or make a trip to a storage unit facility ever again if you want to create more space by putting sentimental or seasonal items into storage.
Not sure if on-demand storage is right for your needs? Here's Piece of Cake's comprehensive guide to help you pick the right storage solution for you and your possessions.
---
This is the final article of the four-part series. Part one offers a guide to hiring a reliable local mover in NYC, part two features a guide to packing for a move in NYC, and part three provides a New Yorker's guide to planning a long-distance, out-of-state move.
---
The self-storage unit
This option may be ideal for people who need regular access to the items they are storing. It's also better if you're storing a small number of items, because you'll be the one organizing the packing, moving, and unpacking of your items in the storage unit.
What self-storage facilities often offer
Storage units in different sizes
Access to your items whenever you need it (typically during their business hours, but some are accessible 24/7)
Insurance coverage (will vary; often at an additional cost)
Security features (will vary from facility to facility)
Packing supplies for sale
Climate-control (will vary; may be at an additional cost)
On-demand storage with pick-up, drop-off and storage service
Using a service that manages the entire process of pick-up, drop-off and storage is commonly known as on-demand storage.
On-demand storage offers convenience, especially if you don't have time to manage the details yourself, live in a large city, don't have access to a car, and you don't need to access your items regularly. It's a full-service storage option designed to take the hassle out of storage.
On-demand storage companies like Piece of Cake Moving & Storage specialize in assessing your items to determine the amount of space needed, as well as pack, and move your items to a secure, climate-controlled facility.
You're billed based on the volume of items stored, which ensures that you only pay for the space you use. Whenever you need your items back, you can schedule a delivery at your convenience.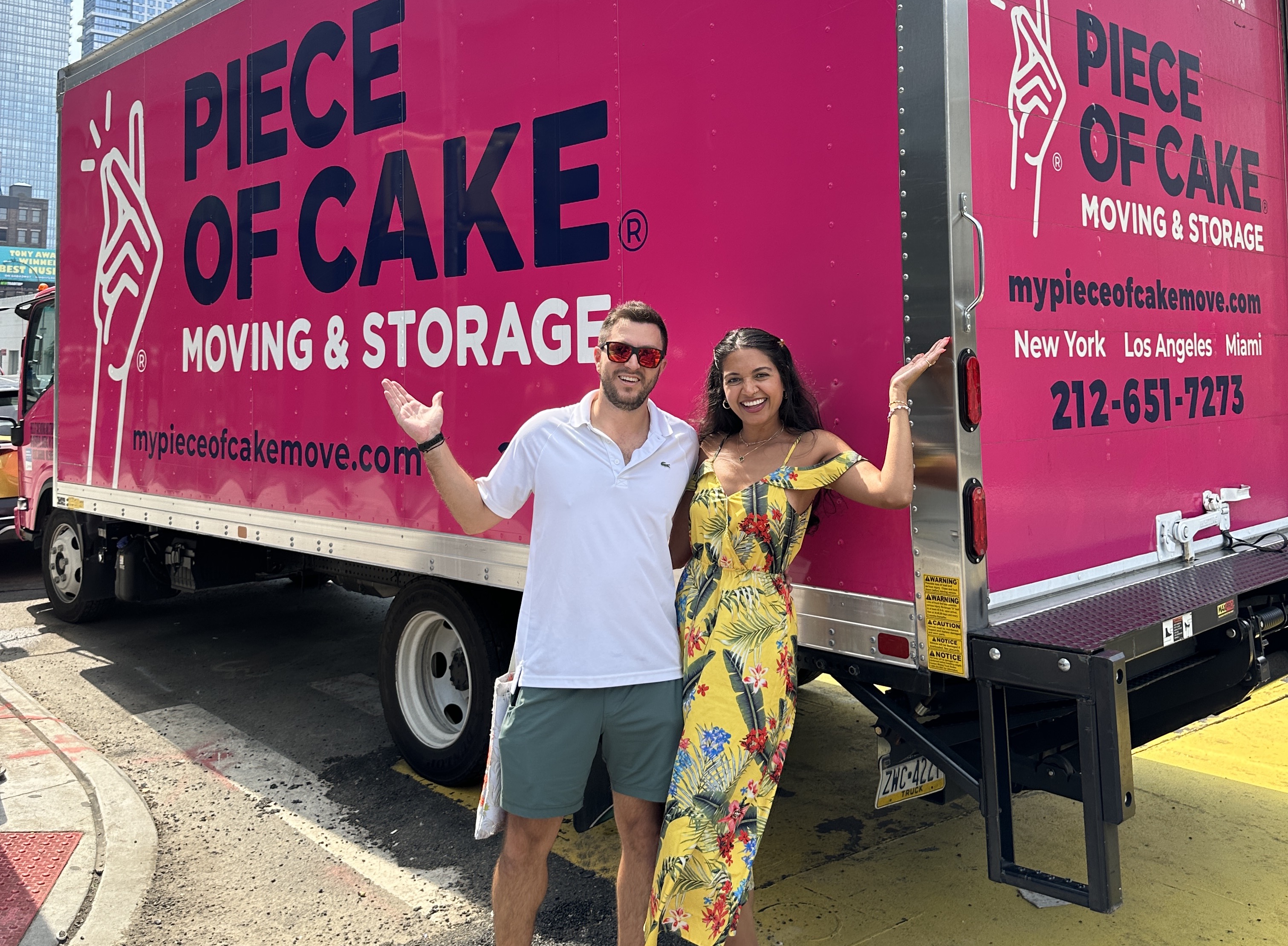 What on-demand storage offers
Packing, moving, and storage of your items.
Packing and wrapping of large furniture items
Pick-up/delivery of items
Storage based on total volume of items
A secure and monitored storage location
An inventory of your items
Packing supplies and packing help if needed
Basic insurance coverage and the option to purchase additional insurance
Factors to keep in mind
Ask yourself the following questions when determining which storage option meets your needs and fits your storage budget:
How often do I need to access the items I'll have in storage?
How long do I need to store my items?
Will I need to have some of my items back before others?
How much stuff would I like to keep in storage (total volume)?
Do I need to keep my items stored in a certain location?
What security features does the storage facility have?
Do I need a facility that is climate-controlled?
What types of insurance are included?
Can I move my items to and from storage myself or do I need assistance?
What is my budget for storage, including getting my items to and from the facility, any necessary fees or deposits, and monthly costs?
Why choose on-demand storage over a self-storage unit?
Convenience: The company does all the heavy lifting—literally. From picking up your stuff to delivering it back to you, the whole process is hassle-free. You can skip the stress of renting a truck or asking friends for help. On-demand storage companies take care of the entire process for you.
Security and peace of mind: With 24/7 video surveillance, climate control, and fire-prevention systems, you can rest assured knowing your belongings are in good hands.
Flexibility and cost-effectiveness: Since on-demand storage services charge based on the volume of items rather than a flat fee for a storage unit, you only pay for the space you actually use. Plus, flexible plans allow you to retrieve your items whenever you need them.
Situations ideal for on-demand storage
Storing seasonal items: From holiday decorations to snowboards, free up space in your home by storing items that are out of season.
Renovations: If you're planning on renovating, whether you're giving your kitchen a facelift or adding a new room, you can temporarily store your belongings to prevent them from getting damaged.
Decluttering: For those looking to embrace minimalism, this is an excellent option. You can create a more serene living environment by storing items you don't need daily but aren't ready to part with yet.
Extended travel plans: On sabbatical or taking a gap year? Keep your belongings safe and sound while you embark on your adventure.
Rapid relocations or short-term plans: Sometimes life throws curveballs at you, like a job transfer or a new opportunity in a different city. On-demand storage offers a quick and easy way to manage your belongings during transitional phases.
What items are ideal for storage?
Wondering what things you should consider for storage? Let's break it down room-by-room:
Kitchen: Think about seasonal dishware, seldom-used appliances, and holiday cookbooks.
Bedrooms: Extra bedding, seasonal clothing, and toys your children have outgrown.
Bathrooms: Extra towels, rugs, and seasonal décor.
Living areas: Old photo albums, artwork, and electronic collections like DVDs, gaming systems, seasonal decorations, and extra furniture.
Home office: Old paperwork and records, book collections, unused gadgets and electronics, extra furniture, and décor.
Garage and closets: Seasonal sports gear, gardening tools, luggage, and camping equipment.
What not to keep in storage
While on-demand storage is incredibly versatile, there are items that are generally not suitable for storage in any facility. These include flammable or combustible items, toxic materials, live plants, unregistered vehicles, and any illegal items. Always check the restrictions of the storage facility you choose.
On-demand storage services offer an unmatched level of convenience, flexibility, and security when it comes to storing your belongings. Given the unique challenges that come with living in a bustling city like New York, these services offer a valuable solution for both short-term and long-term storage needs.
So, the next time you find yourself grappling with too-little space for your things, remember that on-demand storage services from Piece of Cake Moving & Storage provide the solution.
Brick Underground articles occasionally include the expertise of, or information about, advertising partners when relevant to the story. We will never promote an advertiser's product without making the relationship clear to our readers.