3 ways to lower your condo or co-op building's insurance costs
Maintain your building's common areas to reduce the risk of an injury and subsequent litigation
If you expect an increase, start shopping for alternate policies before your current insurance lapses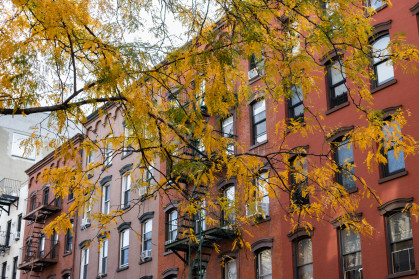 Insurance can be a life saver for condo and co-op buildings facing problems such as flooding, accidents, or lawsuits. But it doesn't come cheap.  
The cost of a master insurance policy for a condo or co-op building—which covers the building itself, its grounds, and common areas—has risen in the past few years thanks to climate change, inflation, and other factors, says Loretta Worters, vice president of media relations at the insurance industry organization, the Insurance Information Institute.
"Much like homeowners, condo [insurance] prices have increased due to factors, including rising building material costs, continuing supply chain issues and ongoing labor shortages, which is driving up the cost of home repairs and replacement costs, but also rising catastrophe losses related to extreme weather," Worters wrote in an email.
New York City condo and co-op buildings have seen upticks in their deductibles, premiums, or both. One Manhattan co-op building near Union Square saw a nearly 25 percent increase in its monthly premium payment, and its deductible rose by 900 percent, from $10,000 to $100,000. Another 144-unit co-op in Greenwich Village saw its umbrella coverage—which offers additional protection against lawsuits—drop from $100 million to $1 million on its last renewal. 
Increased costs can force buildings to raise common charges or maintenance fees. But there are ways to lower insurance costs, or at least to minimize your policy's increase. 
Condos and co-op boards can be proactive about maintaining a building's common areas, outdoor space, and mechanicals, look for alternative insurance policies ahead of their annual renewal meeting, and hire an insurance broker to help reduce a building's insurance costs.
Make sure your contractors have insurance
The best way to keep the cost of insurance down is not to have to use it, says Mark Feinberg, the chief financial officer of Argo Real Estate and board president of the Greenwich Village co-op that saw its umbrella coverage drop. Making a claim usually results in an insurance carrier raising your insurance premium, so preventing incidents is a good first step.
Feinberg recommends that boards make sure any contractor hired to do work on the building has adequate insurance that also protects the building in the event of an accident. One way to do this is to secure a certificate of insurance, and to make sure it's legit.
Stay on top of maintenance and repairs
Your board should also stay on top of maintenance and repairs, particularly in areas where residents or guests could trip and fall, says Stephen Elbaz, the founder and president of property manager Esquire Management Corporation, which manages 800 apartments in Manhattan, Brooklyn, Queens, and the Bronx.
"You should maintain your own property," Elbaz says. "Check the sidewalks to make sure there are no cracks, and [check the] common areas."
You want to keep a pristine record so that future carriers, which look at a property's claim history, don't charge you higher rates, Elbaz says. Plus, building-wide improvements will help your relationship with your current insurance firm.
"Building maintenance and any upgrades will put you in good stead with your insurance company," Worters says. "A condo or co-op association should do anything they can to reduce existing risks and identify any emerging ones."
One improvement a building can make is maintaining or upgrading its electrical system, says Mark Foley, co-founder and president of The Folson Group, a co-op and condo building management consultant. 
For example, some insurance companies will raise the cost of a policy if a building has circuit breaker panels manufactured by Federal Pacific Electric Company, which can cause fires, Foley says. (Some insurance companies recommend completely replacing the panels, though a U.S. Consumer Product Safety Commission Investigation failed to determine what risk the breakers posed).
Start shopping before your renewal 
It's easy not to think about your insurance policy until you have to, says Kobi Lahav, senior managing director and director of sales at real estate firm Living New York. But if you're expecting an increase, or just want to explore your options, you should look at other policies well before your annual renewal meeting.
If you wait, you run the risk of having to scramble to find coverage before your current insurance expires. Shopping around can give you a better sense of the insurance market and a potentially better deal.
"Ultimately it's still a competition [between insurance companies]. It's still a financial product," Lahav says. "So you'll find somebody who's willing to give you a better deal."
You can hire an insurance broker to shop around for you, or another independent party, Foley says. 
"Make sure you're getting competitive bids," Foley says. "You want to have an insurance broker or a third party, as opposed to the current broker."