Renovation
How to spot a fake certificate of insurance
Check for obvious mistakes—such as misspellings, inconsistent fonts, or white-out—on a COI
Call the insurance broker directly if you suspect a COI might be incomplete, or worse, faked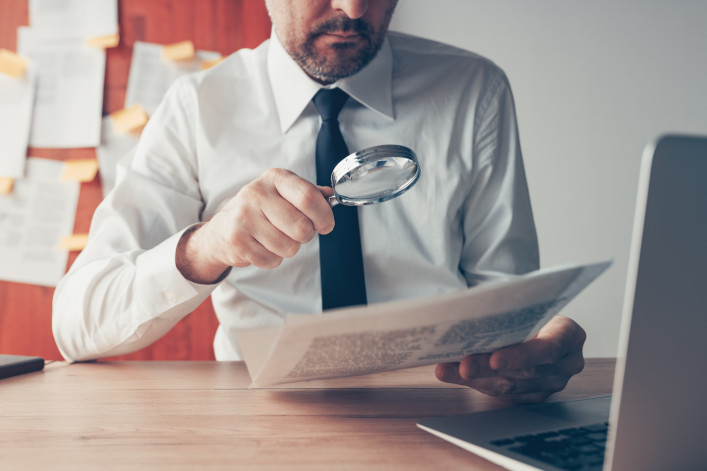 Maybe you're a co-op owner embarking on a small renovation. Maybe you're on a condo board and expecting a new resident to move in. Either way, your building will usually need a contractor, moving company, or other vendor to have a certificate of insurance, and you're going to want to make sure it's not a fake.
A certificate of insurance, commonly known as a COI, proves that a contractor, moving company, or other vendor is covered in case of an accident. It protects your property manager from being held accountable for damage that occurs inside the building, getting stuck in tiresome lawsuits, and it can help cover the cost of repairs.
It also protects the owner or renter hiring the contractor from having to pay out of their own policy for a claim, says Roslyn Spiegel, a senior vice president at insurance brokerage HUB International Limited.
"It's of the utmost importance to obtain a certificate of insurance in the event that there is damage caused by the vendor or someone is injured as a result of the actions of that vendor," Spiegel says. "Then you have the ability to go and try to attach to their insurance coverage and file a claim and bring them in as needed."
But the cost of that insurance has risen in New York state, thanks to climate change, inflation, and supply chain issues that increase the price of repairs, making it more difficult for companies to secure insurance for residential projects, Spiegel says. Rising prices could encourage firms to submit fraudulent COIs, creating a liability risk for buildings, though Spiegel says she doesn't have a sense of how frequently the problem occurs.
The vast majority of contractors and vendors aren't going to lie to you, says Josh Holzer, vice president of the property management firm Maxwell-Kates. Still, it's not a bad idea to double-check your documents to protect your building management.
"It is something you want to just keep a close eye on and don't gloss over any of the COIs that are sent," Holzer says. "You should always be prudent and check the COIs closely."
If you're embarking on a move or small renovation, make sure to check the COI for formatting errors, spelling mistakes, numbers that don't add up, and feel free to call the insurance broker who issued the policy if you suspect it's a fake.
Keep your eyes peeled for formatting errors
Even the untrained eye can spot a few obvious errors that can indicate a COI has been faked.
"You can tell when something's been clearly doctored with a cut-and-paste job," Spiegel says.
Take a look at your COI. It should look a little something like this: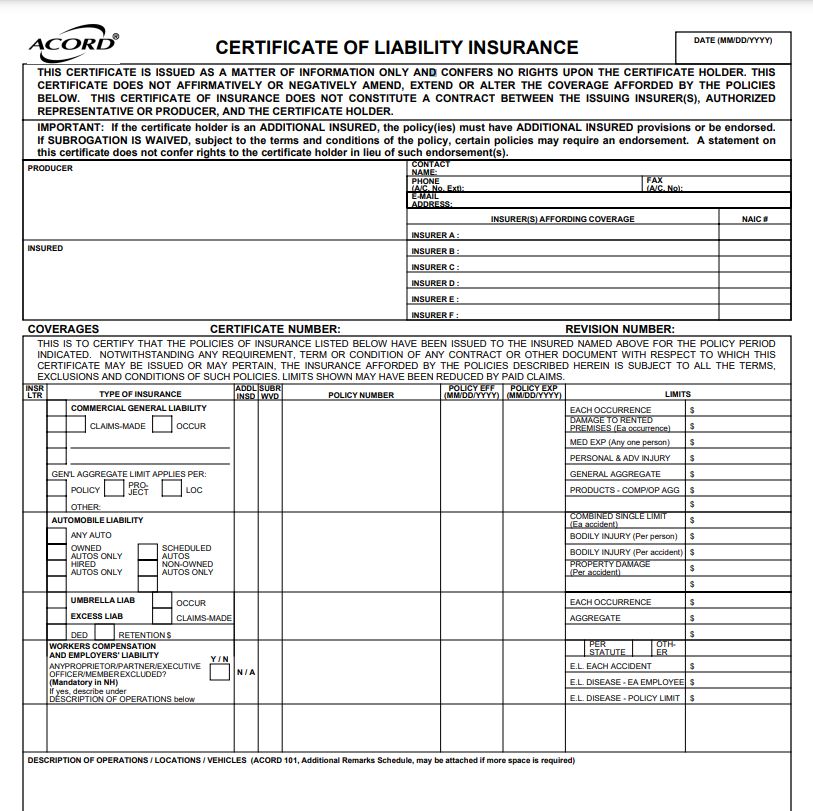 If there are large discrepancies between the fonts used, the document may have been manipulated, Spiegel says. She recommends looking at the description box on the lower portion of the COI, because she's seen cases where a vendor has tried to cover up past text. 
"Often, if it's fraudulent, there is clear evidence that it is such," Spiegel says. "In some fraudulent certificates that we've seen, or that client that sent us...the description box looks like it's been whitened out and redone."
It's also important to check for spelling errors, and to make sure that the names of your contractor and its insurers are accurate. 
Look out for impossible numbers
Your building should have a form that is already filled out with the insurance coverage limits your management company requires of a contractor or vendor. They should contact your property manager to get a pre-filled form with those limits to make sure they are meeting the standards of your building.
Once you have the completed COI, you should be able to see a few different types of coverage spending on the project, such as general liability, workers compensation, and a commercial umbrella policy. Each type will have an occurrence limit—the maximum a policy will pay for a single claim—and aggregate limit, or the maximum it will pay during the policy period. 
It's impossible for an occurrence limit to be greater than the aggregate limit, so if the numbers aren't lining up, it is likely the COI is fraudulent, Spiegel says.
You should also take a look at the date the COI was issued. If the date is well before the property manager asked for evidence of coverage, that could be an indication that the COI has been doctored, Spiegel adds.
Call the insurance broker to double check
If you suspect that a COI has been improperly filled out or faked, email or call the insurance broker who issued the policy to double-check it, says Jeffrey Schneider, president of apartment, condominium and co-operative insurance broker Gotham Brokerage. 
"You can ask your mover or your general contractor for a certificate and then you can make a direct call to the insurance broker that issued it to confirm it's accurate," Schneider says. "You really can't call the insurance companies directly; most of the time that's not not really an option on a commercial policy."
Spiegel also recommends directly calling the broker. In certain cases, a company may have had insurance previously but has let it lapse, meaning it would not provide protection in the event of an accident. It's crucial to check that a vendor or contractor has an active policy with the broker.
Brick Underground articles occasionally include the expertise of, or information about, advertising partners when relevant to the story. We will never promote an advertiser's product without making the relationship clear to our readers.